I can hardly believe it. This time last year, I was sitting at my parents' house with my husband, 2 year old, and three month old, and I was just about to have this great idea…to start my own blog. We were in between jobs and enjoying some family time. Wow….I really can't believe it has been a whole year almost! Now my boys are 3 and 15 months and my husband is a hardworking youth minister at a church that is so dear to us. We are so happy we are here. And besides that, this blog has come a LONG WAY!
To celebrate this and also to start an early celebration of my 30th birthday in June, I've joined up with some other great bloggers in the Rockin' 30th Birthday Bash! This event will be from April 1st-9th and will offer a bunch of great prizes!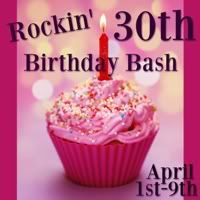 I thought about what I wanted to give away in this great event for a long time. Then I thought…since it coincides with the anniversary of the beginning of my blog, (or maybe birth of my blog??) then I wanted to celebrate those first sponsoring companies that had faith in me and my little ol' blog. So, I'm teaming up with three amazing companies from Life With Captain Fussybuckets' past and giving YOU the opportunity to win….again! So stay tuned to find out which companies they are! Yay!