This Butt Kicking Woman post brought to you by the sponsor. All opinions are 100% mine.
If you don't know by now, we think Mark Gungor is an awesome speaker. We have enjoyed his "Laugh Your Way To A Better Marriage" DVDs and also heard him speak live. He is funny, enjoyable to listen to, and brings a depth of knowledge that just makes sense. Seriously, I promise you will be sitting there thinking "that's pretty obvious….why didn't I think of that?" or "why didn't anyone tell me this stuff before?" He is one of the most sought after speakers on marriage and family in the country. He has spoken to many military familes and families all over the world, too.
Every other year, Mark Gungor gathers some awesome speakers for the "Butt Kicking Woman" conference, held in Green Bay, WI. In the in between years, he hosts a conference for men – the "Manly Man Conference," where men gather to have a great time and listen to great male speakers who are there to teach and enrich while having fun.
The Butt Kicking Woman conference this year is jam packed with excellent speakers. Carolyn Evans, Diane Brierley, Danen Kane, John Branyan, Mark Gungor, and Mo Isom, the female athlete who tried out for the LSU football team. She shares her great story about her battle with an eating disorder and the battle within herself on the Butt Kicking Woman website. I wish I could be there at the conference this year to hear Mo's story because it sounds like a moving one that is sure to inspire.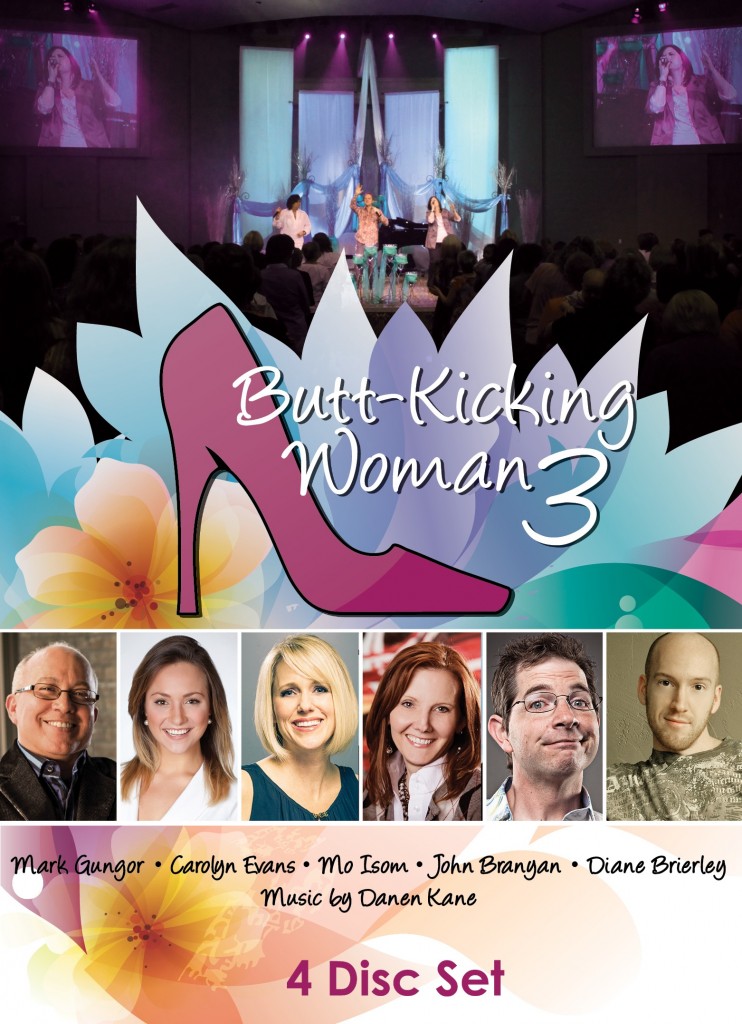 So, okay, what exactly does it mean to be a butt kicking woman? A strong willed feminist who gets what she wants and doesn't need a man to get things done? Well, not quite. Here's what the website says:
For years Mark Gungor has watched too many women tolerate all kinds of bad behavior—particularly from their boyfriends and husbands. He believes that most people continue to treat these women poorly and behave badly for no other reason than they can. Quite honestly, it's not their fault. The sad fact is that many women are insecure and don't know who they are or what they stand for or believe. Often they think that to be Godly, means they must tolerate and submit to anything and everything. It's time for women of all ages from adolescents to adults, single or married to discover the truth and learn how to be a Butt-Kicking Woman. It's not about radical feminism, becoming tough and emasculating or bashing men—there is plenty of that in our culture today. Rather, this conference is all about teaching women to see themselves as valuable and worthy. BKW will show them how to take a strong, confident stand for what is right in their marriage and family—all the while being very respectful women.
I had the privilege of watching the "Butt Kicking Woman 2" DVD and that's a perfect explanation. So many times, women in and out of the church put up with their huband's or boyfriend's……crap…….to put it frankly. They don't stand up for themselves. They let their husband do whatever they please whether it be staying out late, staying in touch with old girlfriends in an inappropriate way, pornography, strip clubs, cheating, flirting, drinking as much as they please, not helping with the kids, not being a good role model….whatever it is….women are putting up with this stuff daily and men are being allowed to. Mark says in BKW2 that some men are being allowed to do whatever they please because their mothers have allowed them to do whatever they please because the mother believes in unconditional love. He says that yes, love should be unconditional, but that doesn't mean that your relationship shouldn't have conditions. Women should be respected and a marriage is a partnership. We as women should be teaching our sons how to respect women, how to take care of themselves, and how to be a partner, not a dictator.
This is near and dear to me, as the mother of two boys and likely another on the way. I want my kids to have fulfilling relationships and not to become the statistics of teenage and adult men who are not respectful of women, who do things God wouldn't approve of, and to be a rock and role model for their wives and children. I believe that men must take responsbility and step up to the plate, yes, but we as parents must begin teaching them from a very early age. A man doesn't just "become" responsible and respectful…it must be taught.
The BKW conference teaches women how to deal with what they've got and this year's theme is "Facing the Challenges of Life." The speakers are sure to make you laugh, cry, and tug at your heartstrings. I have a feeling that women who choose to attend will walk away feeling rejuvenated and educated about how to perservere and make changes in their lives….all while learning to not be a doormat to the stupid things men in this world tend to do….things that the world says are okay and harmless and just "boys being boys." Nope. Women deserve more than that and men and their families deserve more than that. Most of these things are stupid addictions that can be overcome with the help of others and God.
So….do you want to attend? The conference will be July 26th – 27th at the Celebration Church in Green Bay, Wisconsin. Tickets are very reasonably priced at less than $50, less for teens 13-18 years old and group rates are offered. Volunteer opportunities are also available! Check out the BKW website for information, FAQs, and ordering your tickets!
If you won't be able to attend, don't fret! The video of the conference will be available later this year for purchase. It will contain every speaker and all the valuable information you missed! You can sign up to receive an email when the DVD is released, on the BKW website.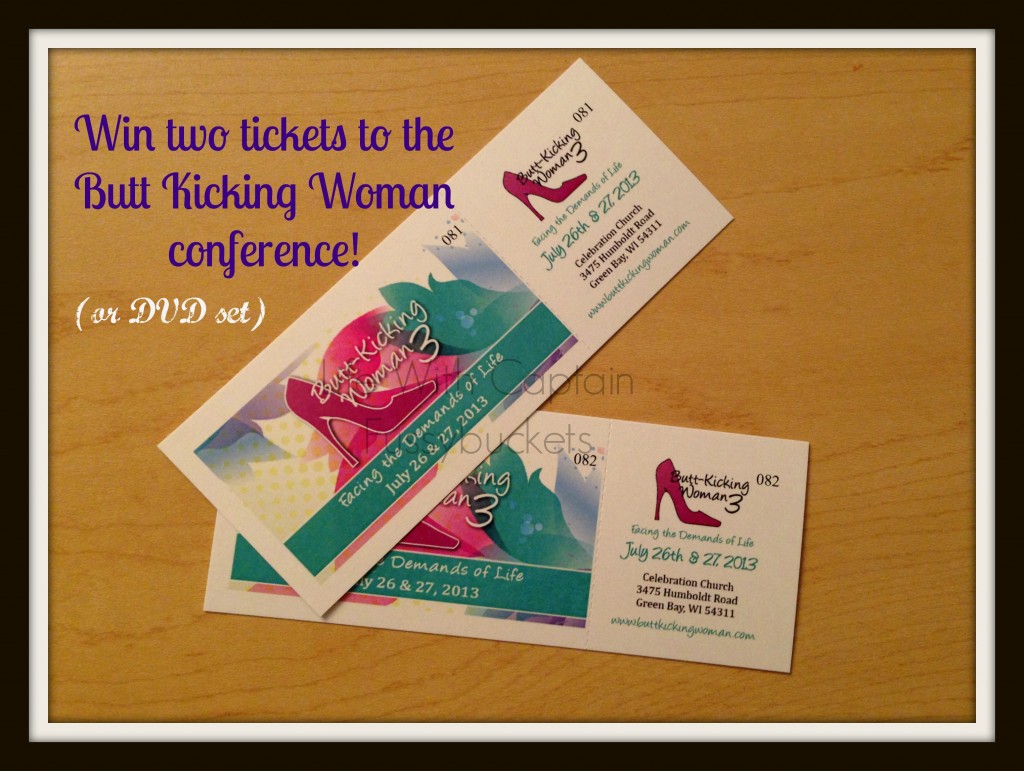 Now…for the super exciting part! You can enter to win two tickets to the Butt Kicking Woman conference in Green Bay OR the DVD set, once it is released! (release date not yet known, but it will be later this year) Just enter to win in the Rafflecopter form below!