I participated in a campaign on behalf of Mom Central Consulting (#MC) for Mom Corps YOU. I received a free trial to facilitate my review and a promotional item as a thank you for participating.
Many obstacles and challenges can come up when mothers re-enter the workforce after having children. Adding income can help immensely, but managing finances and planning for the future can also be challenging. Finances are a big stressor for married couples and single mothers. There is a lot to think about and plan for when adding a new income!
Mom Corps YOU has great rescources concerning this very matter. In the past couple of weeks, Mom Corps YOU has had a few great events that are accessible for thirty days. Jean Chatzky spoke on "Become a Savvy Saver" and had great tips on cutting fixed expenses, how to hire a financial adviser, and how to pick the best credit card. I love the way Chatzky breaks it down and explains the different options when choosing a credit card. Did you know that if you spend time overseas, you could be charged a foreign transaction fee, ranging from 2-3 percent? She recommends a card from Capital One, like the VentureOne rewards card. I found her advice to be very beneficial and hope to hear more from her in the future!
Career counselors have become popular in recent years, but hiring one can cost you hundreds of dollars per hour. I like Mom Corps YOU's live chat feature because you can receive career coaching and advice for whatever stage you are in. You can get advice on your resume, how and where to start your job search, interview tips, and more. And what is best about the live chat is that it is all included in the annual price.
All of these great features and more are included in your Mom Corps YOU subscription and available for an introductory price of $99.99 (regularly $149.99) or $19.99 a month. Visit Mom Corps YOU and check it out for yourself. It could be just what you need to put you in a good place financially, or give you tips to find the perfect job so you can be in a good place financially.
In my partnership with Mom Corps YOU, I continue to discover new innovations and resources this awesome site has to offer!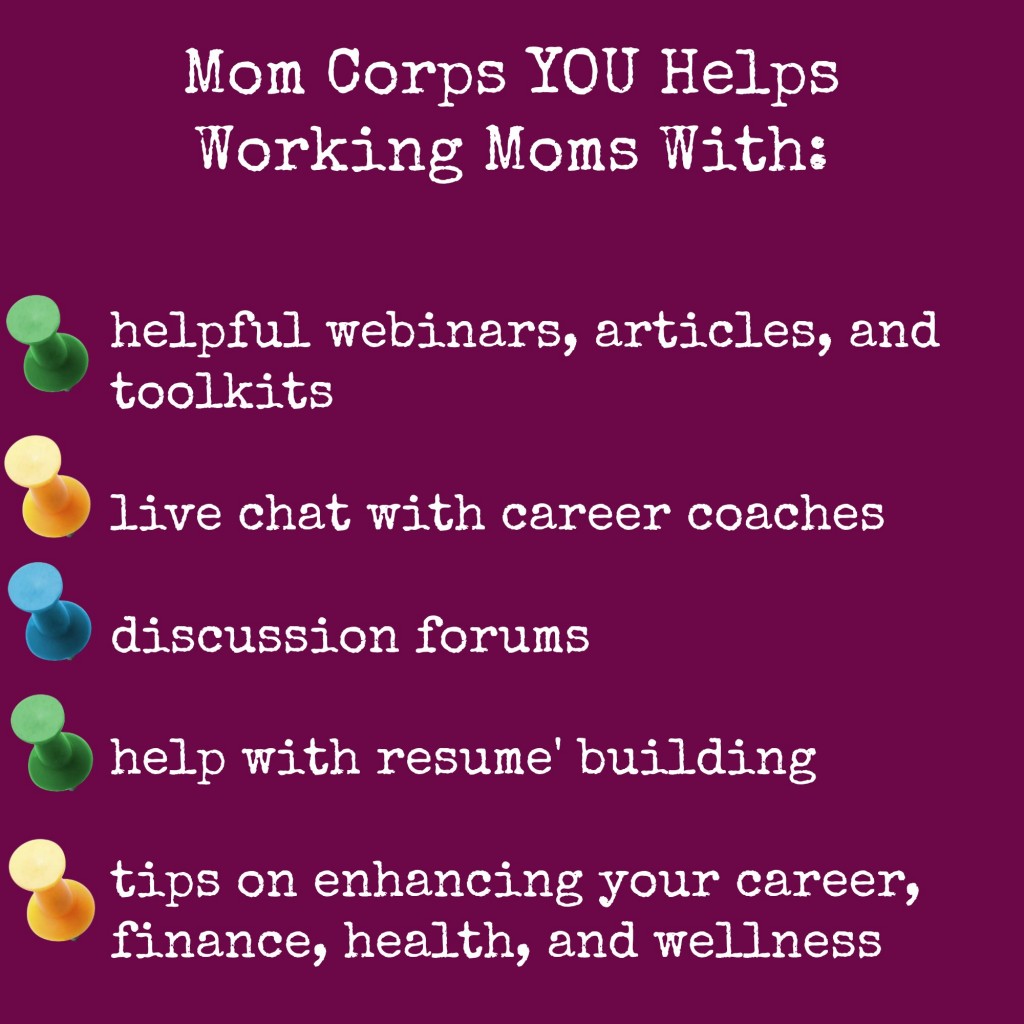 If you are a working mother or thinking about going back to work, definitely check out Mom Corps YOU for these and other terrific resources to help you with your journey!