Cooking With Kids Recipes Cookbook was sponsored and contains affiliate links.
Finding gifts that parents, grandparents, and kids alike can be tricky. We want to encourage quality time with the kids, both for us and the grandparents, so I know this sweet book would be loved by all. The Berenstain Bears' Country Cookbook: Cub-Friendly Cooking With An Adult is wonderful and the perfect gift to encourage togetherness.
Even at 7 years-old, the Captain was so excited to get this book. He thumbed through the pages and picked out a few favorites that we could make together. He loved the idea of enchiladas and we made them that very night. There are some truly delicious ideas in this fun book!
There are many cooking with kids recipes in this cookbook! From "Bear-y Delicious Scones" for breakfast, to mini pizzas, chicken quesadillas, and even some delicious desserts and snacks like a mug brownie or blue-beary pie, there is so much to choose from. The Captain wants to make these crustless tuna sandwiches together soon: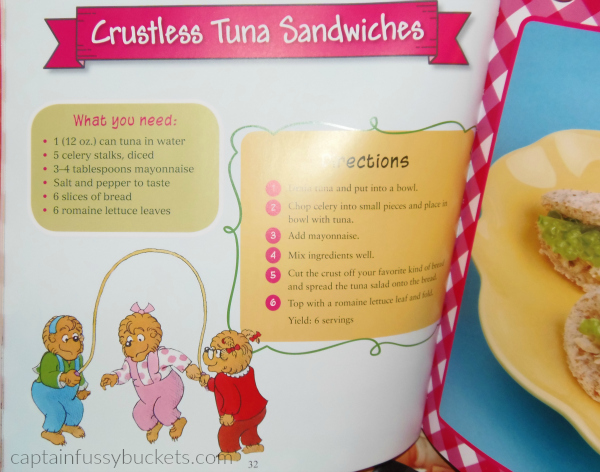 At the end of the book, there is a precious prayer to pray before meals. Also, a "Sweet Facts About Honey" page and a Kitchen Measurements help sheet make the cookbook extra special.
If you have a child that loves the Berestain Bears, loves cooking with parents or grandparents, or just need a gift for a child that you love, definitely head over to Amazon and a copy of this book. It's utterly sweet and will provide for many delicious meals, all made with a little one.