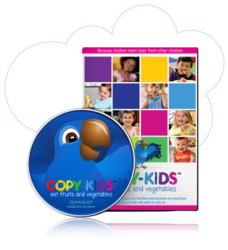 Captain Fussybuckets loves most fruits. He never was a veggie fan, even back in the baby food days. Now that he's three, things have not changed. We try and we're lucky if he takes one bite of any kind of vegetable. He DOES like salad, but that's only because there's Ranch on it. 😉
When I heard about the Copy-Kids DVD, I was really eager to try it with him! He was so excited to get it and he asks to watch it. The idea behind Copy-Kids is that kids will do what they see other kids doing. The Copy-Kids DVD is video of kids eating different fruits and vegetables. There's not much talking, just a lot of eating. The kids are eating and enjoying their fruits and vegetables! The kids are adorable and honestly, there's nothing like watching a toddler take a bite out of a bell pepper!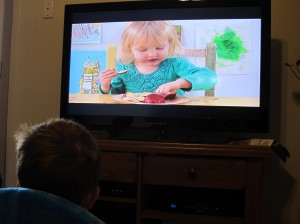 So how did Captain Fussybuckets react? We went through all of the fruits and vegetables (each one has it's own segment) and if we had that fruit in the house, he wanted to eat it right along with the other kids. If we didn't have it, he said he wanted us to get some at the store. Great! The vegetables? Here's what he said: "next time you cook [carrots,] Mommy, I'm going to eat them!" Well, then he went to the fridge and got out the baby carrots and we ate some together! He wasn't too thrilled with the taste, but he took a few bites and was very proud of himself! He even said "feel my muscles!" after he ate it!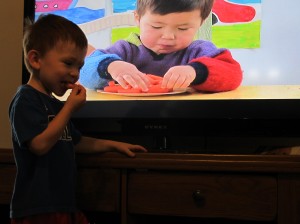 It's weird how this works…but it really does! If kids see other kids enjoying fruits and vegetables, they'll be more apt to try them!
And the best part, or the best part to me, at least, was that when Baby D saw the kids on the screen eating his favorite fruit, banana, he pointed to where the bananas are on the cabinet and said "nanana." awwww!
Do you want to order your own copy of Copy-Kids for a picky eater you know? You can order them at the Copy-Kids website!
Enter to WIN your own DVD copy in the Rafflecopter widget below! Good luck!
Giveaway ends at 11:01 Central Time on February 9, 2012!
Giveaway has ended and Jeanette M. is the winner!