When we got our box of produce in the Bountiful Baskets food co-op, Captain Fussybuckets just KNEW there would be pineapple and he just knew he would gobble it all up and it would be his new favorite thing. Well, he was right about one thing: there WAS a pineapple in the box, but he did not like how it tasted. Daddy and I like pineapple, but we knew that we couldn't eat it all, so what a perfect opportunity to try out the new Nesco American Harvest four tray dehydrator from Everything Kitchens that we were sent to review!
This dehydrator is so much fun and easy to use! The "drying" machine part fits down in the middle of all of the trays, which is the most fabulous idea ever!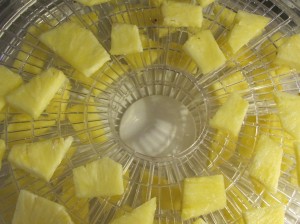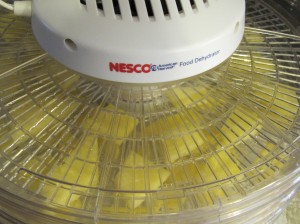 The Nesco manual has all of the recommended drying times for many fruits, vegetables, and beef jerky, so after the pineapple had dried for a few hours, I threw some blueberries on that I had boiled just until the skins popped: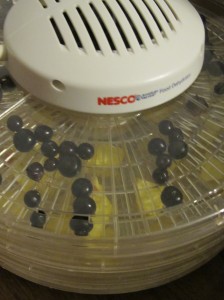 Everything dried so wonderfully, and now we have delicious dried fruit to enjoy! It's pure, natural, no sugars, preservatives, or additives and we didn't pay an arm and a leg for store bought dried fruit! I think this dehydrator is AWESOME!!
You can buy the Nesco dehydrator and other great kitchen appliances at Everything Kitchens. I love how they've organized everything they have to offer like "coffee and breakfast," "meat and cutlery," and more. And I also like how they have pictures so you can quickly find just what you need. I really do belive that Everything Kitchens has everything you could ever dream of for your kitchen!
Follow Everything Kitchens on Twitter and Facebook!