Crane makes awesome stuff, like air purifiers, heaters, fans, and more! But they also make humidifiers, which we use like crazy in this house! Meet Freddy the Frog, our new frog humidifier from Crane that we were sent to review: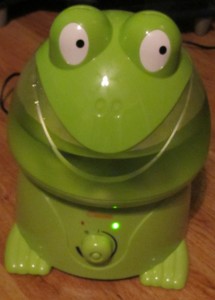 The boys were really excited when Freddy came. It was very easy to set up and start working! (by the way, Freddy is sitting on the floor in the picture and that is not recommended…)
I suggest letting your kids "play" with the humidifier before setting it up. Let them explore it because this is guaranteed to happen:
As is this: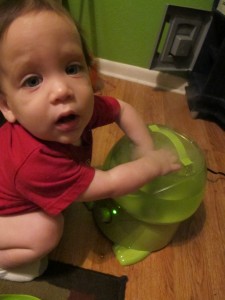 (That is for SURE not recommended!) But once the newness wore off, Freddy was ready to get to work without little hands disassembling him.
Back to my review…..this humidifier is great! The best part is that the gallon tank fits in most bathroom sinks. This made me SO happy because I hate having to go to the bathtub to fill up a humidifier tank! Thank you, Crane, for this feature!!
The humidifier is super quiet and can run for up to 11 hours…providing your little one with moisture to relieve their cough, congestion, dry skin, or irritated sinuses. There is also an auto-off function that turns off the machine when the tank is empty.
You can buy this frog humidifier and other adorable Crane humidifiers at the Crane website, Amazon, and many other stores. Check out the Crane website to find a store near you! Follow Crane on Twitter and Facebook.