Welcome to the January 2014 Natural Living Blog Carnival: Starting the New Year Off Green. This post was written for inclusion in the monthly Natural Living Blog Carnival hosted by Happy Mothering and The Pistachio Project through the Green Moms Network. This month, our members are reflecting on the successes they had from last year, and setting goals for themselves this year. Check out all of the posts to get ideas on how you can start your New Year off green!
********************************************************************
Last year was a very exciting year for our family. We found out we were pregnant with Baby #3 in the Spring and welcomed him to our family in late November. Now, he is almost two months old and our family life has really drastically changed. The older boys love their baby brother and he has adjusted well to life outside of the womb.
Pregnancy, along with parenting two other kids, was pretty draining on me, especially towards the end. It was really easy to get lazy with our green ways of life. Since we already had the garden started when I got pregnant, it was easy to keep up with it. There were a few weeks I didn't want to go outside at all, but being out in the garden and picking the fresh, organic vegetables was a lot of fun and actually pretty good exercise for me. Anything beats sitting around, doing nothing, right? I am hoping that we can have a garden of some kind this year, although it all depends on Baby, really. If he is still getting us up at night, then I don't know if I'll have the energy to get a garden done. Also, I am having a hard time managing three kids, house work, the blog, and other activities without spreading myself too thin. Soccer season starts soon for the Captain, too, so we are really going to have to work at it if we want a garden. Our winter garden is still producing lettuce, parsley, and carrots, so we have time to think about it and plan! If nothing else, we can plant another fall garden.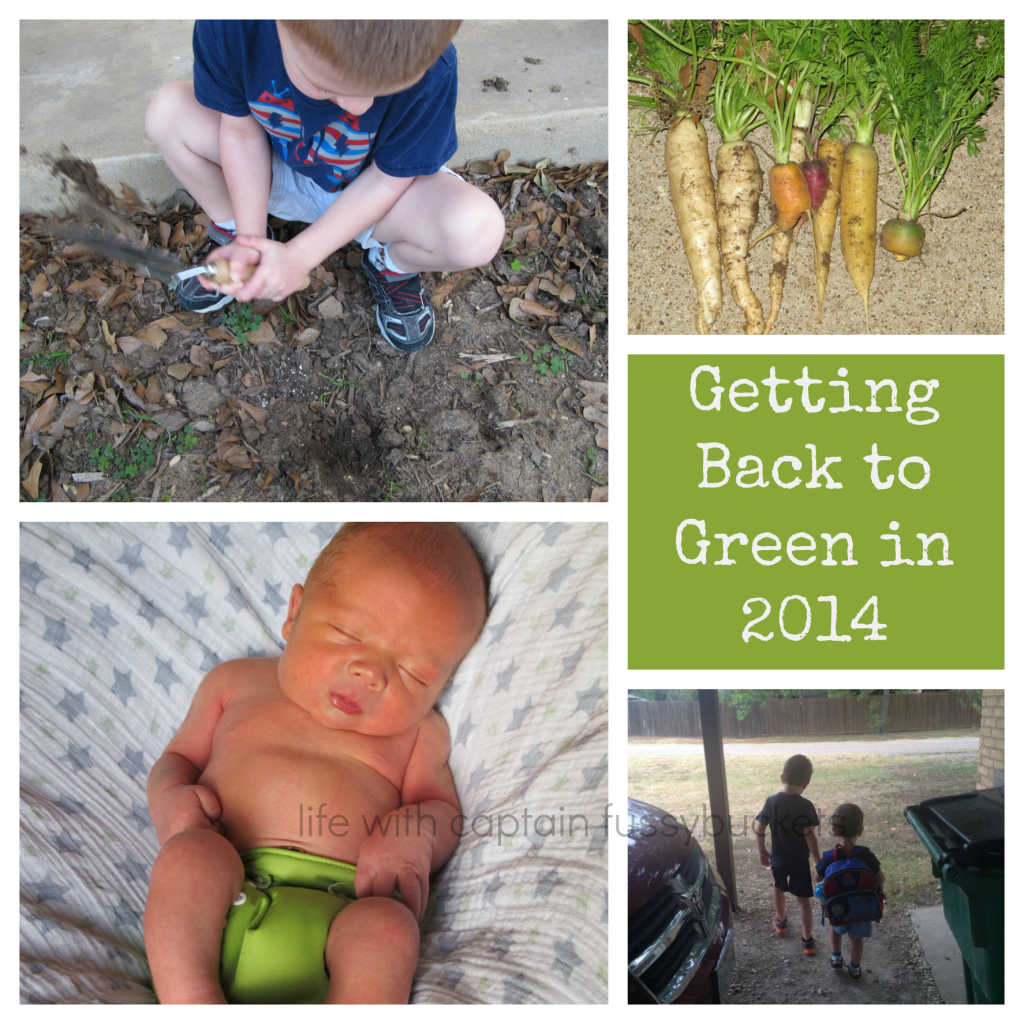 When planning for 2014, I definitely know I want to go back to going green as much as we can. It doesn't have to be all or nothing, but I need to stop slacking and get back on the path to Greendom! Here are a few of my green goals for 2014:
have a Spring/Summer and Fall garden – no matter how big or small they may be
compost all compostable items instead of throwing them away
learn more about repurposing old things and see what we can do with our old stuff!
donate and/or sell old clothes and things we don't need anymore
make more homemade food with healthy, eco-friendly ingredients
work on elimating storebought staples whenever possible, especially things we use often like vegetable stock, canned vegetables, and cream of mushroom soup
purchase fruits and vegetables from the Farmer's Market and Bountiful Baskets, when we can
use my dehydrator more often
cut down on juices and sodas and make sure the boys' love of pure, clean water stays put (these "water week" bottles and fridge storage rack, along with our Aquasana under counter filter have helped immensely!)
continue wearing Baby Brother in the Boba when he gets tired or fussy – yes, this isn't exactly green, but I don't want to have to resort to wasting gas by driving him around in the car when he gets older!
walk the Captain to school whenever possible!
always take our reusable shopping bags to the store
research recycling options more diligently – as of right now, there are no easy recycling options nearby, but I still want to find some!
cloth diaper – this is a sure thing, but I just want to be diligent with it!
shop thrift stores for new items before shopping online (this one is really hard for me!)
avoid packaged baby food – whether it's homemade baby food or baby led weaning with homemade food
continue to improve on reading labels and choosing wiser
All in all, I want to make sure that we are doing all that we can to teach our kids to think about their actions and how it affects others and the earth, and be responsible with our choices.
Do you have any green goals for 2014? I'd love to hear about them!
Visit Happy Mothering and The Pistachio Project to learn more about participating in next month's Natural Living Blog Carnival! Please take some time to enjoy the posts our other carnival participants have contributed: