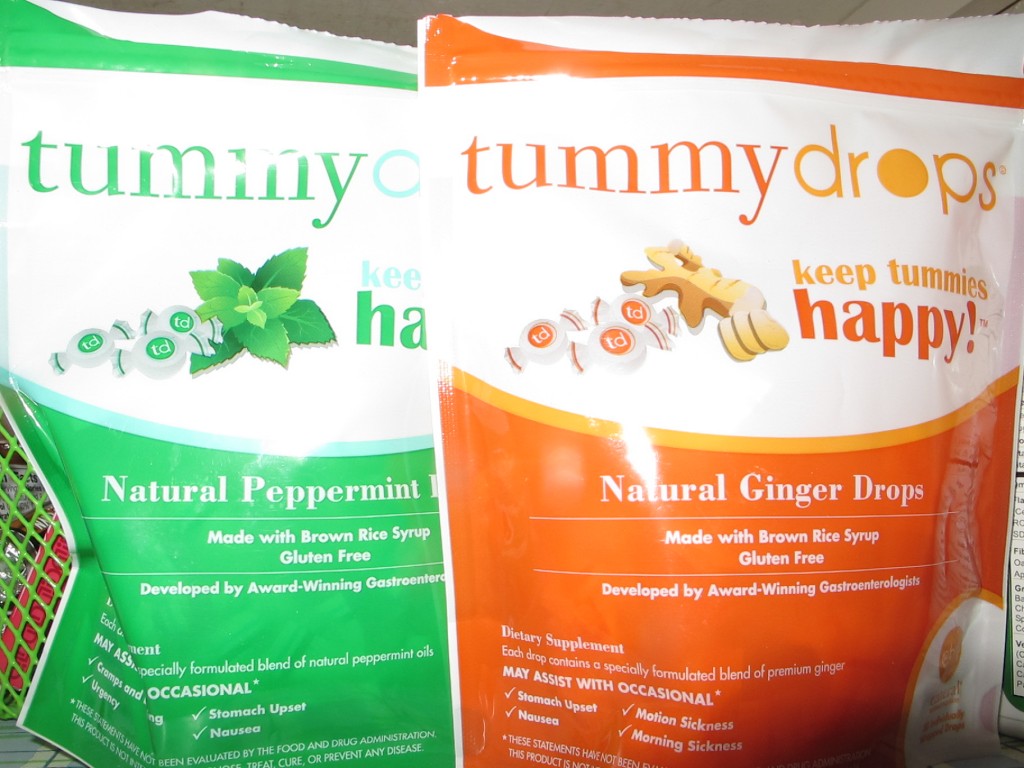 Ginger is often recommended as a natural first resort for women suffering from morning sickness, but did you know that it's good for many other things? People claim to have their headaches relieved with a bit of ginger, as well as heartburn relief and relief from the symptoms of the cold and flu. Tummy Drops, in natural peppermint and natural ginger, are gluten free and developed by gastroenterologists for relief from upset stomach, nausea, motion sickness, morning sickness, and more.
I have tummy aches quite frequently, as well as motion sickness and heartburn, so I was excited to be able to give Tummy Drops a try. The first time I had heartburn, I tried the peppermint Tummy Drops and it immediately soothed my heartburn. I was so excited that I didn't have to pop a pill to get heartburn relief. It worked quickly and effectively, and it even freshened my breath!
The ginger drops are equally as good and work like a charm for my upset tummy and motion sickness. I find that just having something on my stomach is good, and with the added benefits of ginger, after sucking on a Tummy Drop, I feel SO much better! I like to keep some peppermint and ginger Tummy Drops in my bag because I never know when I'll need them. Hubby has used them, too, and the boys would not only love them because they would think they're "candy," but they would soothe their tummies, too. Tummy Drops are completely safe and made of all natural ingredients.
Visit Enteral Health & Nutrition, the makers of Tummy Drops. You can purchase a bag of Tummy Drops for $10.99 at Amazon.
Enter to win a bag of Ginger Tummy Drops to try for yourself. Just enter in the Rafflecopter form below. Good luck!
Giveaway has ended and Amanda J. is the winner!
I received one or more of the products mentioned above for free using Tomoson.com. Regardless, I only recommend products or services I use personally and believe will be good for my readers.