I was so thrilled to get to review another DVD from Organa Kids! The boys really like "Happy Valley: Volume 1" and quite honestly, I like it, too! I really like quiet, calming DVDs and this is definitely one that fits the bill, without being boring! It keeps the boys engaged without getting them riled up!
"Happy Valley" is narrated by a woman with a pleasing foreign accent. It is set in a beautiful countryside by the sea. It is also very educational and talks about weather, animals, and the world around the Happy Valley kids, all the while using nursery rhymes and songs.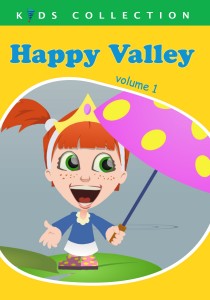 Check out a preview of "Happy Valley:"
All of the Organa Kids DVDs are reasonably priced. You can buy "Happy Valley: Volume 1" for only $14.95 at the Organa Kids website. Make sure to follow Organa Kids on Facebook and Twitter for new release information, discounts, and more!
Organa Kids is giving away a "Happy Valley: Volume 1" DVD to one lucky winner in the Back To School Spree giveaway hop, beginning tonight! Come back between midnight tonight and August 31st to enter to win!