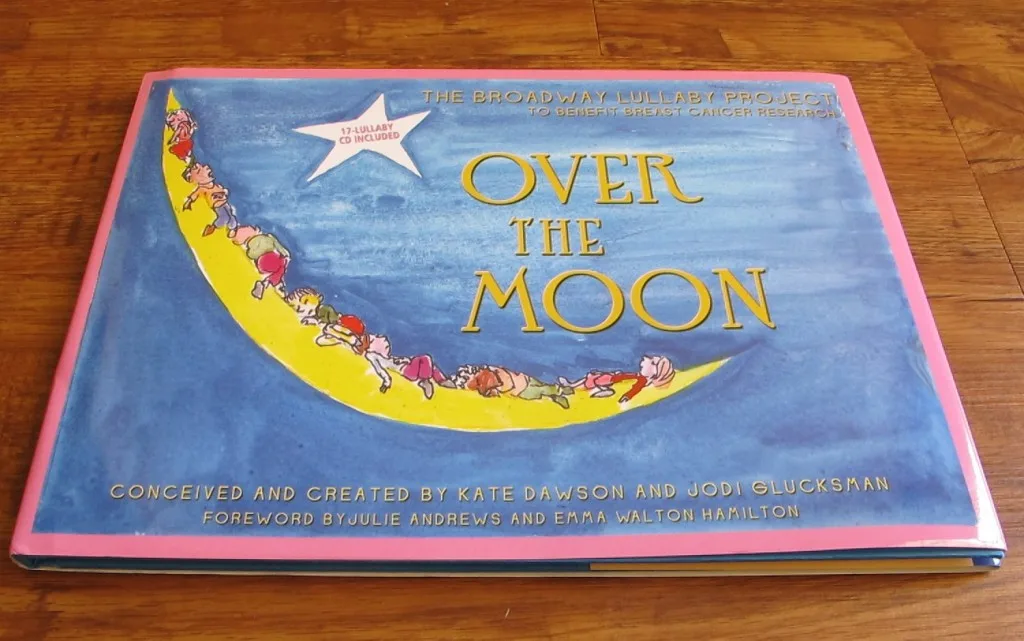 If you've read this blog much at all, you'll know that Captain Fussybuckets has always been, well…fussy…about going to bed. Even since he was a baby, his sleeping habits have been less than desirable. We have never had a lullaby CD, but when I showed the "Over The Moon: The Broadway Lullaby Project" CD, he was excited about having his very own lullaby CD and wanted to listen to it that very night. He LOVED it!!! I was so impressed by the beautiful songs, and so was he! For most nights since we received the CD a couple of months ago, he has listened to it. His favorite song is the first one – "Little Sleepy Eyes" by Marva Hicks. He adores this song and loves to replay it over and over, and even sing it during the day.
"Over The Moon: The Broadway Lullaby Project" is a benefit effort as well as just a beautiful book and musical CD set. This project brought together many of today's musical theatre's composers and vocalists, as well as illustrators. Many of the lullabies in this set were specificially written for the Over The Moon project. The Breast Cancer Research Foundation and Young Survival Coalition are the two charities benefitting from this beautiful project.
The book includes a 17 song CD with lyrics illustrated by some of America's best theatrical designers and children's book illustrators. The pictures in the book are magical and beautiful, and really bring the songs from the CD to another level of wonder!
Some of the vocalists,composers, and lyricists who contributed to this project include Michael Cerveris, Raul Esparza, Sutton Foster, Nona Hendryx, Rupert Holmes, Brian d'Arcy James, Nikki M. James, Tony Kushner, Rebecca Luker, Audra McDonald, Donna Murphy, Kelli O'Hara, Anika Noni Rose, Stephen Sondheim, Will Swenson, and Vanessa Williams.
Take a look/listen at Vanessa Williams' video for "A Lullaby for Midnight":
Learn more about this beautiful CD and book at the Over The Moon website. You can purchase the "Over the Moon: The Broadway Lullaby Project" book and CD for $12.89 at Amazon right now or just the CD for $14.99 on Amazon. There is also a Kindle version available for $4.99. Any of these would be a great gift for a little one (or big person who loves Broadway music!)
Enter to win your own "Over The Moon: The Broadway Lullaby Project" CD in the Rafflecopter form below! Giveaway ends on November 27, 2012 at 11:01 PM, Central time. Good luck!
Giveaway is over and Jessica O. is the lucky winner!