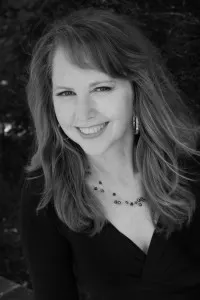 I was first introduced to Kristi Marsh when my friend Christine noticed that Kristi was asking bloggers to review her book, Little Changes. I have only reviewed two books (other than children's books!) on my blog in the year and a half I've been doing reviews, but something about Little Changes made me interested enough to give it a go. From the very first email I got from Kristi, it was if I was emailing back and forth with an old friend. She was kind, humorous, and supportive….not to mention patient as I probably took longer than the average adult to read a book! haha!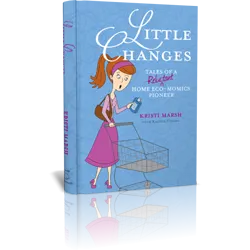 You may have noticed, but Little Changes has become one of my favorite books and references for information on "going green" as well as different statistics and information about chemicals and the way they affect our bodies. Little Changes: Tales From A Reluctant Home Eco-momics Pioneer" is a book that was carefully and thoughtfully written. Kristi clearly did her research on different subjects before putting the information into the book. She is a brilliant writer who is passionate about the things she writes about.
Kristi was diagnosed with breast cancer at a young age, as a mother of three small children. In the book, she discusses her fight with cancer, the chemotherapy and side effects, and the emotions she felt through her journey. As she was recovering, she began questioning and researching making better choices for her body and her family. She talks about the "little changes" she made in her life, such as when she started buying organic foods to avoid the pesticides, chemicals, hormones, etc. She talks about each area that she has made changes in her life: cosmetics, bath products, cleaning products, and more. It's as if a lightbulb when off in her head and that started her research and hunger for more information as to how she and all of us can make little changes and "choose wiser" to make our lives healthier.
With her research and gumption, we all can benefit from what Kristi has done and continues to do. Kristi posts many times a day on her Facebook page, Choose Wiser as well as the website of the same name. She is passionate about learning more each and every day and sharing it with us. There is SO MUCH information out there, and Kristi spends time weeding through all of it to deliver the best and most accurate information with her fans and readers. That's something that I, as a busy mother of two little ones, appreciate and enjoy about Choose Wiser and what Kristi is doing.
Kristi is a pioneer for getting people to think differently about the choices they make for themselves and their families. She is educating herself and others about how to make little changes, not only in our homes, but in our schools and government! For ALL of the reasons I talked about, those are the reasons that I have selected Kristi Marsh as my nomination for the Yahoo! Women Who Shine program. Please vote for Kristi! Voting is open until October 29th, 2012! Good luck, Kristi! You are truly a "Woman That Shines!!"
I was compensated for this blog post while participating in the SocialMoms blogging program. The opinions and ideas expressed here are my own. To read more posts on this topic, click here.