This Presidents' Day post was brought to you by Oriental Trading Company. All opinions are mine. This post contains affiliate links at no additional cost to you.
The Captain and D are both very intrigued by countries and leaders. They love learning about the different countries, capitals, and lately, the presidents of the United States of America. Presidents' Day is coming up in February, so I wanted to provide them with many opportunities to become acquainted with some of our great leaders from the past! Homeschooling this year has given me freedom to teach different things that the boys show interest in, at their levels, and tie it in to other subjects and things they need to learn.
The first thing the Captain wanted to do was play this presidential matching game from Oriental Trading Company. There were far too many cards to begin with, so we found the matches and only played with about 1/4 of them. It was fun to find the different matches and hear the Captain try to pronounce their names. He does pretty well, but it is still very cute! Each president has two cards – one blue and one red – with different, interesting facts. We learned a lot about the presidents this way, plus it was fun. Fun education is the best kind!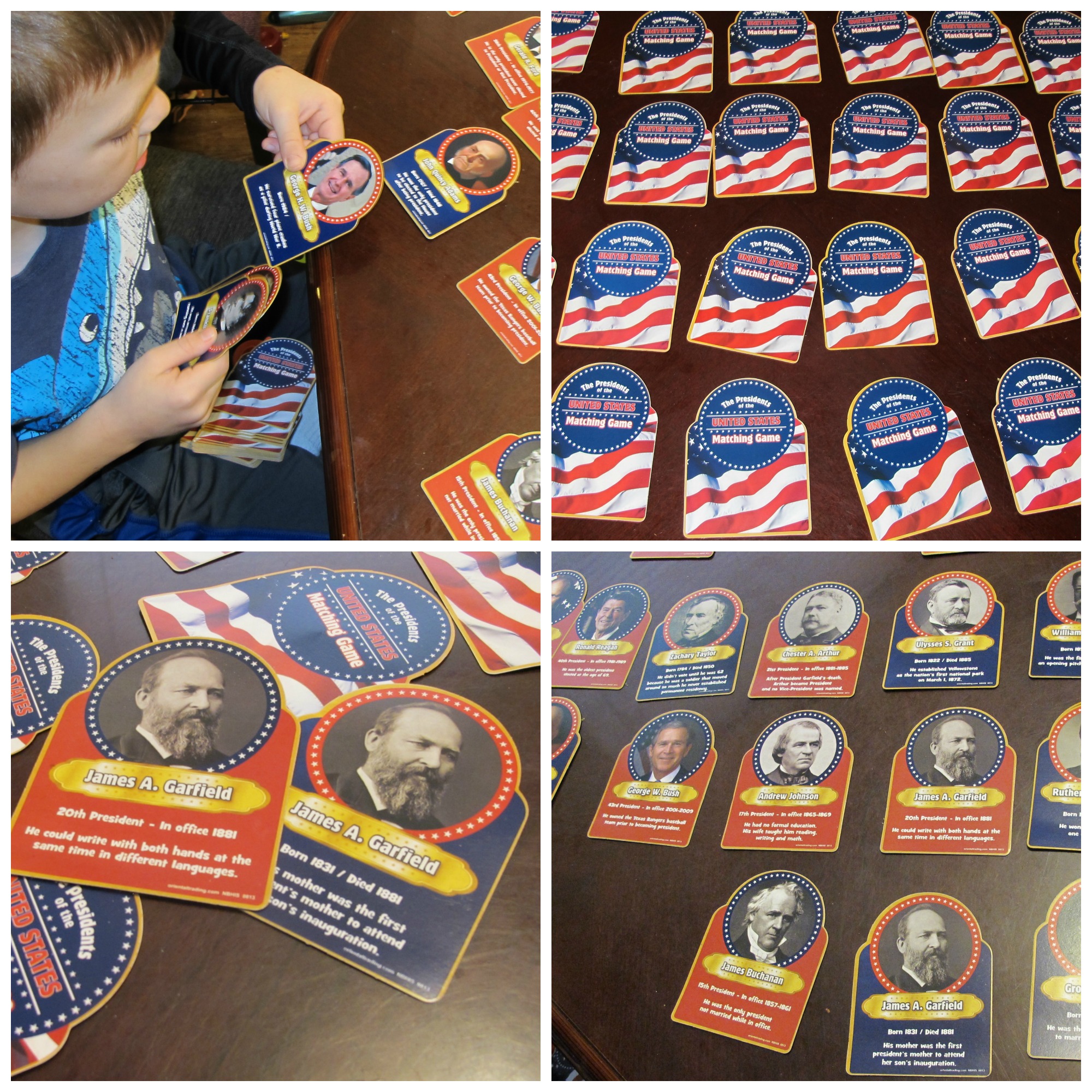 The boys also flipped over the presidents door border, (which is a steal at $1.38 right now, if you're interested!) All of the presidents are displayed, along with their names, years that they served as president, and they are all in order, as well. What a great way to capture the history of our country and a fabulous way to introduce the boys to a love of history. The Captain loved quizzing my parents via FaceTime about some of these men, too!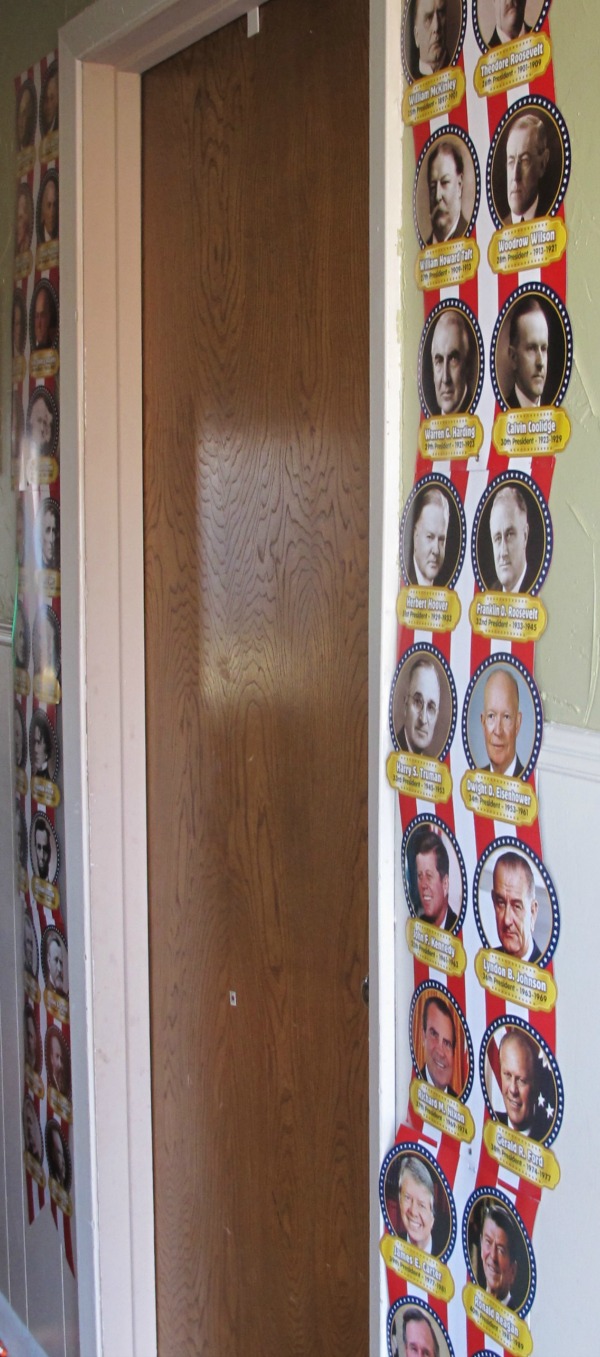 The most fun the boys had in our study of the presidents was the fun masks! 12 presidential faces were fun to play with. From George Washington and Abraham Lincoln to Barack Obama….they love to pretend to be the presidents and try to talk like they think they might have talked. These masks would be great for plays or pretending to give important speeches.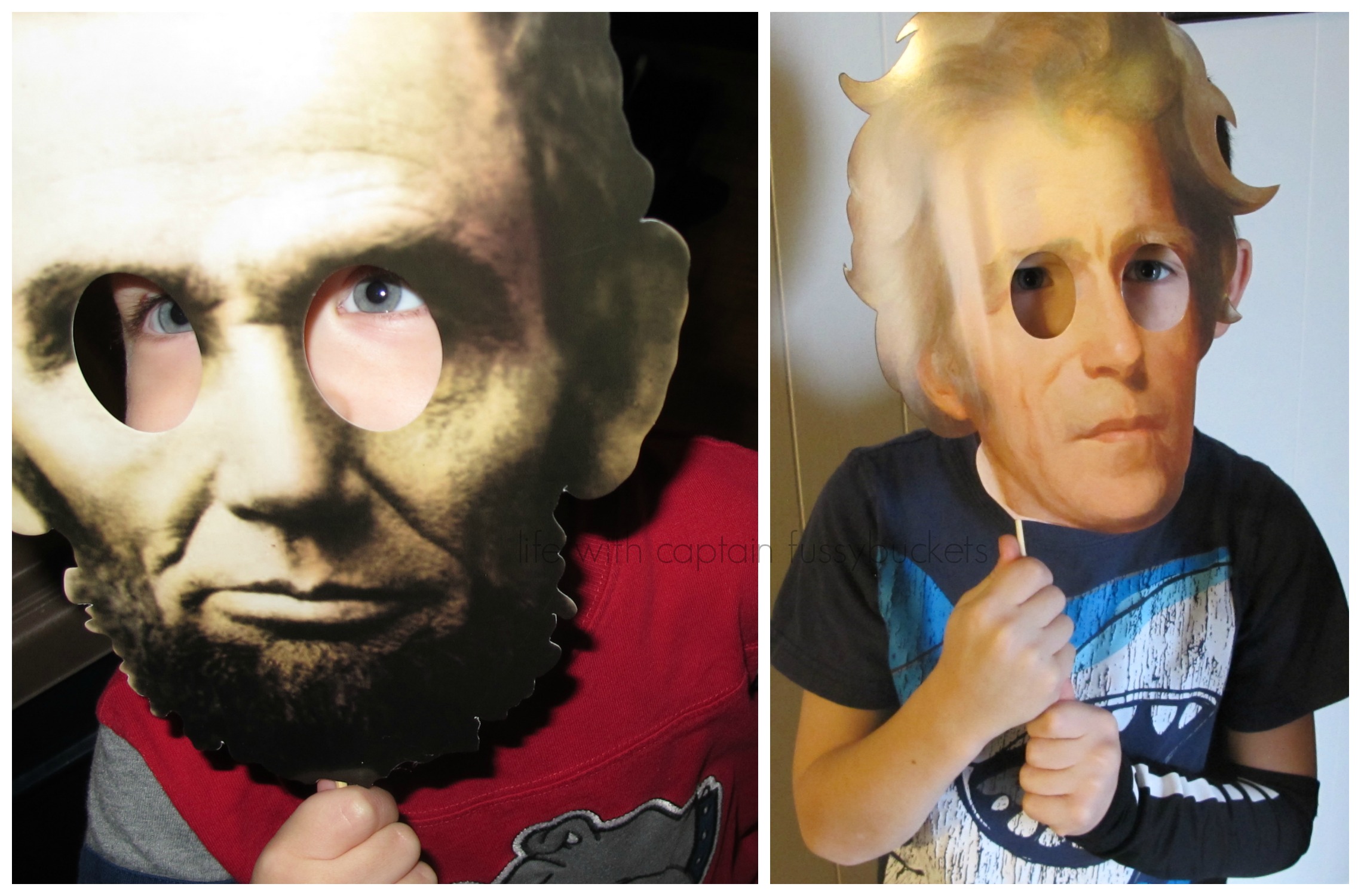 That's definitely not all, just search for "presidents" at Oriental Trading and see the great teaching tools you can find.
I used one of the 12 president rulers that came in a pack to create our very own presidential timeline. I simply cut the presidents' faces out, which had their names and years served underneath, and made a timeline using sentence strips. Each year was represented with a half of an inch (great since I had a ruler right there, ha!) Then, I wrote each president's name in red marker and the Captain came along and matched each picture to the name. Seeing it all on a timeline was educational to me, too, because I could see how many years (or days – some presidents didn't get to serve for very long!) each president was in office, how many terms, and incouraged the boys to ask questions about each president. I mentioned earlier how the Captain was excited to talk about the presidents with his grandparents and show them his timeline….what a great way to learn even more and practice skills like math, writing, matching, measuring, and much more, all while having good conversation with his relatives!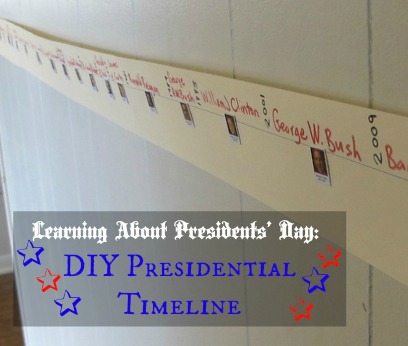 Materials needed: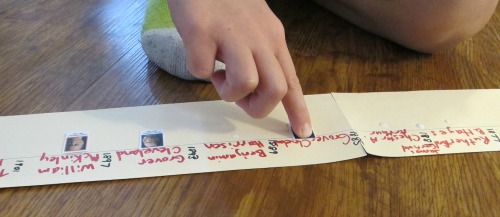 Instructions:
Write the years that began each presidential term, counting 1/2" for each year, using the presidential timeline ruler.

With a different color, write each corresponding president's name above the spot on the timeline that they served as president.

Cut out each president's picture.

Match each president's picture to the time period that they served and glue or tape to secure.

Display your timeline and enjoy being able to visualize the history of our nation!