This post brought to you by Buffalo Wild Wings. All opinions are 100% mine.
Hubby is a huge wing fan. He has rarely met a wing at Buffalo Wild Wings that he hasn't loved. He has tried many flavors and always savors each bite! I wasn't a wing fan until I met him, and for awhile I was all about the Mild wings until BWW introduced Asian Zing wings! We have been going to BWW for years and the food is always delicious. Even the boys love it! We love their happy hour 1/2 price appetizers promotion and Wing Tuesdays! The boys' favorite food at Buffalo Wild Wings is definitely the mozzarella cheese sticks….and they've even been known to chow down on some celery:
One might not associate Buffalo Wild Wings with family fun, but it really is a great place to eat as a family. The bar is seperate from the regular dining area, so families don't bother game watchers and vice versa. We are not alcohol drinkers, so it's nice to be able to enjoy a family friendly meal at a place that is known for it's beer AND wings! (Not to mention the fact that their waitresses are fully clothed, unlike other wing joints!)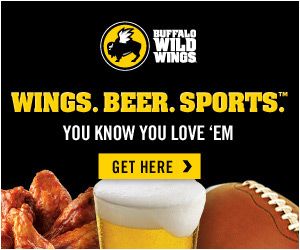 Buffalo Wild Wings is clearly THE place to be for football games! They have huge screens for watching games and great food, as well. They always have the hottest games on and great specials, like Wing Tuesdays, Boneless Thursdays, and the new Game Changer beer, made by Redhook and offered at BWW. If you're looking to throw a great tailgate party or football watching party at home, why not take advantage of BWW to go? Wings for the game, great sides, and more! Buffalo Wild Wings even has special to go parking so you can get in and out in no time to pick up your order and take it home for the big game!
In the countless times that our family has been to Buffalo Wild Wings, only once have we had subpar service and it was addressed by the manager and we were shown respect and offered and apology and a gift card to make up for the service. BWW really does care about their customers!
To keep up with all of the great things BWW offers, Follow Buffalo Wild Wings on Twitter and Like Buffalo Wild Wings on Facebook!