It's time for back to school and that means rushed mornings, busy schedules, and new experiences! The Captain will be going to preschool two days a week this fall, as he has been the past year. Admittedly, it's hard to get going in the morning, even if it is much later than the average parent, student, or teacher gets their day started! I honestly cannot imagine being a teacher or even a parent with school aged kids at this point. I remember gleefully waking at 6 AM every morning, making my coffee, getting everything ready for myself and my class, but now, 6 AM is EARLY! Bless all of you who have to wake up at 6…or earlier! I love to keep it simple on the days that the Captain has preschool and that's why I am so glad I made the switch to tea. We recently went to Walmart to stock up on tea for back to school. They have so many Bigelow teas to choose from! Check out our shopping experience on G+.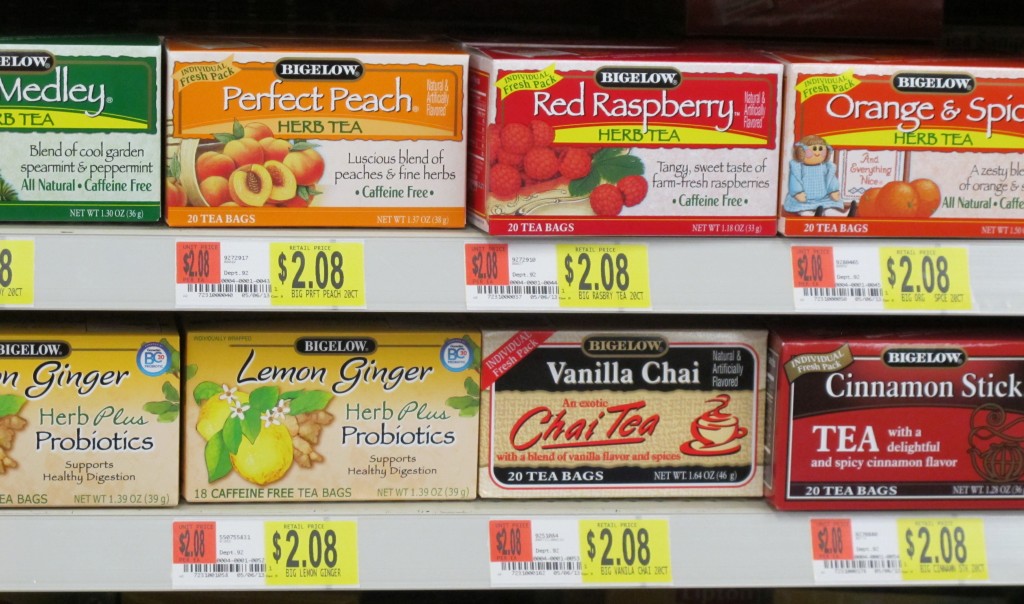 When I became pregnant earlier this year, I immediately wasn't able to tolerate the taste of the coffee that I love to indulge in every morning. I need something, however, so I switched to iced tea. And now that I am over my coffee aversion, I still prefer iced tea most mornings because it's easier to prepare, has a lower caffeine content than coffee (which is healthier for baby), and is actually healthier for me, too! Did you know that coffee and cotton are the crops with the biggest pesticide use, unless they're grown organically? Yeah…yikes!
In the mornings, I just pop a glass filled with a bit of water in the microwave for one minute, add a bag of Bigelow tea, and let it steep for a couple of minutes while I get the boys ready. Then, I come back to it and add water, honey, and some ice and if there's time, enjoy it at home. If not, I get the boys in the car and sip it on the way to the Captain's preschool. It's a delicious, easy way to enjoy my morning and it gives me a small jolt of caffeine to get me going.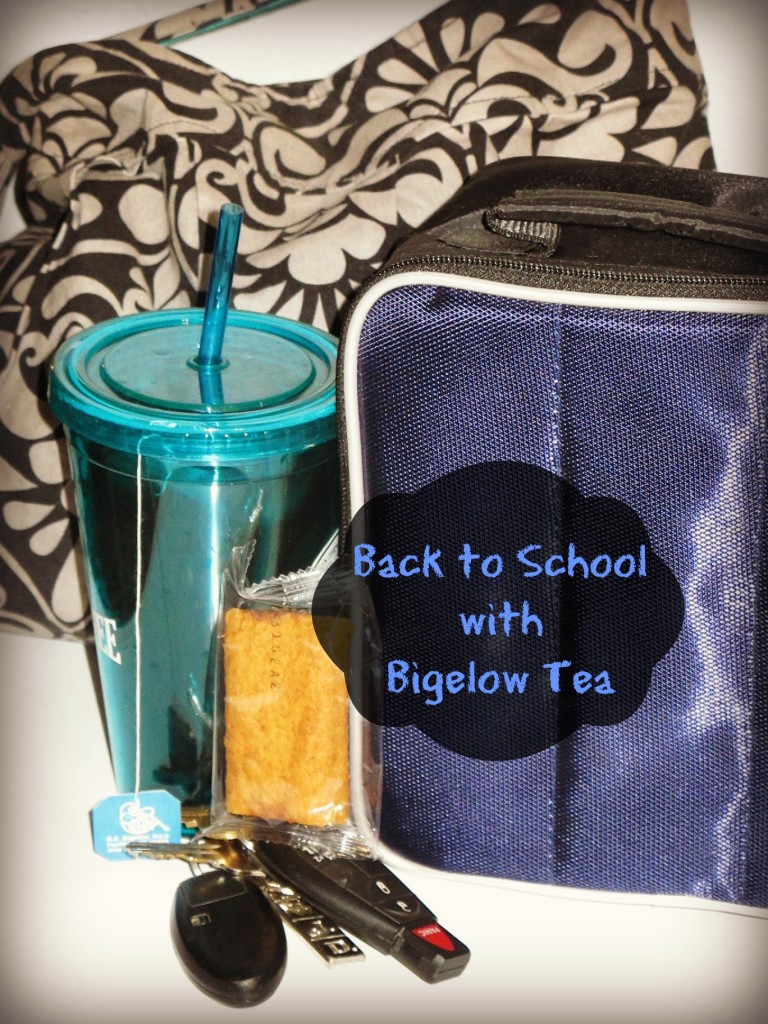 After dropping off the Captain, D and I either come home and get started on laundry, the dishes, or figuring out what we are going to eat that day. Some days we go grocery shopping, and it's nice to have a sweet iced tea to sip on the way to the store. D loves to drink out of my cup, too, and I have no hesitation because I know it's not bad for him.
After our morning, D and I, and sometimes Daddy, have lunch together and then it's time for nap. I take full advantage of this time and usually lay down for a 20 minute nap myself! Then, I like to get up and make myself another tea, but something different. I love Bigelow's Vanilla Chai Tea because the flavor is different and delicious. I heat up some water, let the bag steep for a few minutes, then add pure cane sugar and milk, along with ice, and sit down in the quiet to work on the computer. The Iced Vanilla Chai Tea is a delcious treat, and much healthier for me and Baby than what I was drinking in the afternoons two years ago: soda! I don't know why I felt I had to have a soda on most days. They're packed with chemicals that are just not good for me and left me feeling worse after I drank them. When I drink tea, I know exactly what I'm consuming……homemade brewed tea and anything else that I put in it. You never know with soda…I mean, you do if you read the can, but how do you know if caramel coloring or all of the hard to pronounce ingredients are okay? It's been proven that sodas are causing obesity and diabetes and even the sugar free ones just aren't healthy. So, why not add something healthy and delicious and take away the junk, or leave it for moderation drinking only?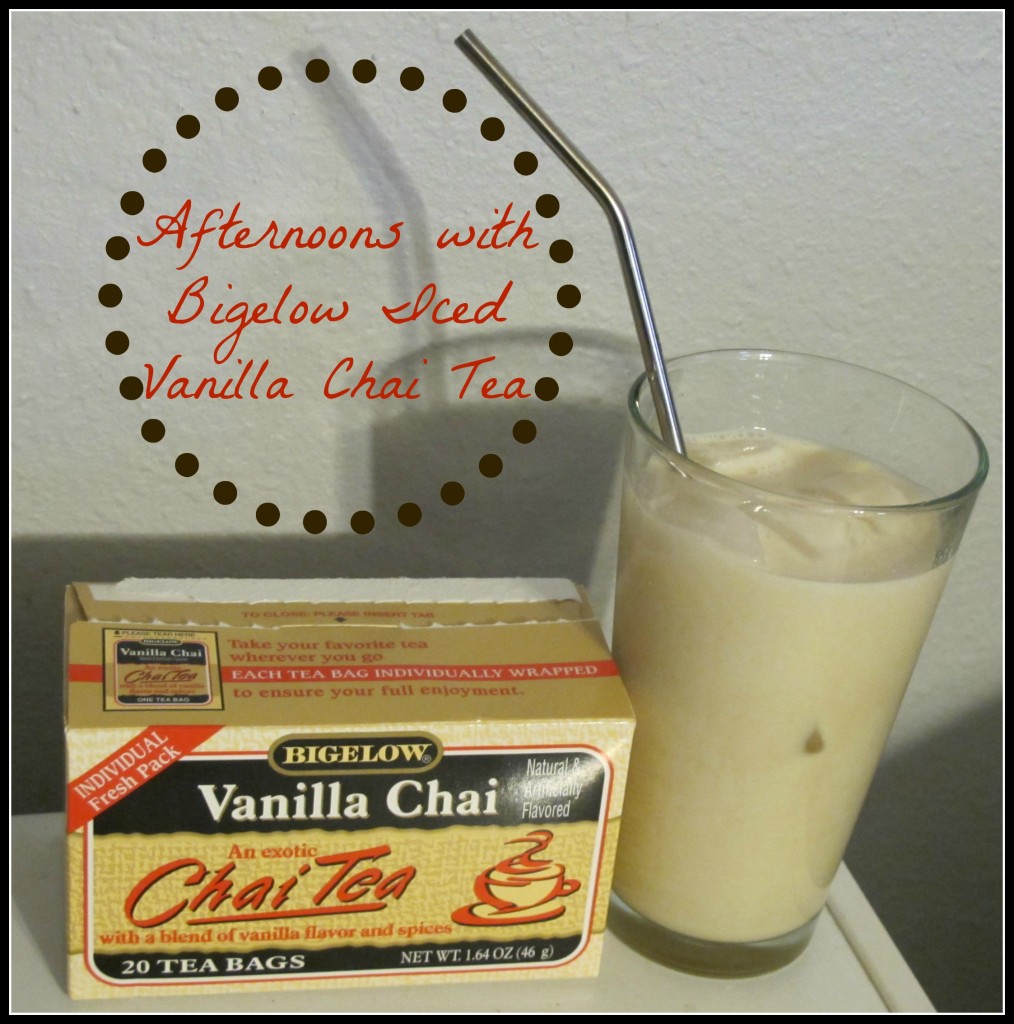 Our day continues and when D wakes up, it's usually time to go pick up the Captain. Things only get busier from there! We do fun crafts, play games, watch TV, or possibly play outside if it's not too hot, and then it's time to get dinner started. Luckily, there is not usually a rush to do anything particular after that, unless it's soccer practice night. I admire those parents who have to get dinner on the table and then rush out to practice almost every night of the week! Busy, busy, busy!
I love the ages that the boys are and how we don't have many pressing things, except for church, preschool two days a week, occasional meetings, soccer practice one night a week, and one soccer game a week, starting in September. I still feel like I need to wind down on some days, and that's when I am very thankful for caffeine free herb teas from Bigelow! I am highly sensitive to caffeine, so I can't consume any, really, after 4 PM or I'm up all night, tossing and turning. I recently found Bigelow's Sweet Dreams herb tea that is a delicious blend of herbs and has no caffeine! I love to relax and sip some hot tea after the kids go to bed!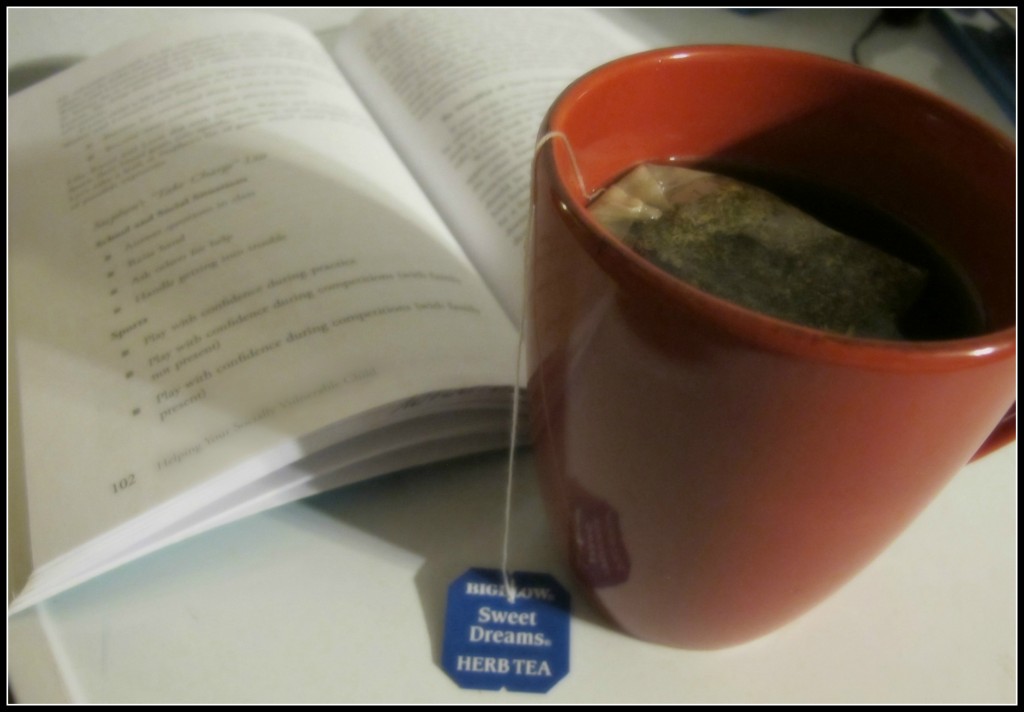 As a pregnant woman who IS sensitive to caffeine, it's helpful to know how much I need to limit myself to. Bigelow teas give me many options and many ways to enjoy tea all day and still keep my caffeine intake low!

So there you have it….my reasons for switching from coffee and soda to tea! Do you drink tea? What's your favorite way to enjoy it and when?
Check out Bigelow Tea on Facebook and Twitter to stay up to date on new products, coupons, and news!
');