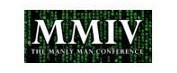 I first learned about Mark Gungor when my husband and I were working at the children's home. We got to watch his "Laugh Your Way to a Better Marriage" DVD series and we were both very impressed with the information he presented, the way he presented it, and the way he could make it funny, yet we still learned about how to improve our marriage.
Mark is a pastor at the Celebration Church in Green Bay, WI. While he uses the Bible in his seminars, he isn't overly "churchy" or "preachy." He just tells it how it is, which is refreshing. He also leaves out the psychobabble and relates with you on your level. Mark is also the host of the "Better Marriage Minute," heard on over 250 radio stations daily and "The Mark Gungor Show" that is available on iTunes.
This weekend, August 3rd and 4th, Mark Gungor is teaming up with some fellow "manly men" to bring you (or your hubby/father/boyfriend/son/brother!) the Manly Man Conference! Mark promises "No singing. No crying. No holding of hands." The theme of this year's conference is to 'live lives of adventure, not just living life through a virtual world, like games, tv, ESPN, and porn. The challenge is to get men to pursue life to the fullest, engaged in the world around them."
I think the Manly Man Conference is a GREAT idea, and there really should be more like it. I'm not a man, obviously, but I think that my husband would love to go to this conference and be able to hear from influential, smart men about topics that concern every man. Check out the lineup of speakers:
Mark Gungor – the founder, of course!
Jeff Saturday – NFL football player – Indianapolis Colts
Craig Gross – Author, speaker, pastor who founded XXXchurch.com as a response to those addicted to pornography and those who made their living in the porn industry.
John Branyan – comedian committed to "comedy that won't leave a filthy residue."
Greg Stube – highly decorated war hero who was severely wounded while serving in Afghanistan
Ross Skorzewski – EmCee – produce of the Mark Gungor show, associate pastor, worship leader, and youth pastor at Celebration Church.
This is GUARANTEED to be a great conference and you can bet that I want to go. But, alas, I am a woman and I'm not invited. 🙂 If you want to go, or think a male in your life would benefit, you can get more information and buy tickets at the Manly Man Conference site! Lots of the events are already sold out, so hurry!