As much as we are sick in this house, whether it be sick with allergies, a cold, or whatever, it was nice to find Maty's natural products! As you may know, cough and cold medicine isn't recommended for young kids like mine, but Captain Fussybuckets can take the children's all natural cough syrup (Baby D can't because it has honey…but he can take it soon, when he turns 1!) It has a caramel banana flavor and is made with antioxidant rich buckwheat honey.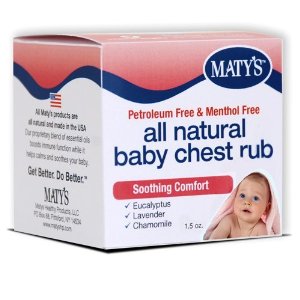 They both can use the all natural baby chest rub to make them feel better when they have stuffy noses! It can be used on the chest or feet to soothe their little noses and airways.
I had been looking for an alternative to using Vaseline in my nose when I was sick. Maty's makes an amazing product called Breathe Better nasal ointment. Breathe Better is safe for all ages and is drug free and all natural.
Check out Maty's website to find information on their products and find a store near you that sells Maty's all natural products.
*Disclosure: The products in this review were provided to me free of cost for the purpose of conducting this review. All opinions expressed in this review are my very own and are not influenced by monetary compensation.