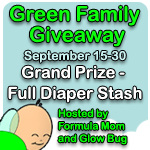 I've been waiting for weeks for this day to come and it's finally here! The Green Family Giveaway is here and it's guaranteed to be great! All of the blogs represented in the linky below have gotten fabulous "green" prizes for you and your family!
Glow Bug Cloth Diapers is the grand prize sponsor for the Green Family giveaway. One lucky reader will win a complete cloth diaper stash! The stash includes 24 cloth diapers with inserts featuring the newest prints! The winner will be able to choose from either a boy set or a girl set. Enter the Grand Prize Giveaway!
Here at Life With Captain Fussybuckets, I am THRILLED that Moody Sisters Organic Skincare is giving away a $25 gift code to their Etsy store!! I have heard a lot about Moody Sisters over the past few months, so I decided to contact them and I'm happy to present them to you today!
The Moody Sisters are actually real sisters who have "moody skin" and have worked to come up with awesome, effective, organic skincare products! They make everything from deoderant to bug spray, moisturizers to acne products and everything in between!
I was fortunate to get to review two items from Moody Sisters! First was the Face & Lip Scrub: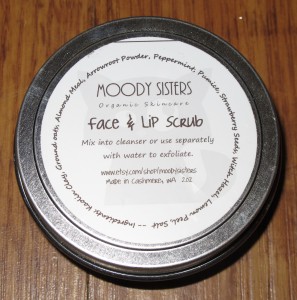 I love how all of the ingredients are listed right there on the front, so there's absolutely no guessing. And all of Moody Sisters' products are paraben and preservative free, by the way, so you can rest assured that what you're putting on your skin is the very best! BUT the great news is that it's not ridiculously priced like it should be, and well, that's awesome news!
Okay, back to the Face & Lip Scrub. This stuff is pretty awesome. It suggests on the label to mix it in with your cleanser or use it separately, but I like to kill two birds with one stone, so I mixed it in with my gentlest of gentle cleanser and I like it! I love the way it makes my skin feel super smooth without drying it out a ton. My skin is super sensitive, but this wasn't harsh on it at all. You can get Moody Sisters' Face & Lip Scrub in a 2 oz. container (not what is pictured) for only $10.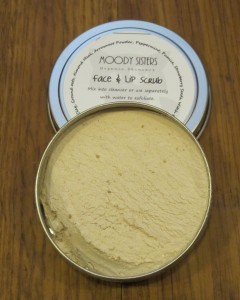 Next, I happily tried out the Moody Sisters' Lip Balm in Kiss My Almond. I'm a lip balm fanatic and have been searching for *the* perfect lip balm since giving up my petroleum laced lip balm of the past. THIS is *the* PERFECT lip balm, folks. And I promise I'm not just saying that. This stuff is good, super, super good!!! It smells good, it glides on my lip, and keeps them moisturized for a super long time. IF you don't believe me, I've actually ordered MORE lip balm since I received these products for review. I ordered the Micheivous Mint and it is just as wonderful! You can order your very own magical lip balm for only $4.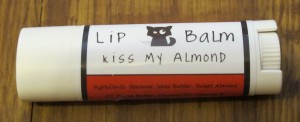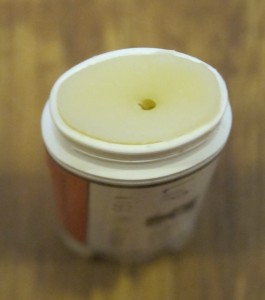 And while we're at it, I'll go ahead and admit that I bought a jar of Intense Moisturizing Cream for my super dry skin and of course, that is awesome, as well. So there you go, four different products, all tested by me, all awesome!
You can connect with the Moody Sisters on Facebook and Twitter and check out their products on the Moody Sisters website or at their Etsy store. They also have a blog that they update regularly, so check that out, too!
Now, if you'd like to win a $25 gift code to my new favorite Etsy store, just enter in the Rafflecopter form below!! Good luck!