When I hear the word "jump," I immediately think of my three year old, whom I call Captain Fussybuckets on the blog. He, like most three year olds, is a burst of energy from the time he gets up to the time he goes to bed. We recently bought some new couches at a garage sale because our old couches were literally falling apart on us. For some reason, new furniture HAS to be jumped on if you're three and one, as is the Captain's little brother, Baby D. While the boys didn't jump on the old couches, they felt they need to jump on the new ones. My clever little boy will say "Mommy, I'm just walking on the couch." Right. So I tell him not to even STAND on the couch. He goes to jump off, which he's also not allowed to do and he says "Mommy, I just stepped off, I didn't jump." Right, again.
So I tell him why we don't want him jumping on or off the couches. "Son, if you jump on the couch, you could fall and break your head open. We don't want to have to take you to the hospital and we don't want you to get hurt." But again, my crazy son hears the word "hospital" and thinks it's cool, thus any amount of pain MUST be worth it to get to go to the big, cool hospital and see the awesome doctors that he likes to pretend that he is.
I really think I need to invest in a jump house or even a small inflatable so I the boys can jump to their heart's content and stay OFF my furniture!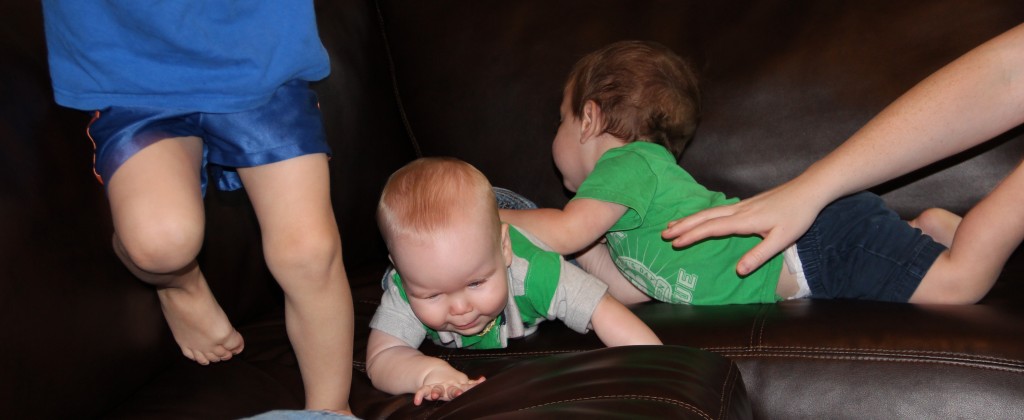 (NaBloPoMo stands for "National Blog Posting Month" and is a blogging challenge created by the folks at BlogHer. Today's prompt was "What's the first thing that pops into your head when you hear the word 'jump'?" Since I'm always in need of writing prompts, I'm participating when I can! yay! Leave me a link if you're participating in June, as well!)