This Nourishmat post was brought to you by Earth Starter. All opinions are my own.
Gardening is so much fun, but it is also a lot of work. And I know it's easy to become overwhelmed with all of the details and choices. Where do I need to plant? How many seeds? When? What works well together? What about the weeds? There are just so many options, so I like that products like the Nourishmat have made it easier on us that don't have time to read all the gardening books.
The Nourishmat is a "pre-fab, paint-by-numbers 4×6 garden that helps kids and parents learn to grow food together." Each mat comes with 19 varieties of seedballs that are planted into their marked spot in the mat so that they grow well together and actually help each other grow. The seedballs include compost and worm castings that help the plants germinate and grow as well!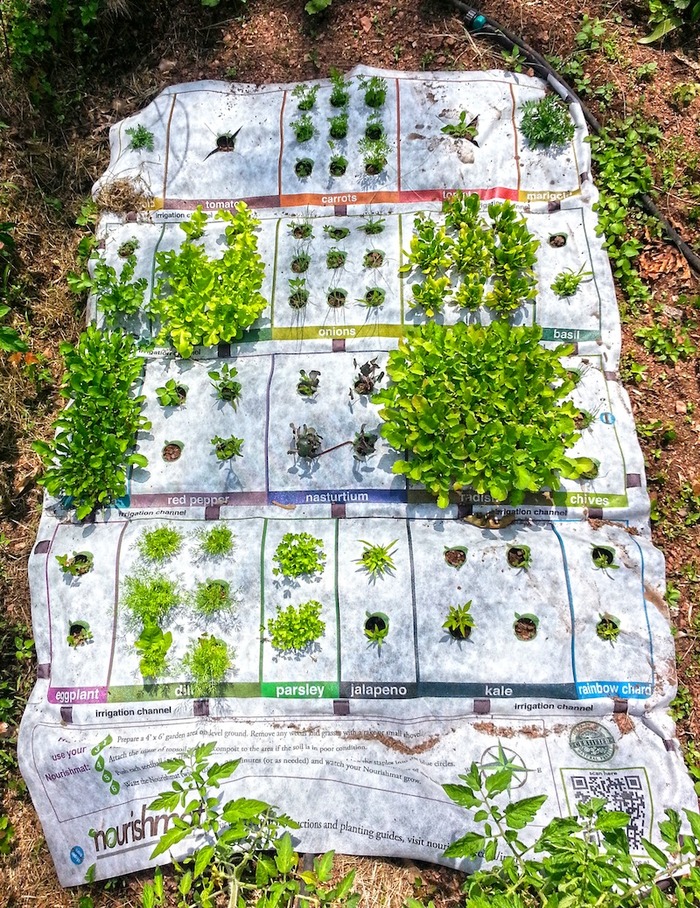 The Nourishmat is reusable up to five years (just reorder seedballs,) has built in irrigation (just link up a hose,) built in weed barrier, and contains a planting guide so you will know exactly when to plant. Non-irrigated Nourishmats can be cut to fit existing raised garden beds. The nineteen plant types included are: tomato, eggplant, radish, red pepper, carrot, onion, kale, onion, arugula, spinach, salad bowl lettuce, rainbow chard, basil, cilantro, jalapeno pepper, chive, dill, parsley, marigold, and nasturtium.
Benefits of the Nourishmat Garden:
Reduces garden setup time by hours

Seedballs require no digging

Low-maintenance and no-mess gardening
Built in irrigation (plug and grow)
Reduces water usage by 80% +
Built in weed barrier
Agricultural learning tool
Access to Beta website resources
Non-GMO seeds
​What a delicious way to feed your family! Nourishmat is a great way to provide fresh, healthy herbs and veggies for your family. I plan to nourish my family with the delicious Nourishmat veggies soon!
Funding for this awesome project is still under way and you can help. Pledge to help kickstart the Nourishmat and receive a special gift in exchange. For more information on the Nourishmat and how you can help, check out the Nourishmat Kickstarter page. Connect with Nourishmat on Twitter and Facebook.