**It appears as though One Jackson is out of business and has been aquired by TaskRabbit since I wrote this post.**
Two great bloggers from And The Little Ones Too and Taking Time for Mommy and a bunch of other bloggers have teamed up to bring you the When Seasons Change Blog Hop!! I LOVE Fall and I'm so thrilled that it's almost here! Fall is definitely my favorite season and I want to celebrate with YOU!
Our sponsor for this great event is the fabulous children's clothing and accessory company – One Jackson. One Jackson has been featured in The Wall Street Journal, Los Angeles Times, and Petit Vogue! Their clothes are simply adorable and I'm so glad we were able to review some of their great, adorable clothes! With Fall approaching, you'll want to check out their super cute hoodies, pants, and long sleeved shirts for your child!
Captain Fussybuckets was so excited to get to open and unwrap his One Jackson clothes!!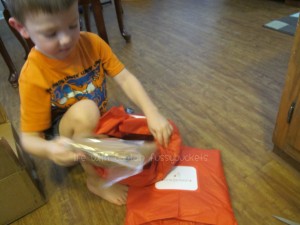 The Captain tried on his aqua bicycle shirt first. He loves bicycles and I think this color looks great on him! It is so soft and comfortable and should get a lot of use this Fall and Winter: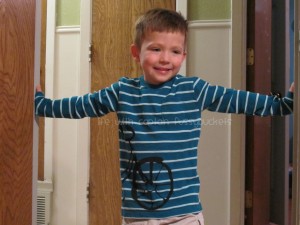 Next, I had him try on this "Live With Nature" hoodie and olive colored twill jeans: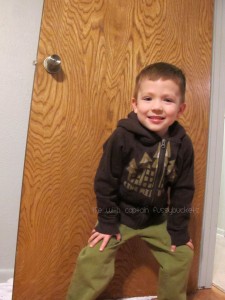 I love the feeling of the inside of the hoodie. It is soft and luxurious! The pants are a bit roomy for my skinny guy, but they have an adjustable waistband so they stay up! He really thought these clothes were "cool" and they look great.
I also ordered the olive twill pants for Baby D, too, in size 2T. One Jackson only goes down to a 2T, so it is the smallest size they had. They, too, have an adjustable waistband and thus, fit well through the waist. I just rolled up the bottom of the pants and he was good to go.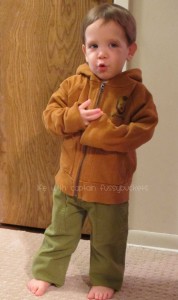 The "Fox Badge hoodie" he is wearing is also soft and comfy, like the Captain's hoodie. Baby D didn't really like wearing the hood, but it's a good option to have for colder days when we need to keep his ears warm and cozy!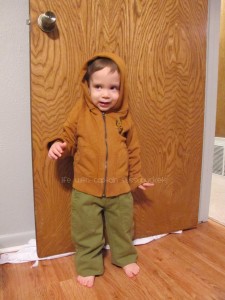 The One Jackson clothing items in this review were all between $20 and $37, so, a good price for the quality and adorable-ness of the clothes! One Jackson has a lot of great stuff to choose from for boys and girls. Their search options are so easy, too, one of the most user friendly sites I've found for shopping for clothes, in fact!
Find One Jackson on Facebook!
The lovely people at One Jackson are going to give one reader a $100 gift certificate to spend on anything their heart desires at OneJackson.com! What an awesome (and cute!) way to get your child's wardrobe ready for fall! Just enter in the Rafflecopter form below! Good luck!!!
Giveaway has ended and Jessica O. is the lucky winner!