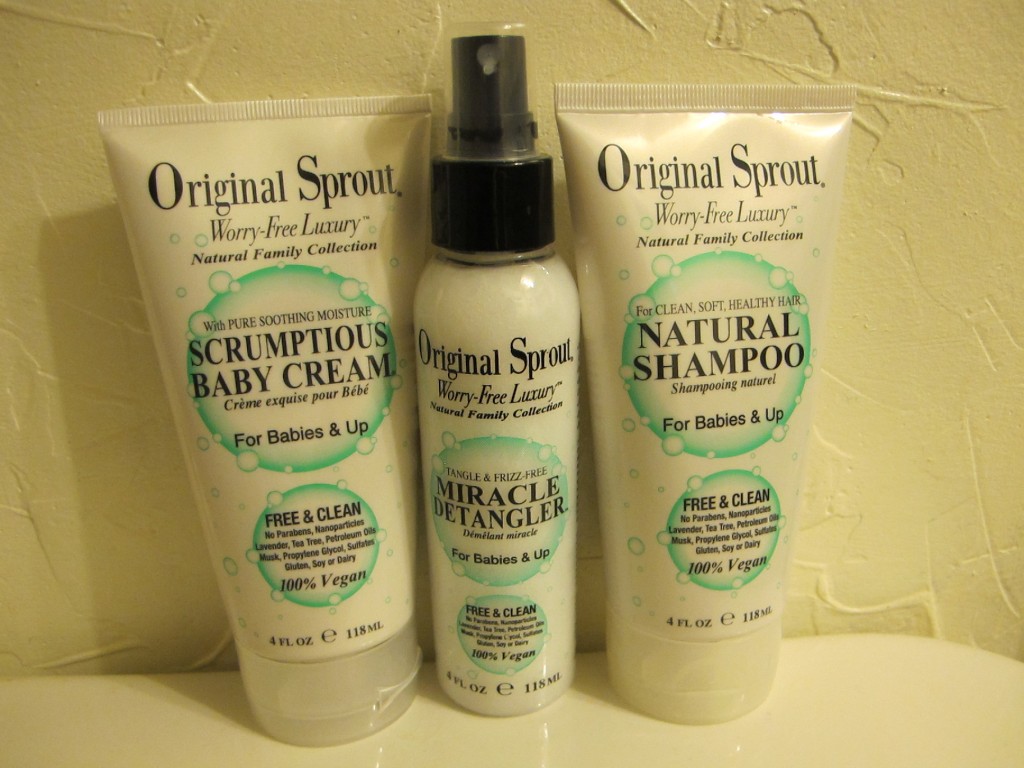 Original Sprout was founded by Inga Tritt, a mother who wanted the very best for her daughter. Inga formulated Orginal Sprout products that have the very best, safest ingredients, but are also effective. Original Sprout products contain no natural or synthetic hormone disruptors such as soy, yam, tea tree, lavender, parabens, titanium dioxide, formaldehyde, or nano-particles. The products are also free of insect attracting honey or soda fragrances. The fragrances that Original Sprout uses in it's products are free of phthalates, formaldehyde, acetaldehyde, styrene toluene, chlorobenzene, glycol ethers, and musk. Yes, that was a mouthful, but to sum it up, know that Orginal Sprout has done it's research and they make the best products for you and your family! Original Sprout makes a ton of products for you and your family, from conditioners, to body wash, to sunscreen and more!
We were able to review three products from Original Sprout: Scrumptious Baby Cream, Miracle Detangler, and Natural Shampoo. We tried out the Natural Shampoo first. (I say we because I never use anything on my kids that I don't try out myself.) I've used other natural shampoos and honestly, you wouldn't be able to tell this was natural at all. It lathers well, does it's job, and rinses out extremely well. And it smells yummy, too.
The Captain and I have sensitive skin, but the Scrumptious Baby Cream didn't bother our skin at all. And yes, it smells scrumptious, too! To me, it's more of a thick lotion rather than a cream, but it still moisturizes wonderfully!
Lastly, I tried out the Miracle Detangler on my hair because the boys don't really have an issue with tangles…ha ha. I have a problem with tangles at times, and I haven't used a detangler in years and am probably pretty rough on my hair, brushing out the tangles! But this Miracle Detangler stuff is awesome! I sprayed three sprays on my wet hair and it was super simple to brush! I love this stuff, I really do!
Visit the Original Sprout website to find a retailer near you or place an online order! You can also find Original Sprout on Amazon. Follow Original Sprout on Twitter and Facebook, too!