This Raise A Hand For Teachers post has been brought to you by ThredUp. All opinions are mine.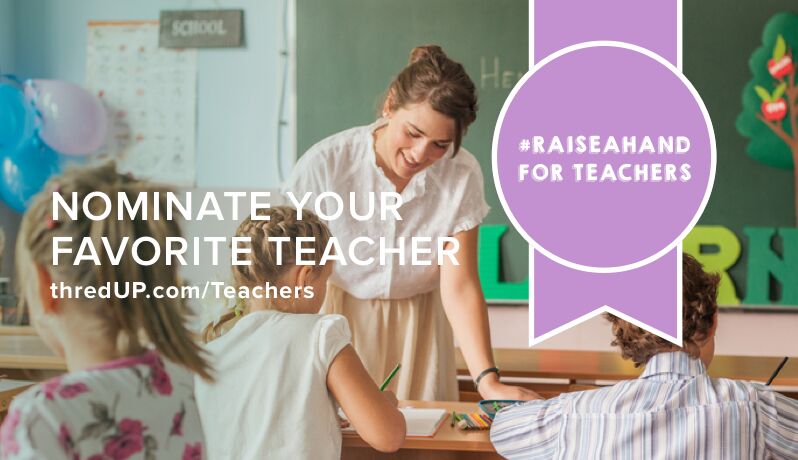 Teachers' jobs are getting increasingly harder by the day. Things have changed so much since I was in school, but even since I was a kindergarten teacher seven years ago. We all know that teachers work diligently to prepare for, educate, and care for kids of all ages, but teachers also have a daunting task to encourage, love, build character, and protect. Teachers have more and more things to worry about while trying to get their job done, all with a small paycheck and trying to take care of their own families.
I have known of teachers that have bought their students school supplies and had to purchase their own classroom supplies. They need specific things to enrich their classroom that their school doesn't have the funds for, so they purchase it. It's a labor of love. He or she sees that a student doesn't have the right school supplies and the parents don't have enough money to buy them, so out of his or her own pocket, the school supplies are bought, all while salvaging the pride of the student and family. Quietly, lovingly, teachers take care of their students and make their classroom an environment that is ready for learning, so all of the students can succeed.
Beyond the basics, however, there are many teachers who are buying food for their hungry students and clothes for their students who need them. According to AdoptAClassroom.com, teachers spend an average of $500 of their own money each year to make their classroom ready for learning. 70% of teachers have purchased apparel like jackets, socks, and shoes for their students that were in need.
Fashion resale site thredUP.com has partnered with AdoptAClassroom.org to recognize and thank teachers for their hard work and the positive impact they make each day on our children's lives. thredUP.com has popular kids brands including GapKids, Janie and Jack, Lilly Pulitzer, Mini Boden, Zara Kids, and many more. We have used thredUP.com in the past and have always been pleased with the exceptional quality. It's the best of the best, at affordable resale prices, up to 90% off of retail. thredUP is a one-stop shop, with all of the top brands in one place at thredUP.com/Back-To-School or on the mobile app. It's so convenient and stress-free!
Raise A Hand for Teachers Program:
Nomination period is July 15 – August 23

Three teachers each win $2,500 for classroom supplies and $500 to thredUP. 50 runner-up winners receive $100 to thredUP.

Winners will be announced on Tuesday, September 8 (following Labor Day weekend)

Visit Raise A Hand For Teachers to nominate your favorite teacher!
I'm nominating a teacher I know who brings home very little cash, because she spends so much on her students. Who will you nominate?