Welcome to the April 2013 Natural Living Blog Carnival: Natural Kids. This post was written for inclusion in the monthly Natural Living Blog Carnival hosted by Happy Mothering and The Pistachio Project through the Green Moms Network. This month our carnival participants have written posts about how they communicate with their children about natural living and how they implement those changes with their kids.
***********************************************
Our family hasn't always been "green." I think that we have made huge steps, however. We started cloth diapering the Captain when he was 9 months old, or so, but, if I'm going to be completely honest, it had very little to do with going green. It had more to do with the fact that we knew we wanted more kids and the cloth diapers would be less expensive in the long run. And they have proven to be just that! I am now glad that we made that step and while we have used a fair share of disposables, am glad that our decision has kept some disposables out of the landfill!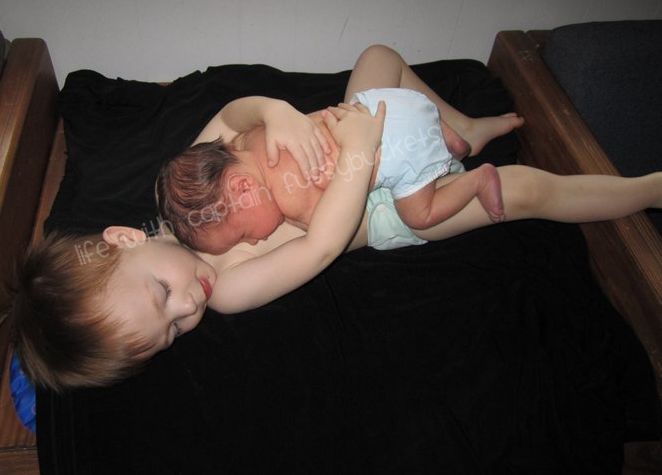 In the past year, we have really buckled down and have started to make better choices for our health and the environment. This has not always been easy, but I think it has been easier for us since the boys are so young, still. The boys still eat some "junk," but it is far less that what it would have been if we hadn't made this change. They know that it's much better to eat foods that are good for you and we are still practicing the word "moderation" for iffy foods.
The boys are also experiencing growing a garden in our backyard, from seed. I hope this is something that will last a lifetime, and they will have gardens of their own when they are older. They have learned about composting, reusable shopping bags, conserving energy, and more. Something I do want to tackle soon that isn't available to us right now is recycling. When we lived with my parents for a few months, the Captain was 2 and was a pro at recycling cereal boxes, cans, and more. We moved and there are no recycling facilities in our area, so we stopped recycling. Hopefully soon we can find a good option that can help teach our boys about the importance of recycling your stuff.
Going green goes beyond being healthy and taking care of the environment for us. I'd like my boys to grow up knowing that God gave us the Earth to use wisely and messing up with His design is harmful. I want my boys to know that genetically modified organisms, pesticides, and toxic chemicals are not taking care of God's earth and people!
Has going green been easy for your family? What do you hope to pass on to your kids about going green?