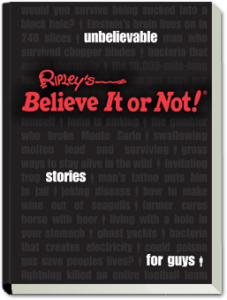 If you're still trying to find the perfect Father's Day gift for a special guy in your life, you should check out the new book from Ripley's Believe It Or Not! "Unbelievable Stories For Guys" is filled with bizzarre and hilarious (but true!) stories….just for guys. It's a fun, different gift that Dad will love.
In "Unbelievable Stories For Guys," there are fascinating stories like: The Russian who put his head in a particle accelerator and survived and the corpse farm in Tennessee (gross to me, but fascinating to men, apparently!) Also, the billion mile golf drive, when Niagara Falls ran dry, dotcom disasters, and daring prison breaks. Want more? What about the craziest, true CIA plots, including the cat secret agent and the pigeon guided missile. And what can top the man who successfully removed his own appendix while on an Antarctic expedition? There's really nothing quite like the stories in this book! (And if you're like me and wonder if "for guys" means pornography or nudity, I can tell you that this book is free of that….just lots of weird, funny facts and stories for men!)
Since we were sent this book to review, I gave it to my hubby and he was excited about it. The name "Ripley's" generates excitement from men for their cool, weird stories. He is enjoying reading it, so it's a hit!
"Unbelievable Stories For Guys" comes in hardback for $16.99 or in e-book form. Right now, "Unbelievable Stories For Guys" is on sale at Amazon for $13.27. The Kindle version is only $9.99. Read more about the book at the Ripley's website. Make sure to follow Ripley's on Twitter and