Rock 'N Learn began in 1986 with the idea to put educational material to music with a current sound to help children learn. Rock 'N Learn has grown over the years and now has over 50 titles for preschool, math, reading, science, social studies, languages, and test prep.
As a former kindergarten and preschool teacher, I know that some kids simply learn best by watching fun, interactive DVDs with a catchy beat. There's no denying that in this day and age, this is one of the best tools that teachers can use to supplement learning.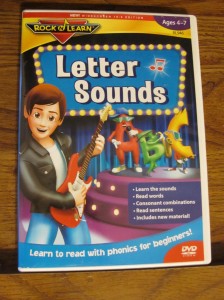 We were able to review the latest DVD release from Rock 'N Learn called "Letter Sounds." It says that it is geared for ages 4-7, but the Captain (who is 3) really enjoyed it and was singing along in no time. He has asked to watch it a few times already. The DVD is 62 minutes long, so he hasn't watched the whole thing in one sitting, but he is very much into it.
This DVD is good because it reviews the letters and letter sounds and also expands upon them, going into sounding out words, consonant combinations, spelling, sight words, and reading sentences. This DVD is going to be watched a lot as the Captain and Baby D learn to read!
Personally, I felt the DVD ran a bit slow, but the Captain was entertained and learning the whole time. I don't think he even looked away from the screen! So, I'm guessing that the folks at Rock 'N Learn know exactly what they are doing and made it the speed that is best for young learners. I definitely recommend this DVD to anyone with a beginning reader or maybe a reader who needs a little extra supplemental learning.
The "Letter Sounds" DVD and other Rock 'N Learn DVDs and CDs are available through teacher supply stores, specialty stores, Barnes & Noble and at the Rock 'N Learn website. Sign up for Rock 'N Learn's e-newsletter at the website, follow Rock 'N Learn on Twitter and Facebook, too!
Disclosure: I received one or more of the products mentions above at no monetary cost for evaluation purposes as a Mamma Media member. All opinions expressed are still 100% my own. I am disclosing this in accordance with the Federal Trade Commissions 16 CFR "Guides Concerning the Use of Endorsements and Testimonials in Advertising."
SaveSave