I was lucky enough to win a SleepBuddy in a blog giveaway a few months ago. I had wanted to get a SleepBuddy for Captain Fussybuckets, who loves to come to our room in the middle of the night, for a long time. We've had constant issues with this kid and in retrospect, I should have gotten him a Sleep Buddy a long, long time ago. Habits die hard when you're three, and we're still working with him.
The idea behind SleepBuddy is simple: when the light is on, you stay in your bed, quietly. You don't have to be asleep, but well, that's the idea. If the child wakes up at say, 6 AM and the light isn't set to go off until 7, he or she will lay quietly in bed and possibly go back to sleep. This is a BRILLIANT idea and has worked for many kids.
The inventor of the SleepBuddy is a (smart!) mother who has used it successfully with all of her children. The SleepBuddy system comes with the SleepBuddy light, which is simple to use, (but still comes with directions,) a children's book that describes what this new awesome SleepBuddy is to the child and explains how to use it, a rewards chart with stickers, and a Parent's Guide. Everything is clearly laid out, but, of course, each child is different and so you don't have to follow it strictly.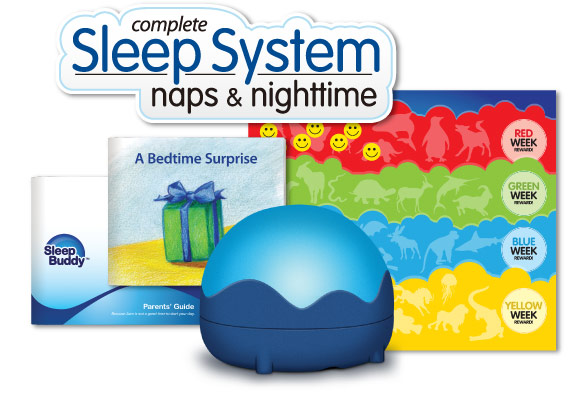 For us, we had two bedtime battles to tackle. I introduced the SleepBuddy, but we realized that we had to address the bigger issue first, which was that he had gotten in the habit of wanting someone to sit with him until he went to sleep. After a couple of months of this madness, after I sat in his doorway for over an hour one night, I decided enough was enough. We stopped using the SleepBuddy, but kept the idea of a sticker chart and rewards system for going to sleep by himself. FINALLY, it worked, and he is going to bed by himself these days, so we're going to try out SleepBuddy sometime very soon. He still comes to our room and sleeps on his mini couch almost every single night.
I'm still excited about the SleepBuddy. I am imagining a full night's rest with no interruptions! I can already tell this is going to be extremely helpful when Baby D transitions from his crib to a big boy bed, possibly in the same room with Captain Fussybuckets, but we're not there yet! Baby D is a great sleeper but if he can see an out, he's going to take it! The SleepBuddy, with it's soft blue light, is going to help ease fears of the dark and a new bed for Baby D. And hopefully, it will help the Captain very, very soon!
Find out more about SleepBuddy or purchase your own on the SleepBuddy website! And you can even buy a SleepBuddy on Amazon for less than $40.
SaveSave