I have received information and products from McNeil Consumer Healthcare Division of McNEIL-PPC, Inc., the makers of TYLENOL®. The opinions about SMILING IT FORWARD™ stated are my own. This is a sponsored post for SheSpeaks.
Kids get sick. And for some kids, they get sick a LOT. I've written about it before, but when we first moved to the house we are in now, I was convinced it was cursed because of how often we all were sick. Strep, ear infections, colds, allergies, and more consumed our lives every few weeks. I realize now that it was probably a combination of adjusting to our new house and environment, along with my boys just being little. Their little immune systems hadn't been built up much because they were 2 1/2 and 6-12 months old.
There are always moments when your child is sick that you think you just can't do it anymore. People say "this too shall pass," but you begin to wonder if it ever will. Your child is miserable and that's the worst feeling ever. But, then they start to feel better and give you that smile that warms your heart. They start eating better, drinking better, sleeping better…hooray! And they feel like getting up and playing and being their regular old self. Now THAT is an amazing feeling!
TYLENOL® is joining forces with Children's Health Fund to bring smiles to both sick kids and their parents. From now until January 31, 2014, TYLENOL® will donate $1 for every picture uploaded to SmilingItForward.com (up to $100,000.) What a great way to Smile It Forward!
Children's Health Fund is the nation's leading pediatric provider of mobile-based healthcare for homeless and low-income children and their families. Founded in 1987 by singer/songwriter Paul Simon and pediatrician/advocate Irwin Redlener, MD, Children's Health Fund currently has 50 mobile medical clinics serving hundreds of locations across the country, including schools, community shelters and homeless shelters. Over more than 25 years, the organization has provided three million healthcare visits to disadvantaged children, often in places where doctors and healthcare providers are in short supply.
I participated in the SMILING IT FORWARD™ campaign by uploading these two precious pictures that make ME smile: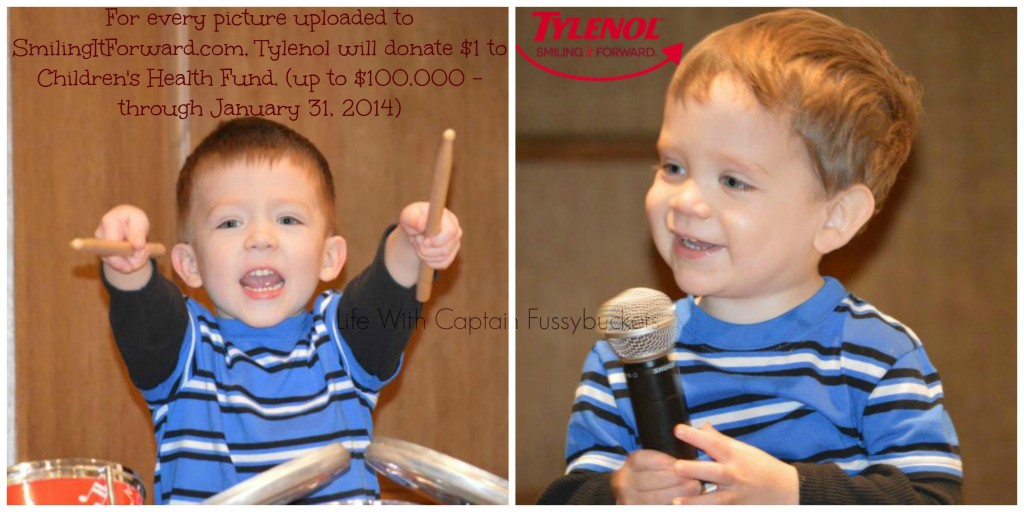 Join me, How I Met Your Mother star Alyson Hannigan, and millions of other moms as we do something as simple as upload a picture of our sweet children to raise funds for children who really need it!
Between September 17, 2013 and January 31, 2014, McNeil Consumer Healthcare Division of McNEIL-PPC,
Inc., the makers of TYLENOL®, is inviting anyone 18 and older to share a photo that makes them smile on
SmilingItForward.com. Each photo approved & shared will trigger a $1.00 donation from TYLENOL® to
Children's Health Fund, with a minimum donation of $75,000 and a maximum donation of $100,000. Review
Terms and Conditions for complete program details. For information about Children's Health Fund, visit
www.childrenshealthfund.org.