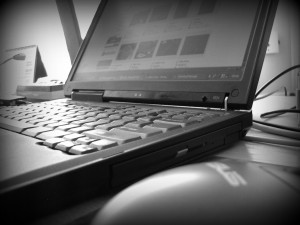 Spring is coming, which means it's almost time for Spring Cleaning! Yes, it may still be snowing where you are…and you may be like me and not be in the mood to clean at all so let's start with something simple: computer cleanup. We have had our desktop computer since 2007. It was our first computer that we bought together and it has moved many places with us. This is the computer that has most of my old teaching stuff on it and some of hubby's youth ministry stuff. It also has lots and lots of videos and pictures. The first step in spring cleaning, I would say, would be to make sure you have all of your videos and pictures on an external hard drive or online storage system.
After you have backed up your hard drive, it's time to perform a tune-up on your computer, just like you would a car. With proper tune-up, you can extend the life of your PC. System Mechanic is the perfect way to fine-tune your computer and keep it in great shape! If you are frustrated with how slow your computer is, or if your computer freezes, System Mechanic can fix it.
My hubby recently performed a System Mechanic check up on our computer and laptop and we have had great results. Since he was the one who ran System Mechanic, I'll let him take it from here…
We've owned our desktop computer for 6 years now. We've always had anti-virus software on it, but we've never used any pc tune up software like iolo's System Mechanic. We've noticed over the last few years that our Operating system runs slower and slower with each passing month. I knew that we needed something to speed up our system so we installed System Mechanic. System Mechanic installed seamlessly and quickly with our high speed internet connection. Immediately after installation, it asked if I wanted to run software, and I said yes. It didn't take long for my system's errors to pop up under the system status. It gave me options on how to repair the problems that were well defined.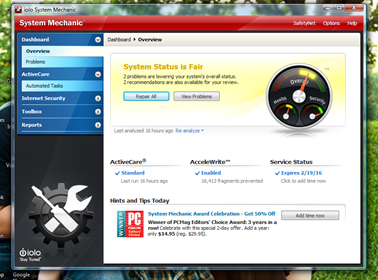 After reading about each problem, I was then given more options on how to address each one. I selected "review" under the "recommendations" window and it displayed each program that was slowing my computer down. I then selected which programs I wanted to keep and which I wanted to uninstall. It was very easy to uninstall each program, without opening them up, or going through the control panel.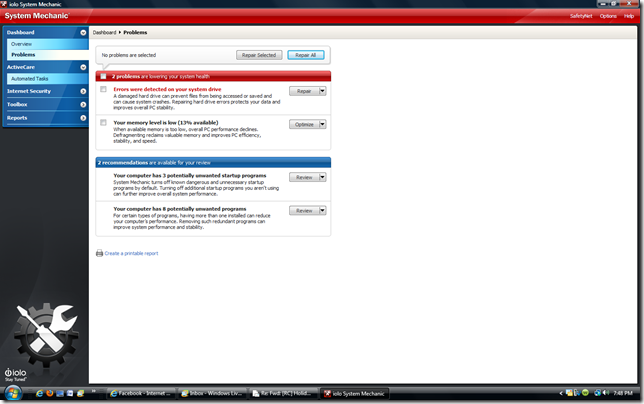 Then I selected to "repair all" under the "problems that are lowering your system's health" window. This immediately pulled up another window with a progress bar. After I returned to the "overview" tab, I had a "System Status is Good" message:

After that, System Mechanic gave me an option to choose which tools I used, and how often. I then optimized the hard drive with the "re-align programs" tool, which took most of the night. After I rendered all processes that I felt our computer needed, I rebooted the computer. The computer booted up much faster than normal and I noticed improved speed and process time on all facets of the operating system and software.
Here are a few highlights of System Mechanic:
fixes errors, crashes, and freezes

boosts internet speeds

speeds up Windows start time

restores system stability

cleans out clutter and junk files

prevents slowdowns and bottlenecks

plugs security holes

clears out private data

improves gaming experience
Iolo's System Mechanic is available for immediate download at the Iolo website, or stores like Best Buy, Walmart, and Target. Keep up with Iolo on Twitter for updates!
Enter below to win System Mechanic for a year to jumpstart your spring cleaning. There will be THREE winners! Good luck!
This giveaway has ended and the lucky winners are: Tobias G., Susan C., and GI P.