Thanks to The Bully Project for sponsoring my writing. Visit their website to join the movement and learn more.
I am so honored to tell you about the new movie, Bully. Everyone knows that bullying exists and it has for hundreds of years. I don't think anyone realizes just how bad bullying is, however. Did you know that this year alone, over 13 million kids will be bullied?
Lee Hirsch, who is a Sudance and Emmy award winning filmmaker, is the director of Bully, a documentary following five kids over the course of a school year. The movie also includes the stories of two different families who have lost children to suicide as a result of bullying, as well as a mother whose 14 year-old daughter has been incarcerated for bringing a gun on her school bus. The movie also shows what it's really like on school buses, in classrooms, cafeterias, and even in principals' offices.
Watch the trailer for Bully here:
This film looks very good and very compelling. I hope that every teen in America can watch it and be changed by it. Some adults will say that bullying is no big deal, that it's part of being a kid or a teenager, but that's so ridiculously untrue. Why do some teachers and coaches ignore bullying? Why is nothing done about the bullying problems around the country? It probably boils down to school politics and funding issues, but when I hear that even one life has been taken because of bullying, it breaks my heart. Why did that even happen? How could it be allowed to continue to the point of an 11 year old boy taking his own life? Something needs to be done and it needs to be done now.
If your school or organization is making any efforts to end bullying, I salute you. It only takes one person to start a trend and to make people realize that bullying is stupid, useless, and dangerous. That doesn't mean that we all have to get along and be buddies, but it means that kids should feel safe going to school, getting on the bus, eating lunch in the cafeteria, and safe to learn in class.
So what can you do to take a stand against bullying? MANY things! The Bully Project website has many resources for parents, students, educators, and advocates, as well as information about the movie and a viewing guide. Check it out and learn something new today, and get on board to stop bullying once and for all. Bring Bully to your city and see it with your friends, children, youth group, or team. Support the movie on Facebook and Twitter. And if you see someone bullying someone else, please don't ignore it. Protect yourself, sure, but don't turn and walk away!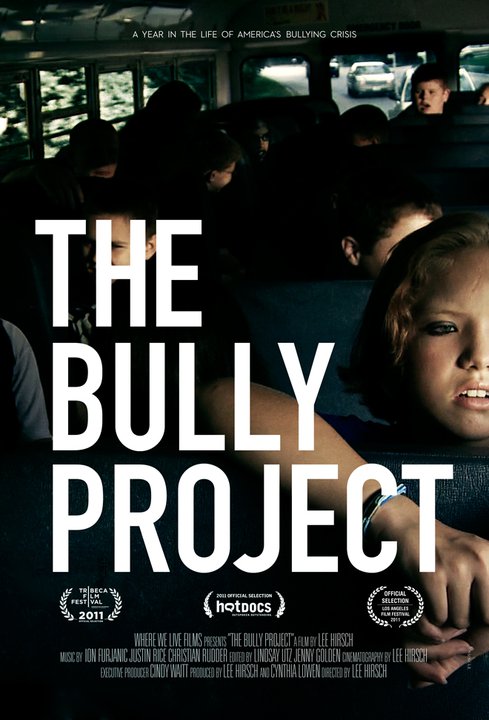 I was selected for this sponsorship by the Clever Girls Collective. Find showings in your area for The Bully Project and buy tickets here.