If you're familiar with ThredUp, it's not what it used to be. In the past, ThredUp was a way for parents to exchange old clothes for new ones, by just paying a fee and shipping and handling. I participated in it once, and really liked what I got. But the thing is, you never knew what you were going to get, which was good for some, but bad for others.
ThredUp has changed the way they do things. Now people send in their like new condition shoes, clothes, and accessories and ThredUp checks to make sure they're in good quality, and they pay the previous owners and sell the items on their website. So, it's like an online consignment shop! You just go to ThredUp.com, browse through the items by size, gender, or any keyword you want to search, and the price is listed right there, so you know what you're getting and what you're paying. AND you get free shipping when you spend $40, so it's almost better than going out to a consignment shop to buy like new clothes.
I received a $20 credit for ThredUp for this review. I quickly found lots of items that were awesome and this is what I chose: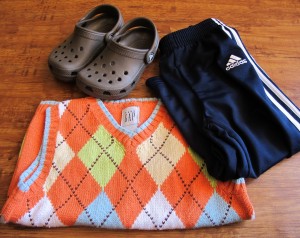 Crocs for Baby D for the Spring, in perfect condition, Adidas pants for the Fall, and this super cute Gap sweater vest! It's like I went out and bought the items new at the store, except they didn't have tags!
Enter code TU10 at checkout for 10% off of your first order!
The items also came with this huge ThredUp bag for me to fill up and send back if I choose to!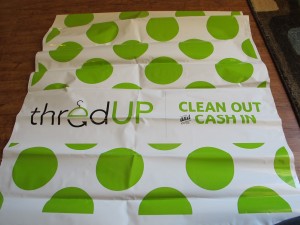 Here are some guidelines when deciding what ThredUp will accept:
They do not accept clothes sized 12 months and younger or adult and junior sizes

You can earn more if your clothes are from a top-name children's brand like Gap, Gymboree, Tea Collection, and more.

They do not accept clothing from Faded Glory, Garanimals, George, Sonoma, Athletic Works, Kid Connection, or Koala Kids, because those brands are harder to resell.

Homemade or altered items are not accepted.

Clothes new with tags earn more!

They do not accept non-clothing items such as books, toys, and stuffed animals, nor do they accept socks, underwear, or sleepwear.

Items without labels are not accepted.

Specialty items such as dresses and dress pants earn more, but they do have to be in excellent condition.
If you have any of these items in your kids' closets, maybe clothes that they never fit into or never got around to wearing, don't mess with trying to sell them by yourself….just log on to ThredUp and request a bag. There is a $4.95 bag deposit, but ThredUp promises that if you stick to the guidelines and fill up a bag, you will be fully refunded!