When shopping for a toddler or preschooler, especially a third born of the same gender, gifts get tricky! I have rounded up a few fun, hot gifts this season that any toddler or preschooler would love to receive. There is a mix of everything, so make sure to scroll all the way down!
Strider Sport Balance Bike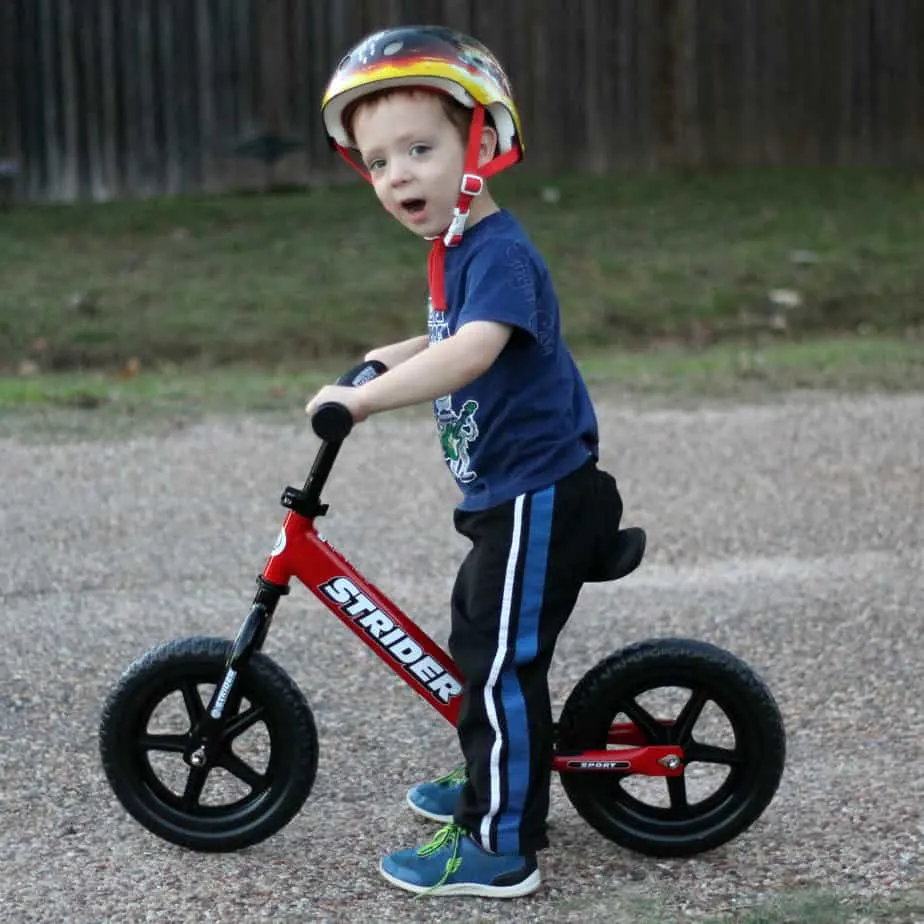 We love to ride bikes as a family. Little Brother wants to ride up and down the street with his brothers so badly, but he just is not quite ready to pedal his hand-me-down bike with training wheels. We love this Strider Balance Bike because it is a safe way to teach Little Brother to balance and have fun on a bike. I love that the tires never need air and never go flat! It is super light weight, so if Mom and Dad need to carry it, it is not a chore. Learn more about Strider here.
ThinkBaby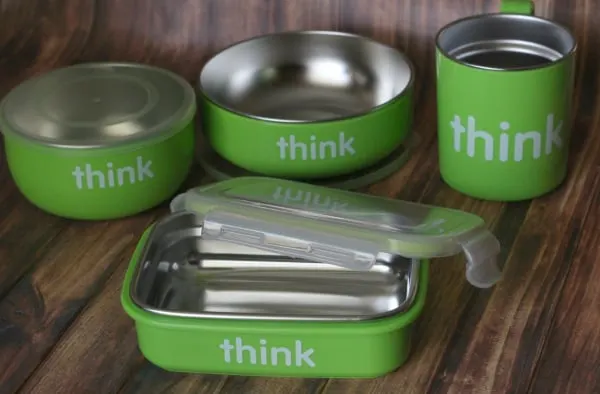 This fun set is from ThinkBaby, but it is great for the entire family. This BPA-free feeding set contains a Bento box, soup bowl, baby bowl, kids cup, and lids. It is completely free of BPA, phthalates, nitrosamines, lead, PVC, PET, Melamine, and biologically harmful chemicals. I love that the Bento box has an air tight lid and won't leak. The interior is stainless steel and separates from the outer shell, which makes them easy to clean.
Re-Play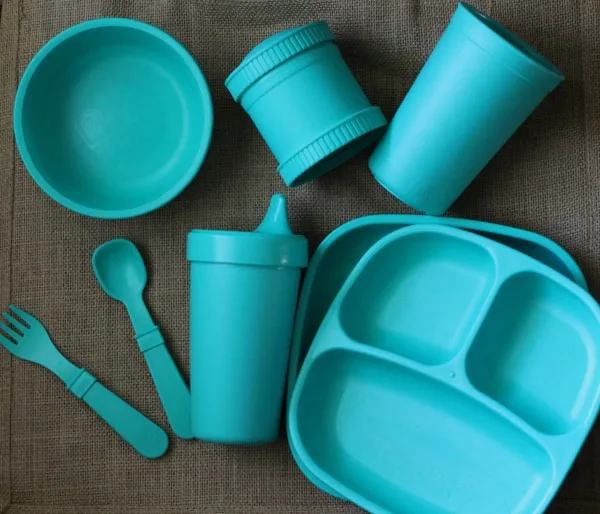 Re-Play is an American owned and operated company that makes high quality, durable kids' dishes out of recycled milk jugs, in many fun colors! Re-Play products are free from BPA, BPS, PVC, lead, phthalates and melamine. All of our boys love using Re-Play products, and the colors are simply fun!
Drink In The Box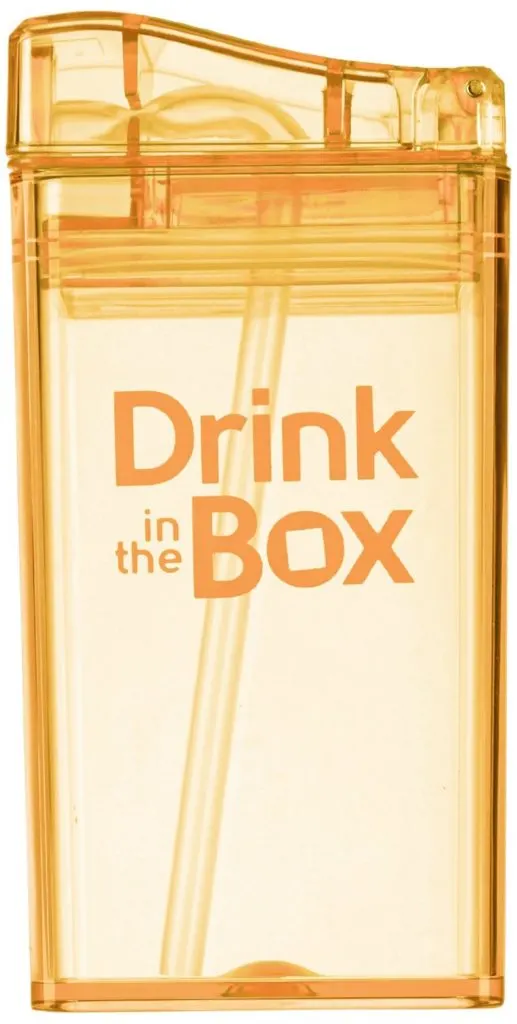 We received a Drink in the Box in one of those subscription boxes, and let me tell you…this is something that they and any cousins or guests fight over. It's a fun way to get hydrated!
Love2Learn Elmo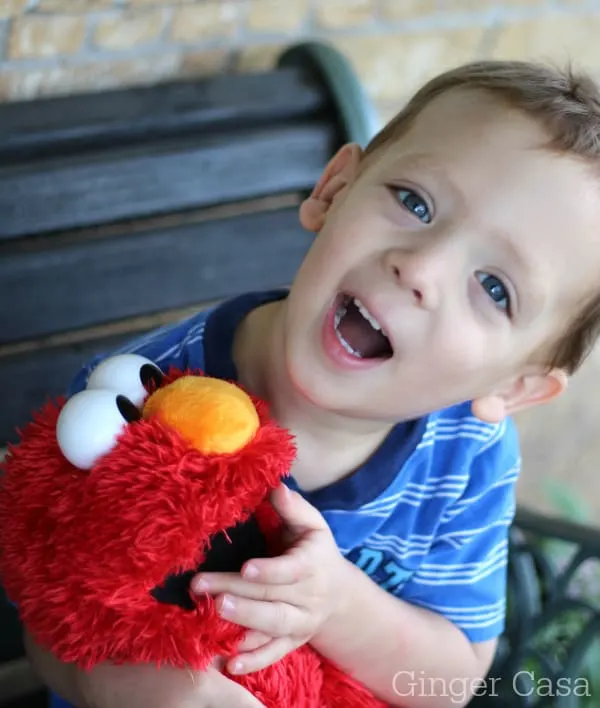 Love2Learn Elmo is such a fun gift for little ones! He is a happy friend who teaches kids all about letters, numbers, potty training, and more! Read my full review of Love2Learn Elmo!
VTech® Care for Me Learning Carrier™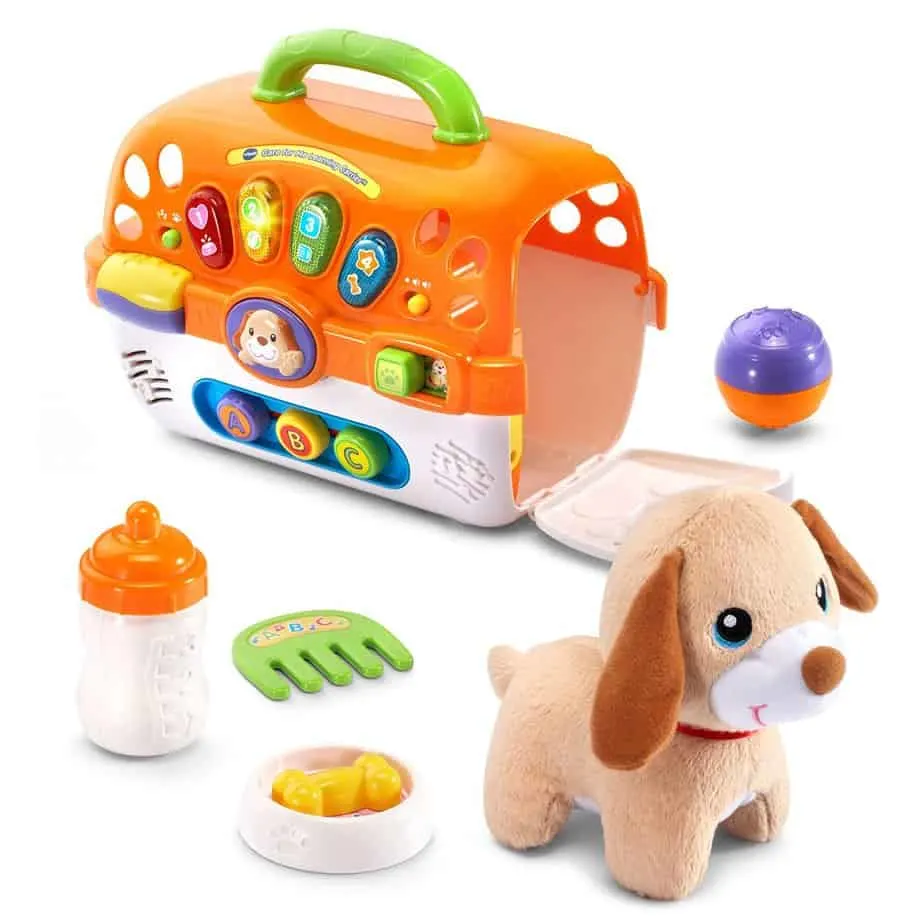 This sweet toy comes in orange or pink and teaches colors, shapes, and pet care, while kids take care of their puppy!
VTech® Ring & Learn Cash Register™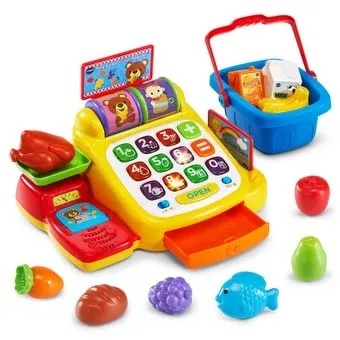 My boys have all loved pretending to be a cashier, and this is a toy that they all can play with together. The Ring & Learn Cash Register teaches numbes, colors, food and healthy-eating phrases, all while delighting kids with music, lights, sounds, and songs!
VTech® Bizzy the Mix & Move Bot™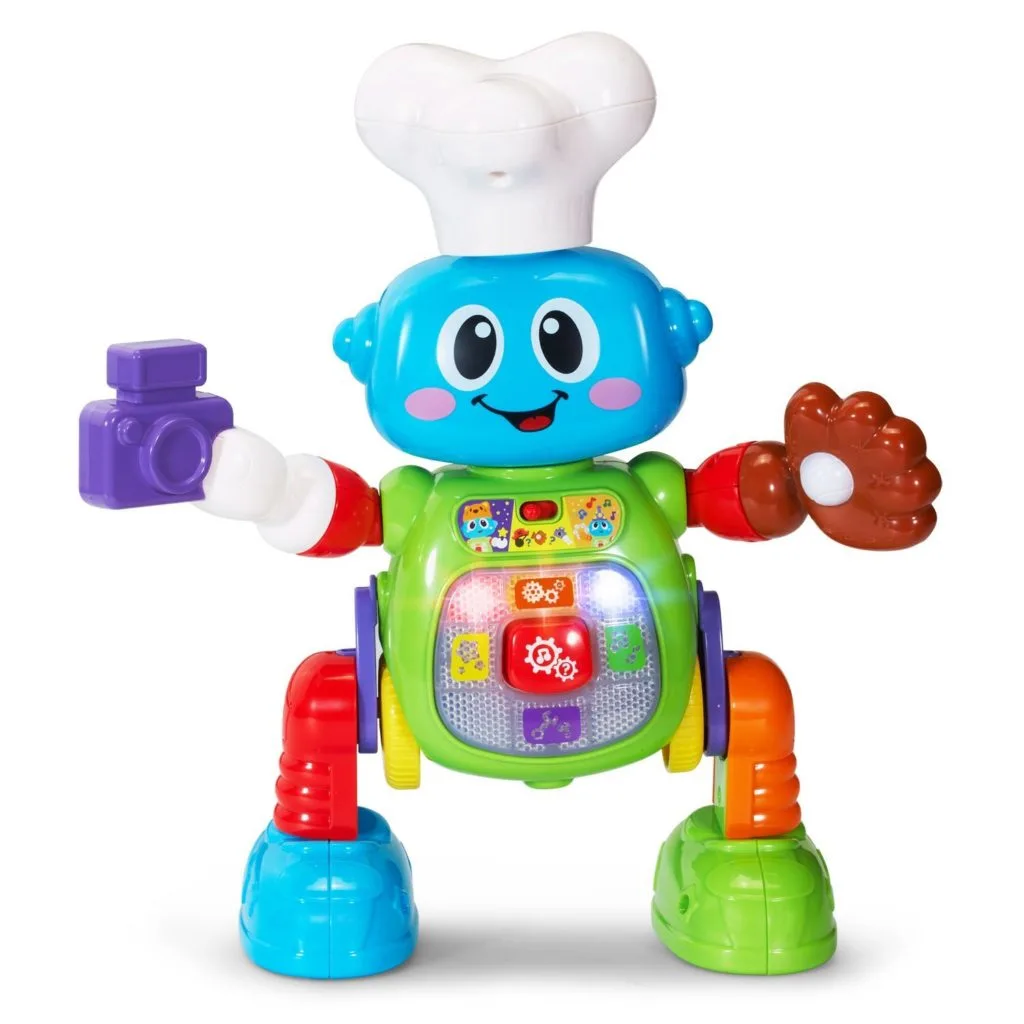 Bizzy The Mix & Move Robot is so much fun! The boys play with Bizzy and just laugh and laugh! You can change out his hats, arms and legs to make hilarious characters! Kids love the sound effects, lights, songs, fun facats and questions!
Fisher-Price Think & Learn Code-a-pillar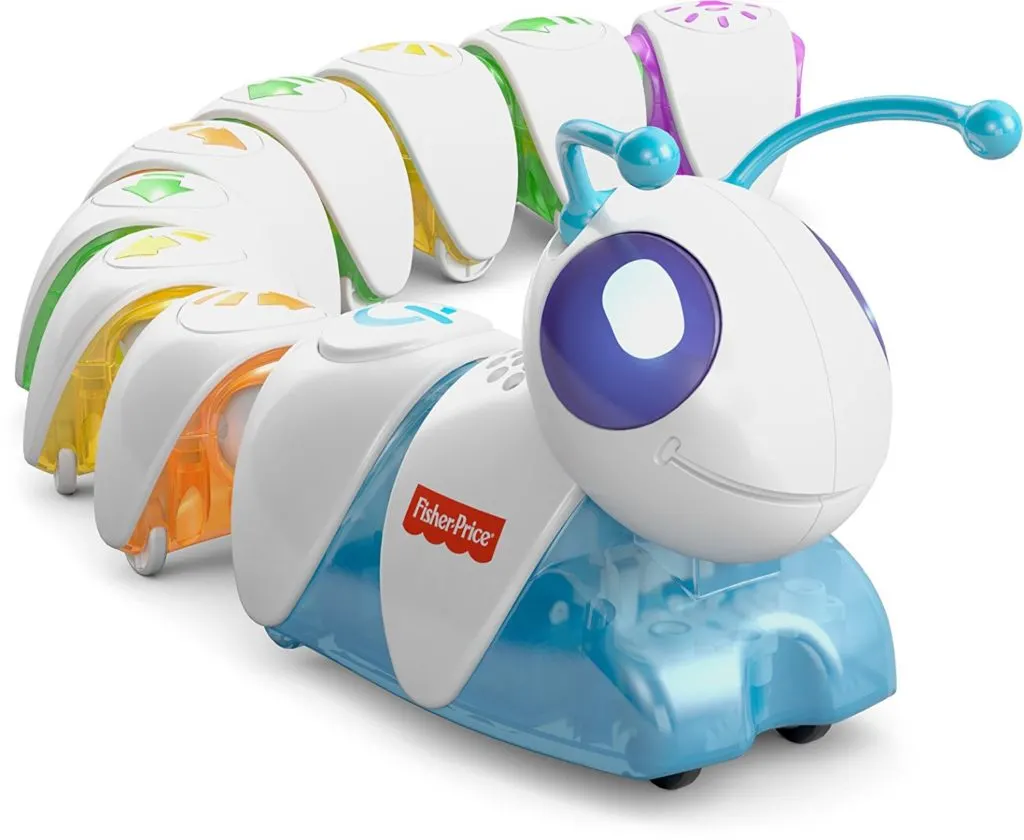 Code-A-Pillar is a perfect toy to introduce little ones to coding. They can adjust the segments to make him go left, right, or straight, and the segments light up as the action happens.
Carter's Rain Boots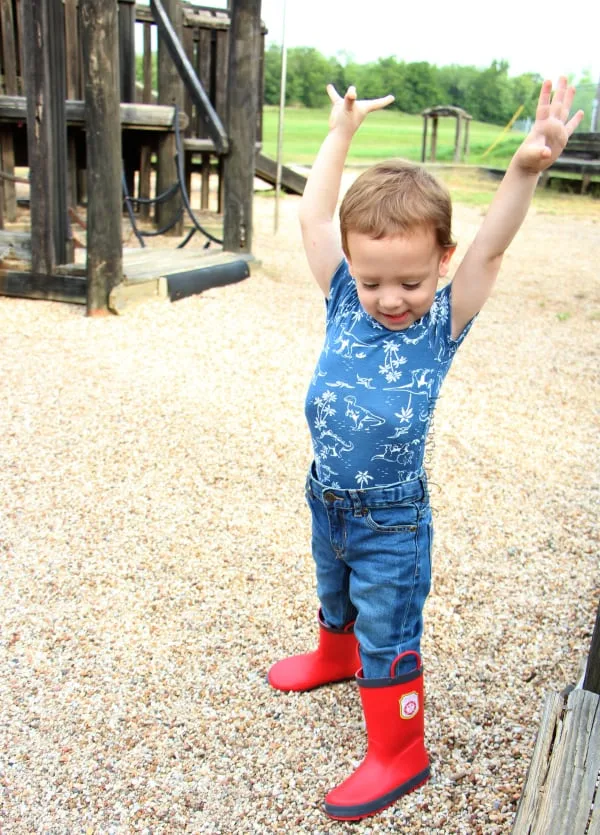 Every kid needs a pair of rain boots! Little Brother uses them for playing in the mud, helping in the garden or with the chickens, or just as a fashion accessory! Read about our awesome experience with finding new, fun clothes at Carter's here.
B. Toys Ribbit-Tat-Tat Light-Up Musical Drum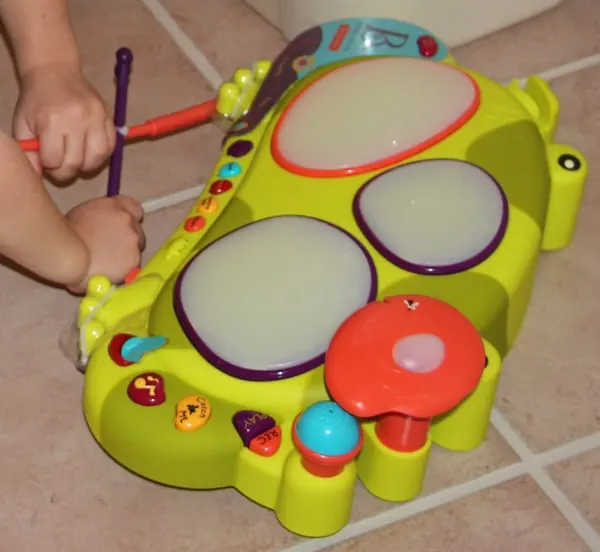 Little Brother just received this fun drum for an early birthday gift from his grandparents and he L-O-V-E-S it! It is perfect for him and as a parent of kids with lots of musical instruments…it is one of the least annoying ones we have. HA! We love this fun drum!
Let's Go Fishin' Game

Let's Go Fishin' XL is an extra large version of the classic game…easier for little ones!
Duplo Mickey Mouse Clubhouse Birthday Parade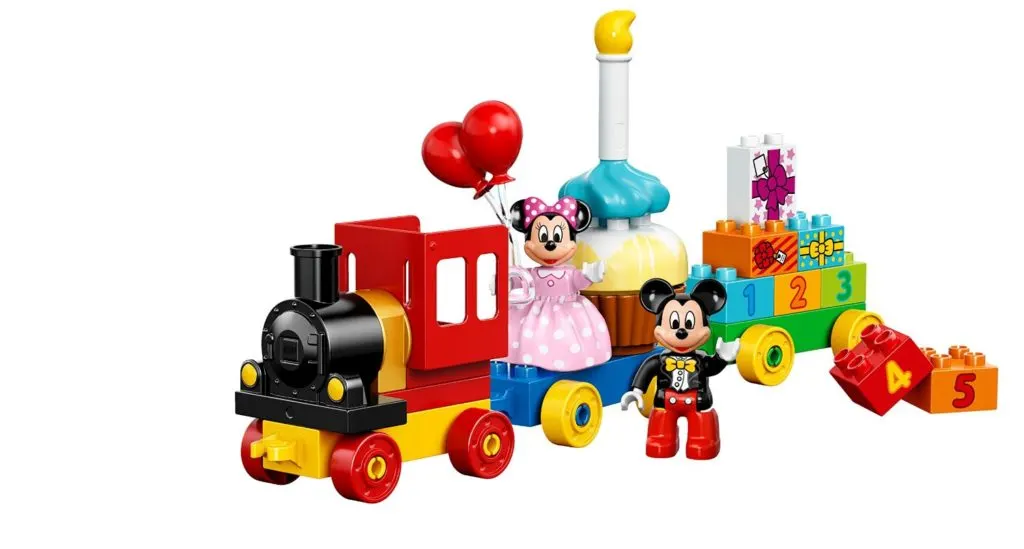 Duplo Mickey Mouse Clubhouse Birthday Parade is a great gift for little ones. My kids always loved Duplos, so any Duplo set at this age is great, but Mickey and Minnie? Who can beat that!?
MEGA BLOKS First Builders Block Scooping Wagon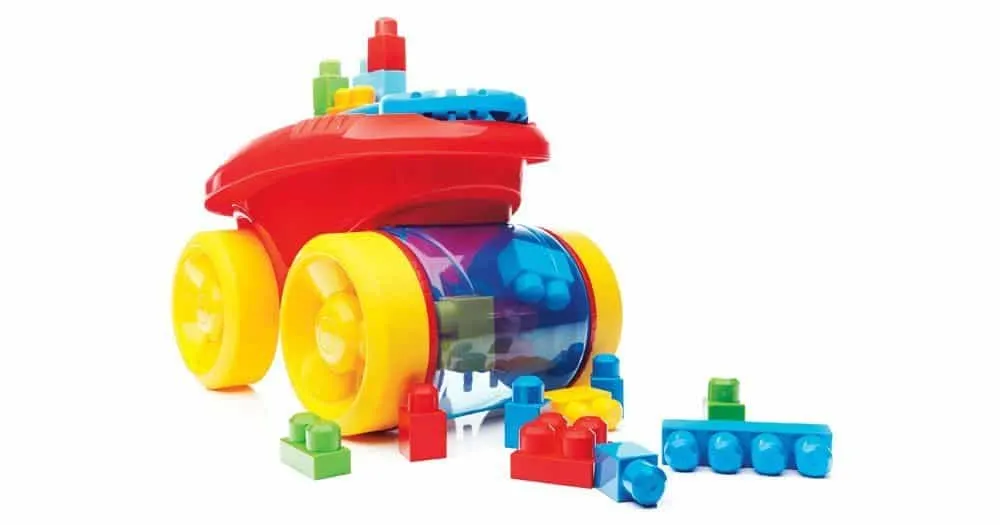 Why didn't this Scooping Wagon exist when my oldest was a toddler? I am in love with this idea! The wheels scoop up the blocks into the wagon, which makes cleanup fun!
Which gift is your little one looking forward to this season?
Strider – 12 Sport Balance Bike, Ages 18 Months to 5 Years, Red
The Complete BPA-Free Feeding Set, Light Green thinkbaby 1 Kit
Re-Play Made In USA 12pk Utensils for Easy Baby, Toddler, Child Feeding – Aqua, Green, Sunny Yellow (Aqua Asst.)
Re-Play Made in the USA Plate, Drinking Cup, Bowl Set for Toddler and Child – Red
Re-Play Made in the USA No Spill Sippy Cup Set of 6 – Sorbet
Playskool Sesame Street Love2Learn Elmo
Drink in the Box Eco-Friendly Reusable Drink and Juice Box Container by Precidio Design, 8oz (Green)
VTech Care for Me Learning Carrier Toy – Online Exclusive
VTech Care for Me Learning Carrier Toy
VTech Ring and Learn Cash Register
VTech Bizzy the Mix and Move Bot
Fisher-Price Think & Learn Code-a-pillar
carter's Boys' Fire Rain Boot, Grey/Red, 11 M US Little Kid
B. Toys Ribbit-Tat-Tat Light-Up Musical Drum – Ages 2 and Up
Lets Go Fishin XL: Deep Sea Edition Exclusive
Lego Duplo Brand Disney Mickey and Minnie Birthday Parade Building Kit | 10597
Mega Bloks Block Scooping Wagon Building Set, Red
Marshmallow Furniture Paw Patrol 2-in-1 Flip Open Sofa, Convertable Couch into a Comfy Lounger, 29.25 X 16 X 14.75-Inch
Paw Patrol Look-out Playset
PlasmaCar Ride On Toy – Red
Little Tikes Ultimate Cook Kitchen
Melissa & Doug Stacking Train – Classic Wooden Toddler Toy (18 pcs)
Melissa & Doug Deluxe Pounding Bench Wooden Toy With Mallet
Hape – Early Melodies – Mighty Mini Band Wooden Percussion Instrument
Fisher-Price Medical Kit
Melissa & Doug Fire Chief Role Play Costume Dress-Up Set (6 pcs)
Dexter Educational Toys DEX309 Toddler Dress-Ups Careers Set (Pack of 5)
Giro Me2 Infant/Toddler Bike Helmet (Highlight Yellow)
&