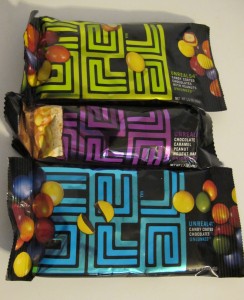 With Halloween less than a week away, it's Candy Central around here. We took the boys to a Fall Festival on Saturday and they got bombarded with candy (and this was with them SHARING a Halloween bucket!) I want them to enjoy sweet treats, but we are also working hard to teach them about moderation and on top of that, the absolute nasty JUNK that is in our candy.
A few months ago, I wrote a post about how Nestle' is using healthier alternatives for their candy sold in the UK. And yet, the USA still gets the junk in the SAME candy….like food dyes, preservatives, high fructose corn syrup, and more. Why my American kids aren't worth changing their recipe, I'm not sure, but it makes me pretty mad.
I recently discovered UNREAL candy. UNREAL all started when a 13 year old boy asked the question: "Why does the junk food we love have to be so bad for us?" After countless efforts to get someone to listen and try to product candy that isn't full of complete junk, he finally found Adam, a top chef in Spain. Together they worked to produce UNREAL candies that tasted good, didn't cost a fortune, were free of junk like GMO's, corn syrup, partially hydrogenated oils, artificial colors, flavors, and preservatives, and even had 40% less sugar per serving, on average, than your ordinary candy. UNREAL was born and I am one of millions who am happy it was!
My boys love candy, so we trekked over to Walgreens (UNREAL isn't available in all stores….yet…) to check out the UNREAL selection. I'm really embarassed to admit this, but my 22 month old, who doesn't have the best speech right now, saw this package and said "MMM" because he thought they were M&Ms. His favorite are peanut M&M's, so I decided to get him the UNREAL 54: Chocolate Candy Shell Peanuts: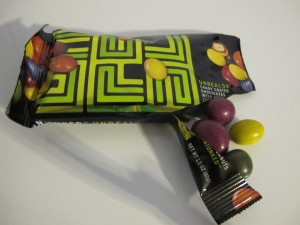 Sure, a one year old probably isn't the best judge of candy, but he absolutely loved these. He seriously thought they were his beloved peanut M&Ms. They look different, more natural and just pretty, if you ask me, but still, he gobbled them all up and I was actually NOT cringing while he ate them.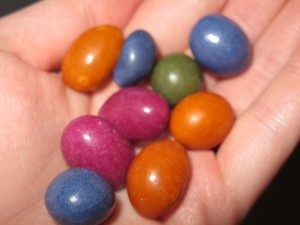 Regular M&M's are the Captain's favorite. Well, one of them.
So he picked out the UNREAL 41: Chocolate Candy Shell. Same story, different kid. He didn't even make one single comment about how these looked or tasted different. He just gobbled them up. Delicious, feel good candy. End of story.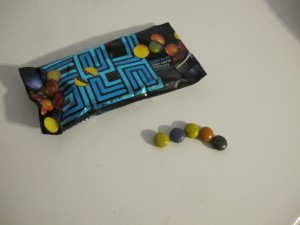 My choice was UNREAL 8: Chocolate Caramel Peanuts Nougat. I was impressed by how UNREAL puts it all out there, right on the wrapper. What if EVERY food/candy/beverage company did that? Pretty sure I would be buying a lot less junk, and I'm pretty sure the companies realize this, or else they'd be doing it….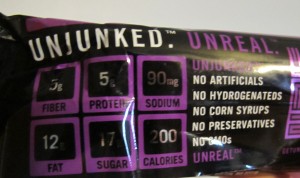 This candy bar was delicious. This is weird, but do you know that "bite" that burns your throat when you have something with high fructose corn syrup in it? I didn't really know what was causing it until I started to buy things without HFCS and then had ketchup with HFCS in a restaurant once. That's what it is. YUCK! And this beautiful candy bar had no nasty HFCS "burn" in it at all. And for that, I was thrilled!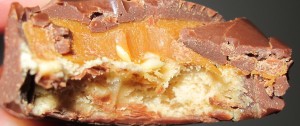 As a mom, I'm so, so happy with UNREAL products. So happy that I even bought the Captain some UNREAL chocolate peanut butter cups yesterday when we went to Walgreens to pick up some pictures. Special treats should be in moderation, yes, but you shouldn't be cringing and praying that the yuckies in all of this candy don't harm your kids as they're eating it. You want what's best for your kids and UNREAL just IS one of the best alternatives to nasty candy out there. And it doesn't cost an arm and a leg, either. I am pretty sure I paid 90 cents for the Captain's peanut butter cups. And again, he never knew the difference!
Find UNREAL on Twitter and Facebook, as well as their website, GetUnreal.com.