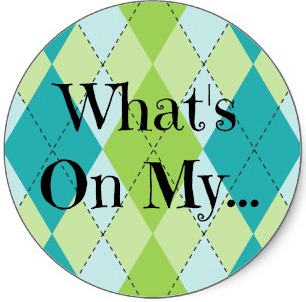 I have horrible allergies and am exhausted, the Captain is recovering from a sinus infection, Baby D has allergies and broke out in hives from eating his beloved peanuts this morning, and Daddy is on a youth retreat until this afternoon. We are taking it easy today and "Ni Hao, Kai-Lan" has made a comeback in our house and I'm THRILLED because I admittedly love that show. So, as I sit here trying to recover from my ears and sinuses feeling like they're going to explode, I read Emily's "What's On Your…." post over at Nap Time Is My Time and I, being a quiz taking nerd, wanted to participate as well. Here we go…with what's on MY….
VANITY: I call it my bathroom sink and there's literally no room, but we manage to always leave our electric toothbrushes, my Tom's fluoride free toothpaste, hubby's toothpaste, lotion, contacts case and saline solution, and hair gel.
PERENNIAL TO DO LIST: Clean the house. Always. Pull weeds and grass out of the garden.
REFRIGERATOR SHELVES: OJ, leftovers, Pomegranate Blackberry Tea (yum!), organic strawberries, milk, apple juice, eggs, and more.
ITINERARY: A few dentist and doctor's appts, a fun event on Wednesday with some local bloggers, and … that's about it.
FANTASY ITINERARY: A nice, long, relaxing cruise. With free laundry service.
PLAYLIST: Lately it's been the Veggie Tales CDs in our van, which is fun. But, Keith Urban, David Archuleta, and contemporary Christian is what's usually on Pandora.
NIGHTSTAND: Tissues, random kids' toys that always seem to find their way to my room, and water.
WORKOUT PLAN: Umm….this has taken a backseat due to stupid Spring allergies.
iPHONE: I don't have an iPhone (GASP!) but I do have an iPad and my favorite apps are gmail, the local news station, What's The Phrase? game, Stumble Upon, and Facebook, of course.
TOP 5 LIST: Spending quality time with the family, listening, cooking, having fun, being a Christian.
BUCKET LIST: Not sure. Seeing more of the world.
MIND: Baby D's hives, the recent tragedies in the US, and honestly, what Glenn Beck is going to say tomorrow.
BLOGROLL: I subscribe to a lot of blogs, but some of my favorites are The Frugal Greenish Mama, Going Crazy!! Wanna Go??!! and Whey Beyond The Naked Truth.
WALLS OF YOUR FAVORITE ROOM IN YOUR HOUSE: I don't have a favorite room, but I love all of the pictures in my house of my precious children.
LIQUOR SHELF: We don't drink alchy.
LAST CREDIT CARD STATEMENT: Groceries, Gas, Gifts.
SCREENSAVER: These still exist? I guess I have a picture of the hubby and the boys on the iPad, but I don't call it a screensaver.
TV EVERY NIGHT: The news. I shouldn't watch it, but I get sucked in while Hubby is watching it.
So what's on your list? Have you made a list like this? If so, I'd love to read it, leave the link!