If you're looking for wholesale men's costumes, you should definitely check out Wholesale Costume Club! Daddy and Captain Fussybuckets have been into Superman for a long time now, and the Captain has his very own Superman costume and cape from Wholesale Costume Club. So, with Daddy's birthday coming up, I decided to get him a Superman costume, because I knew that he, the Captain, and Baby D would all LOVE it! And they do! We gave the costume to Daddy and the boys played Superman for a long time!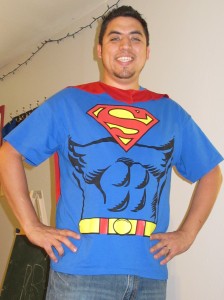 This is a great costume….no skin tight leggings, but a shirt that can be worn any day of the year plus a separate cape. What man doesn't want a red cape? haha!
Baby D really had fun trying on Daddy's cape before he got it: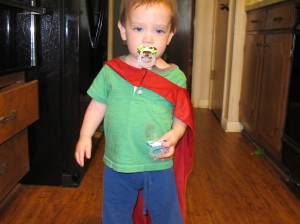 The costume is very well made and high quality. The site is very easy to navigate. I did a quick search and immediately found what I was looking for. AND, I received it in no time, so if you're in a rush, you shouldn't have to worry about slow shipping times.
Take a look around Wholesale Costume Club. It's amazing how many costumes are here! They have a ton of great costumes and they're all reasonably priced! Check them out today! They have men's, women's, teens', kids', and baby's costumes.
**Thanks, Daddy, for being such a great sport!**