We have been using glass cups, bowls, and plates for a few years now to limit our use of plastics in the home. I try to get our dishes from thrift stores or clearance but things DO break with kids using them, so you really can never have enough! Recently, my mother gave me quite a few of these cute little jars that she had saved for us, because they are the perfect size for little hands. (They are great for portion control for juice and keeping spills small, too.) I had seen a great idea to decorate coffee mugs with oil based paint markers and thought it would be fun for the boys to personalize their repurposed glass jars. We dedicated about an hour to decorate our clean glasses and let them dry for about 24 hours. I think they turned out super cute! They've made it through one dishwashing without chipping, but really should be hand washed to avoid chipping.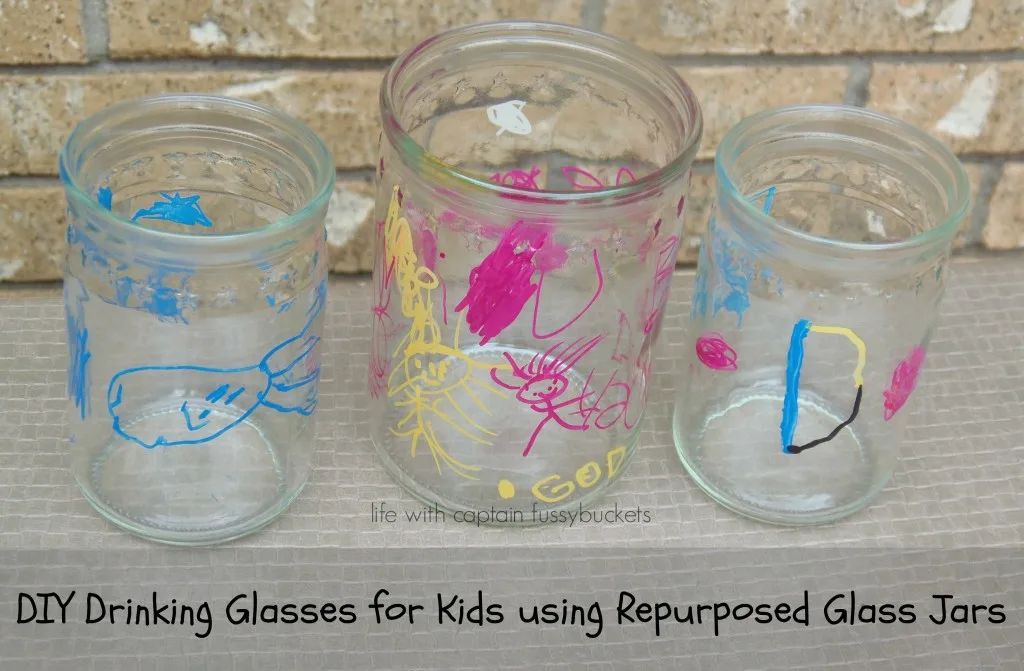 Supplies needed:
clean glass jars

oil based paint markers

clothes that can get messy (because as much as you tell a three year old "don't get it on your clothes…it's not going to work 😉

imagination!
​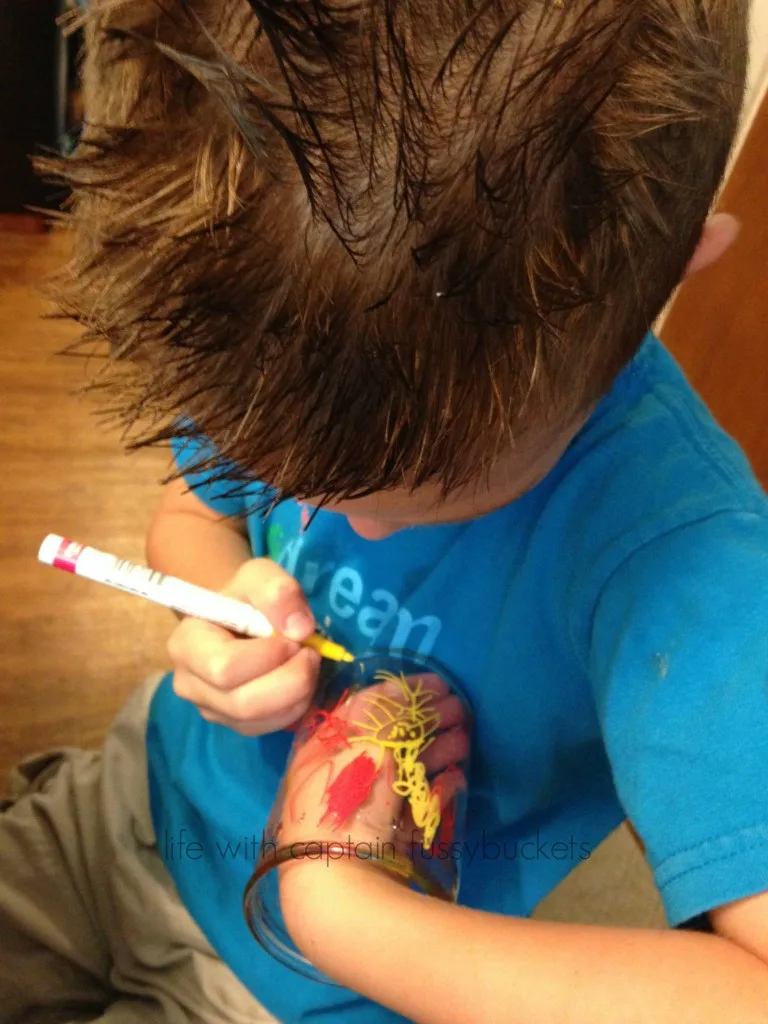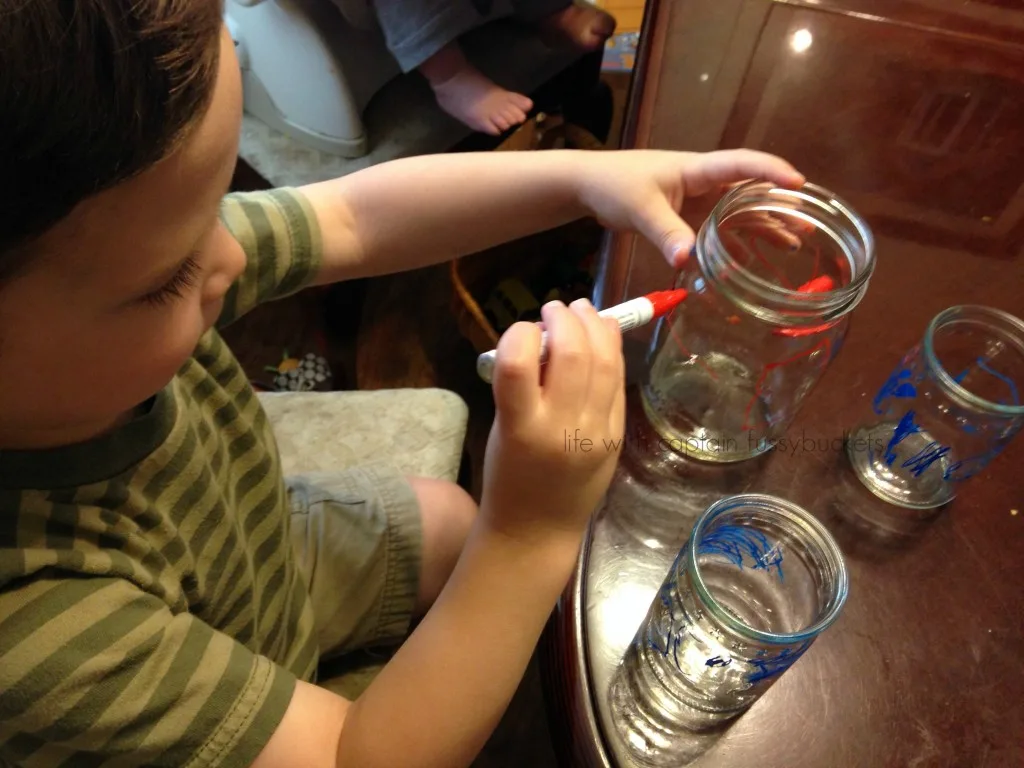 Directions:
Follow directions on markers to get them ready for drawing.

Draw, write, create with the markers on your glass jars. I wouldn't recommend drawing inside of the glasses because I'm thinking that would leech chemicals into your beverages..which is the whole point of using glass jars anyway. 🙂

Let jars dry for about 24 hours.

Place decorated jars into a cold oven.

Turn on oven to 350º.

Leave the glasses in the oven for about 30 minutes. Warning: you will smell the paint "cooking," so definitely open up a few windows or do like we did and head outdoors during this time.

After 30 minutes, turn off the oven but feel free to leave the glasses inside to cool….then they're ready!
​This was so much fun for the boys and they just went to town, asking for more jars to decorate. It all cost about $12, which was the price of the markers…the jars were F-R-E-E! So now, all of my glass jars that I use for food storage are pretty and decorated!
We also made a fun Father's Day gift for Daddy to drink his favorite juice: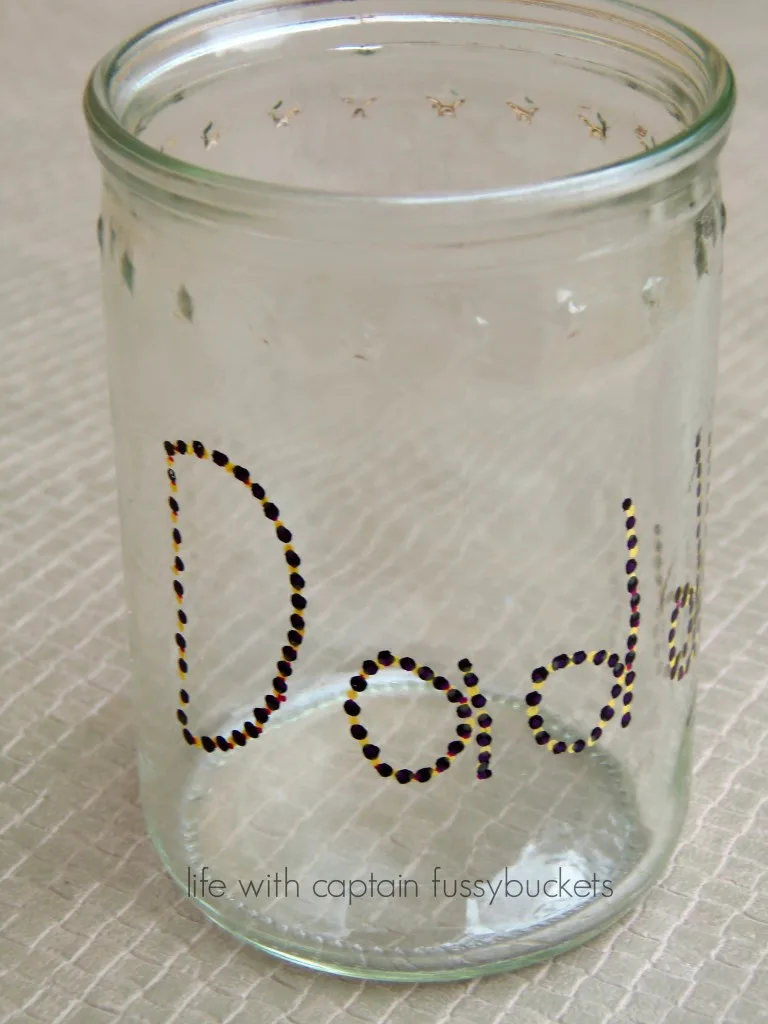 (The jars I used were from this product, in case you wondered.)
*contains affiliate links*