This shop has been compensated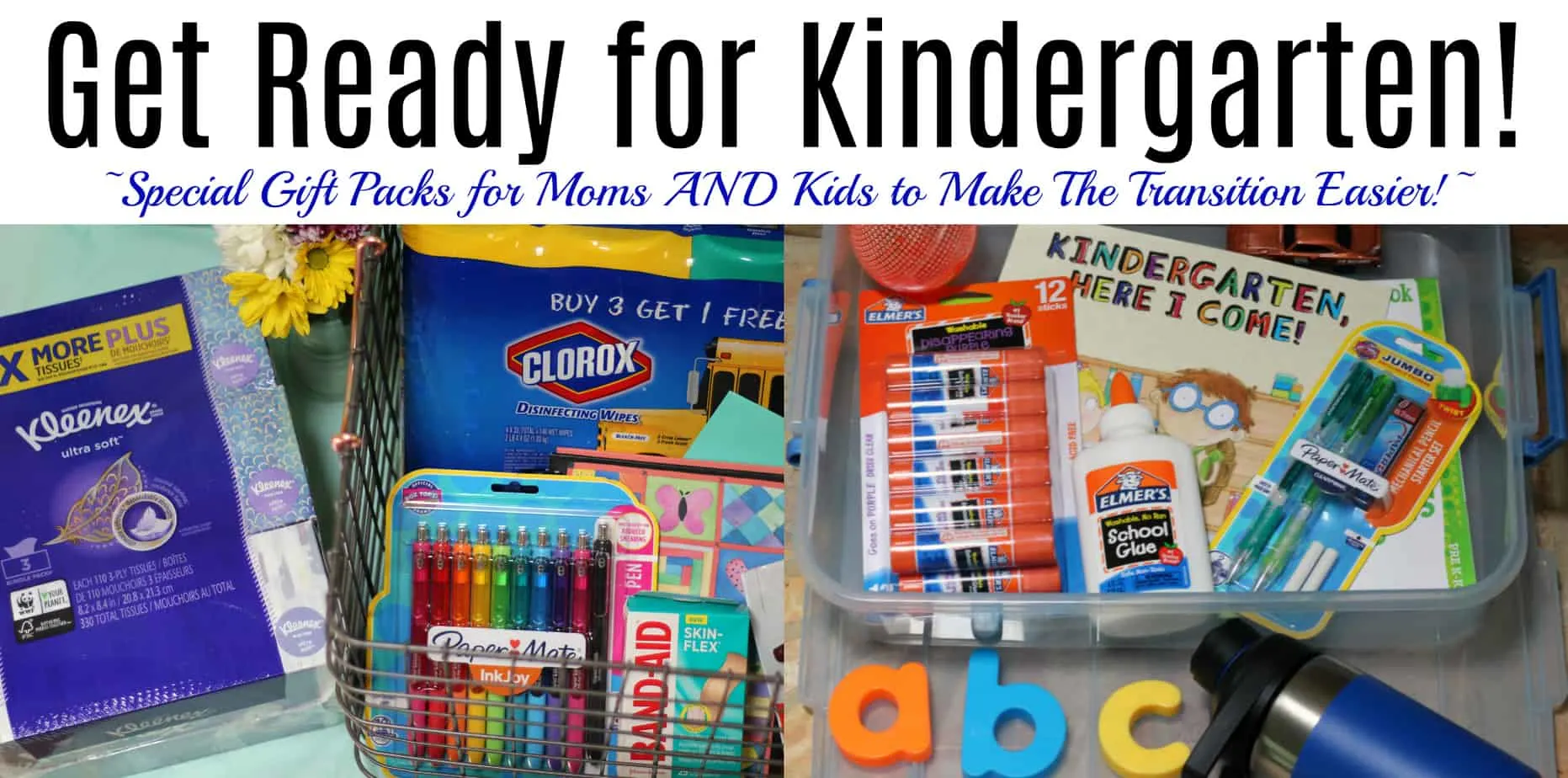 We are about to embark on a huge life change in our family…the youngest is going to kindergarten! Historically in our family, this age is really hard in terms of separation anxiety. Our oldest struggled in pre-k, so much so that we decided to homeschool in kindergarten. That worked amazingly well at the time, but we also had two little ones at home and they got along well. When it was time for Son #2 to start kindergarten, he had already been in pre-k for a year, but kindergarten, and really first grade, was really hard for him. He is the most introverted son and looking back, school was really good for him, even though there were days that he absolutely did not want to go. Now that our last son is old enough to start kindergarten, I am anxious about what it will be like. We just moved to a different city and they will all be starting a new school, but thankfully it is the same school. I anticipate school to be hard on everyone for the first few weeks, but especially hard on this little guy…and his mommy. He was in a two day a week Parents Day Out program, which he enjoyed, but happily graduated from (see picture below!) but really, kindergarten is going to be SO different!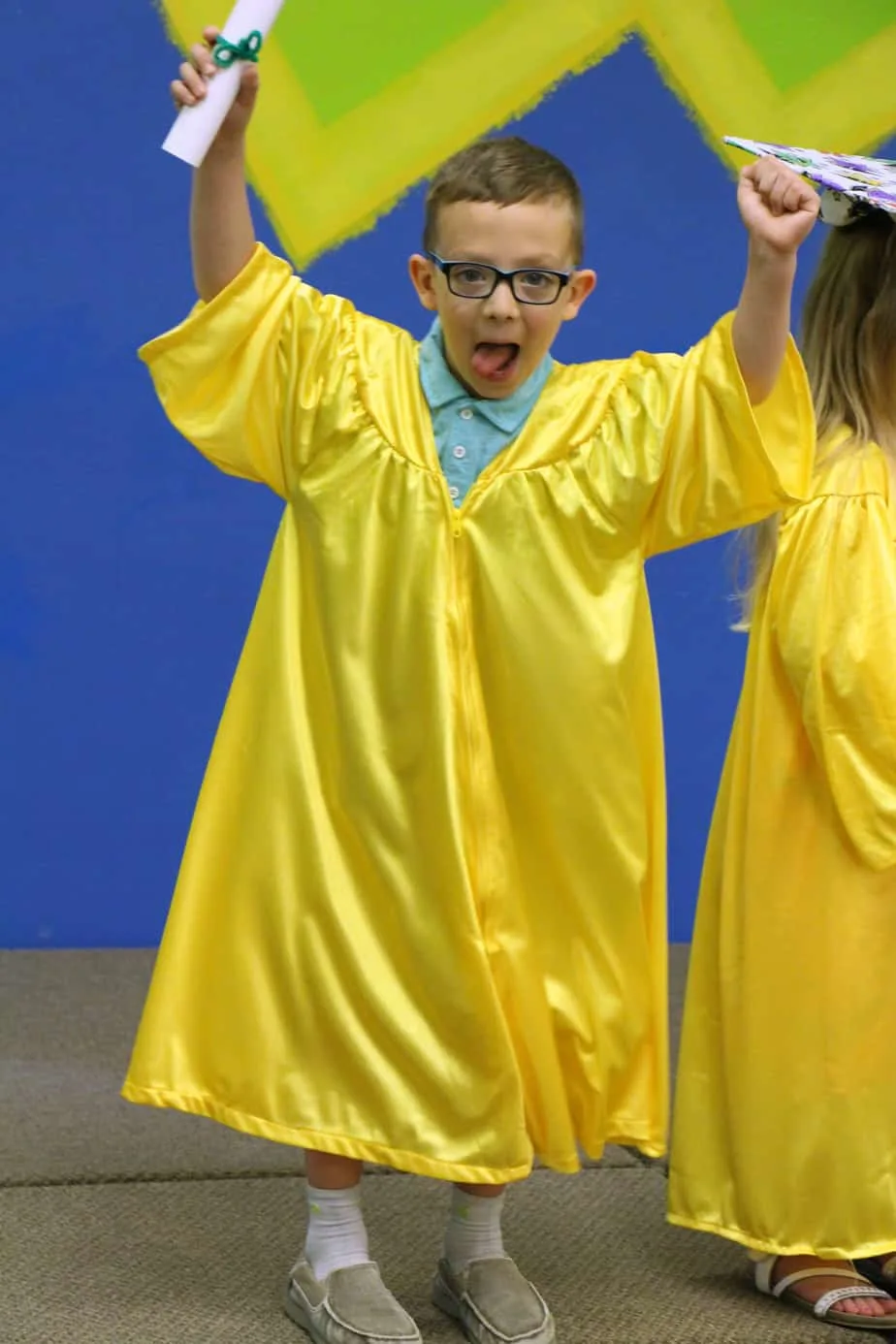 I have been trying to think of different ways to get him excited about kindergarten, and I had a great idea to make him a "Get Ready for Kindergarten" gift pack, which will make him feel special and excited about things that are his very own. (No hand me downs!) I then thought how wonderful it would be to give a mom (or dad) of a kindergartener a gift pack to encourage them with this new journey!
Hover over the image above to shop your back to school essentials at Walmart! Walmart Online Grocery made it easy to shop for and add different things to my online cart for these gift packs. Did you know you can add non-food items to your Walmart Online Grocery order? I thoughtfully chose some things that would be appreciated by moms and kids alike! (Using Walmart Online Grocery also makes it easy to hide things that you are not ready for your own kids to see!)
I was able to drive up, check in with the Walmart Grocery app, and my groceries were delivered to my car within just a few minutes!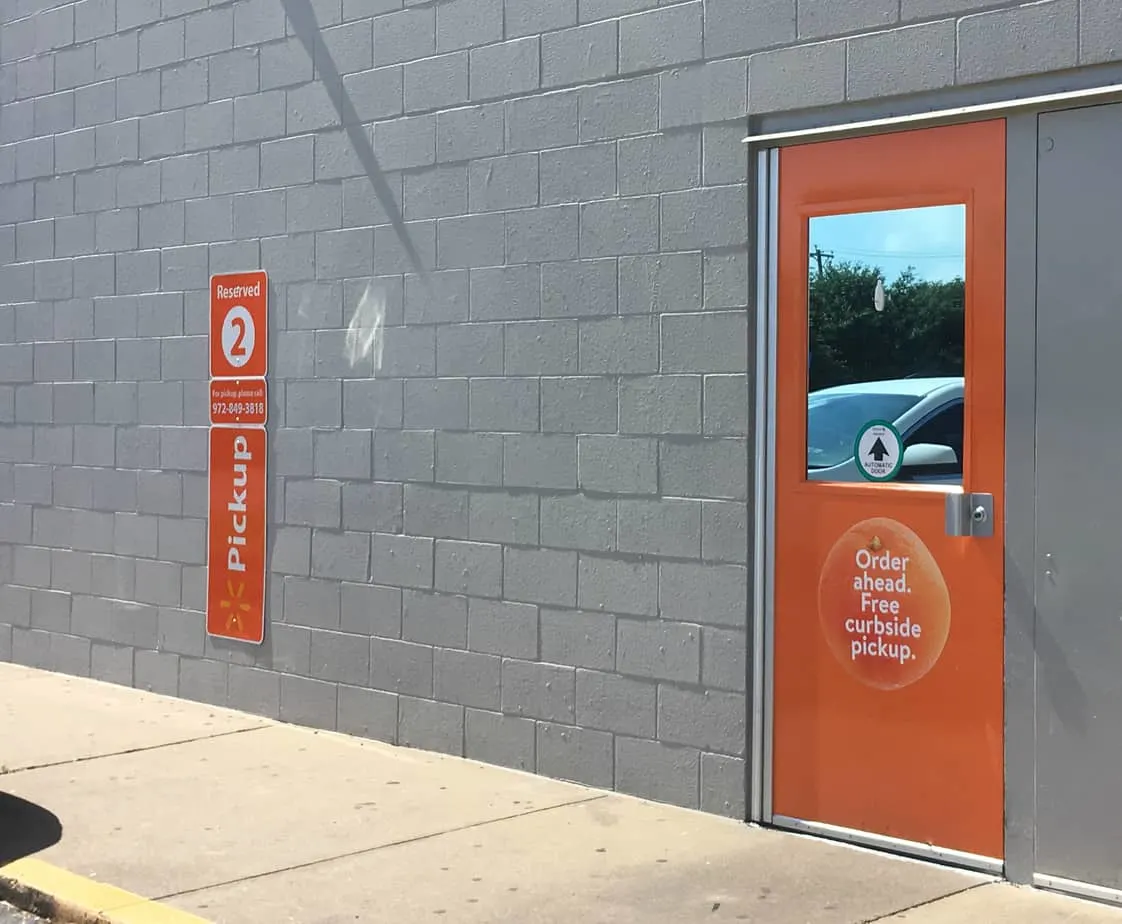 Get Ready for Kindergarten! Gift Pack for Moms
For the gift pack for Mom, I chose a few things that would be appreciated and packaged them in a cute wire basket. The items I chose are:
Kleenex® Brand Ultra Soft™ Facial Tissue – whether Mom is happy or sad on the first day of school, Kleenex makes the best everyday tissues with dependable strength and ultimate softness (among national brands.)
Clorox® Disinfecting Wipes – I decided to include these because Mom can choose to clean up easily and quickly after the kids are at school, or donate them to her child's class! I know teachers always appreciate extra Clorox wipes, as they kill 99.9% of germs on hard, non-porous surfaces, when used as directed.
Paper Mate® InkJoy Gel Pens – I love these pens because they dry quickly to prevent smearing on the page. They also don't require lids, because they are click pens! YES! Mom can use these for letters, journaling, writing down appointments on the calendar, shopping list, or doodling! They are just fun to use!
BAND-AID® Brand SKIN-FLEX™ Bandages – Great for kids and adults, active bandages have a 24-hour hold that lasts through handwashing and withstands damage and frays. (Use product as directed.) Use them for the little one's boo-boos or any injuries Mom may get tackling those DIY projects!
A new notebook or planner – for all Mom's lists and thoughts! I know it's typical to think that Mom will have all of this "free time" when her littles start to school, but that could not be further from the truth! So much to do, so little time!
Flowers – because everything is made better with a fresh bouquet of flowers!
A heartfelt note telling Mom that you are there for her if she needs you, and you'd love to get together for coffee!
Get Ready for Kindergarten Gift Pack for Kids!
Elmer's® Liquid School Glue, 4 oz. – This glue is perfect for arts and crafts projects at home or school. (It is also great for making slime if Mom wants to attempt that before school starts! 🙂
Elmer's® Disappearing Purple Glue Sticks, 21oz, 12 count – These glue sticks are so much fun and high quality, which will make teachers and students happy! The glue in Elmer's Disappearing Purple School Glue Sticks is washable, non-toxic, and acid-free. The glue is purple when first applied, then it dries clear!
Paper Mate® Clear Point Mechanical Pencil Starter Set – While typically not on kindergarten supply lists, these pencils are just fun to write with, which encourages kids to start writing. Includes mechanical pencil, cap refills, eraser refills, jumbo twist-up eraser.
Kindergarten practice workbooks – More for having fun while learning and practicing skills taught in kindergarten, these workbooks can provide a great bridge and helps kids to start thinking about letters and numbers, if they have not already, or keep fine tuning their skills!
"Kindergarten, Here I Come!" book, or other kindergarten books, encourage kids and help them imagine and understand what kindergarten might really be like!
Lunchbox items – new cups, bento boxes, or plastic ware make kindergarten more appealing. Younger siblings, like our son, enjoy getting something that is truly their very own!
Small toys – While your child cannot take toys to school unless it is Show and Tell day, most likely, just having something new to play with can help ease anxieties and let them think about other things, like being a kid and having FUN!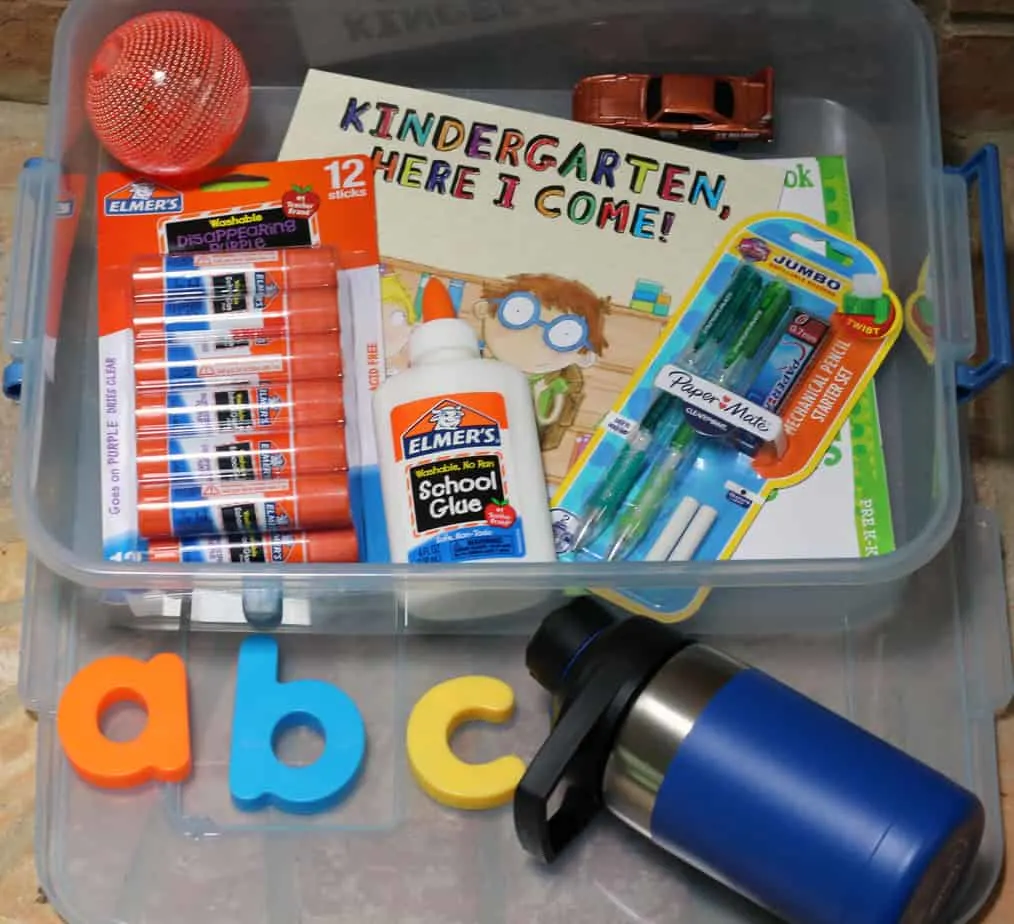 Do you know a Mom or Soon-to-be Kindergarten Kid who would appreciate getting a Get Ready for Kindergarten! gift pack?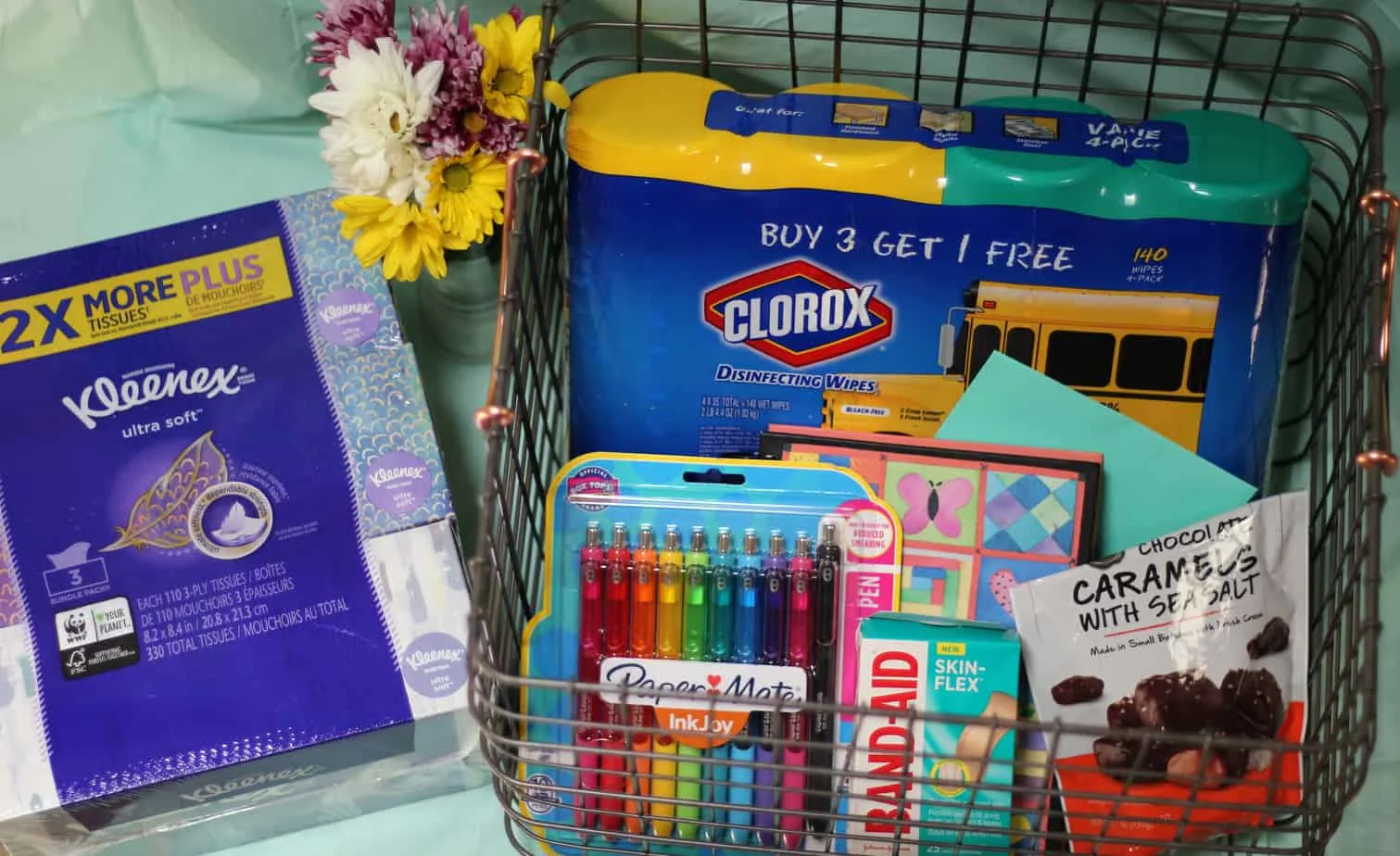 Check out my post on how to ease school anxiety!