Why Hawaiian Falls is Perfect for the Whole Family
We have been living in the Dallas/Ft. Worth area for five years now and have made a few trips to Hawaiian Falls. We love it there for many reasons! The boys are always excited about getting to go to Hawaiian Falls and we always have a blast!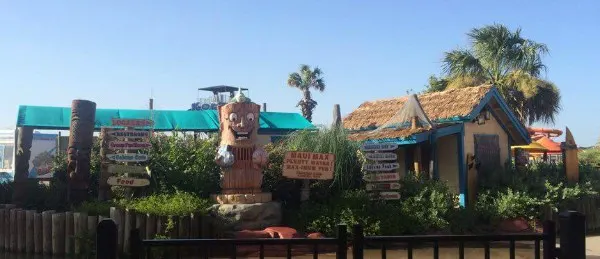 There are many reasons to love Hawaiian Falls, it's true. Here are just a few reasons why WE love it and why a season pass would be the best choice for a family like ours! (note that all parks are not the same, so check on HFalls.com for more information about the water park you will be visiting.)
The Kiddie Area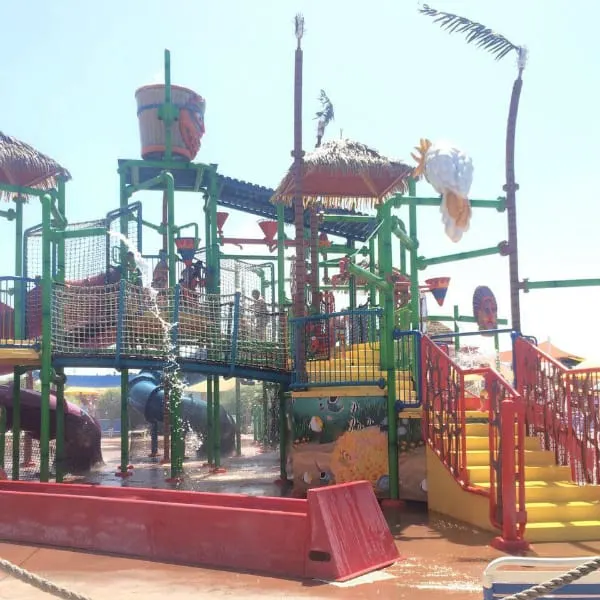 When we first visited Hawaiian Falls, our boys were young and we only had two at the time. We spent a LOT of time in the kiddie area, because that is all they could really do. There are quite a few water slides in varying degrees of "thrill," and lots of different things to explore. If you are a parent, you are guaranteed to stay wet in the kiddie area. A huge bucket of water empties out on the entire area every few minutes and there is always water everywhere. It's awesome!
The Huge Water Slides!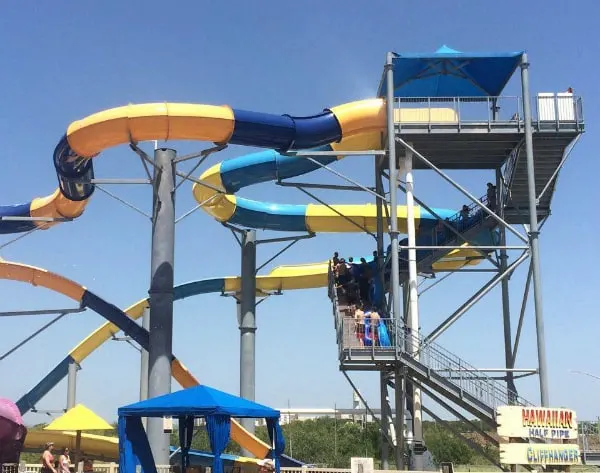 Our 5 and 7 year-old boys are tall enough to ride the biggest slides in the park – the Half Pipe and Cliffhanger. I, for one, am not about to get on those, but they absolutely LOVED them. Daddy is thrilled because he has two little guys to ride with him and I am thrilled because I do not have to! There are slides slightly less scary that I rode many times while we were there…so much fun!!
Cabanas and Bungalows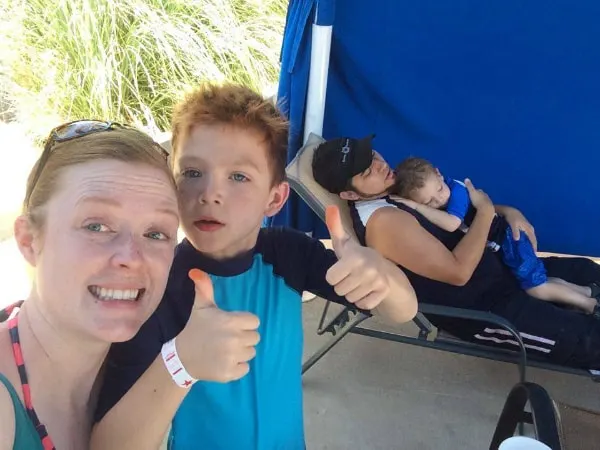 If you are taking little ones and/or you have fair skin like me, you will want to rent a cabana or bungalow. Yes, there are many shaded areas in the park, but having your *own* personal space is nice. You can play, rest a while and get out of the sun, eat a snack or lunch, then head out to play some more.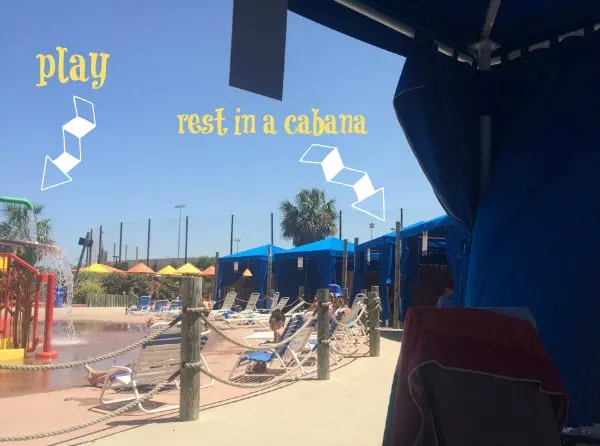 A one day cabana rental includes:
a locker rental or safe to keep your belongings in

four all-you-can-drink wristbands

a cabana attendant
Lifeguards are EVERYWHERE!
Everywhere you look, you see lifeguards and HF staff, making sure everyone is following the rules and being safe. This means a lot as a mom of three little ones. I would feel comfortable taking my kids alone because the lifeguards are looking out for us. (Their job is hard though, so I do believe in keeping your kids in check to keep us all safe.) Also, lifejackets are available for toddlers, kids, and adults!
Food and Drink Choices
Hawaiian Falls has a great selection of food and drinks….from hot dogs, to nachos, to hamburgers….snow cones, soda, water, and more. If you want to bring your own food, you can purchase a $10 cooler pass for any size cooler.
Lots of Water Fun!
Hawaiian Falls also has an awesome Lazy River, Wave Pool, and a smaller pool area with more small slides for little ones.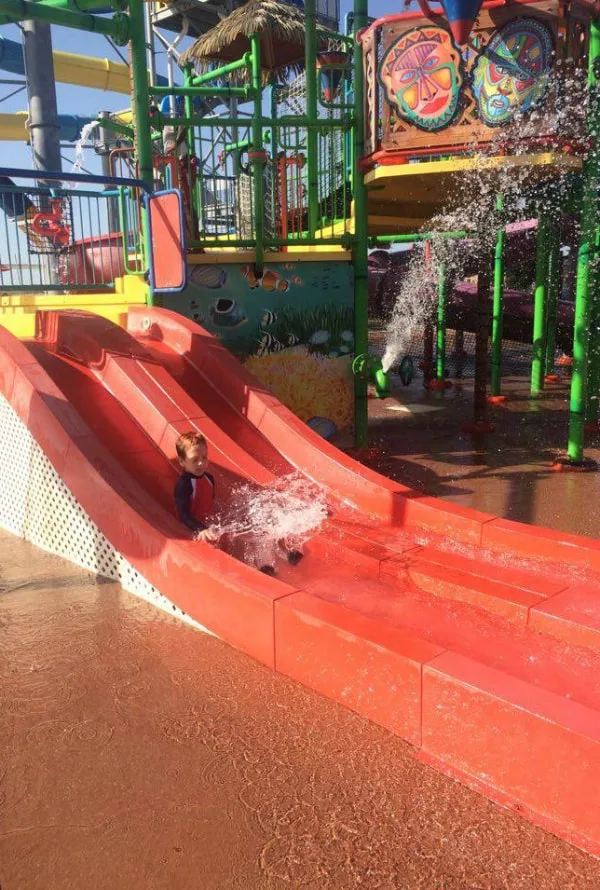 School may be starting soon, but there is PLENTY of time to visit one or all of the Hawaiian Falls water parks: Mansfield, The Colony, Garland, Pflugerville, Waco, and Roanoke.
Deals!
Make sure to check the Hawaiian Falls website for deals on tickets, before you head out. There are great deals for Mondays and Tuesdays, and through August 7th, all military, police, fire personnel, first responders, doctors, nurses and teachers get in FREE. Just print the coupon on the website. (There is also a discount for guests of these that get in free.)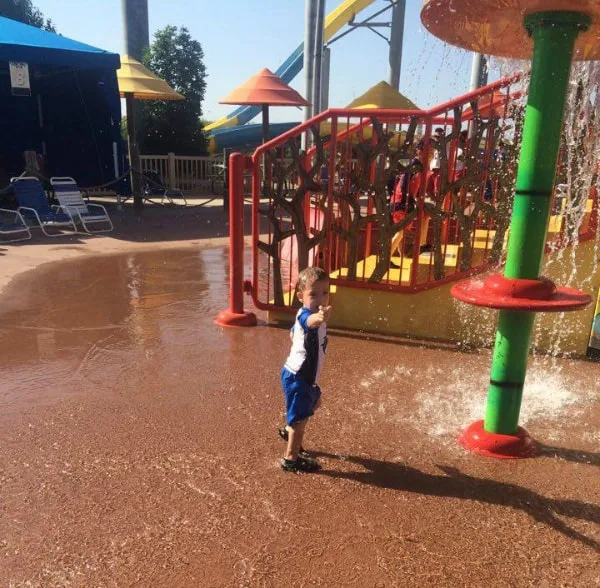 Plan a visit to Hawaiian Falls soon! There is still plenty of time to put a season pass to good use, too!