Twenty-two days into the New Year and here is our diet report: Hubby has lost approximately 9 pounds since January 1st, by eliminating most carbs and really focusing on eating healthier. I've been impressed with his choice of healthy salads and soups at restaurants. So how am I doing? You may remember that I decided that I would eliminate wheat from my diet because elimatinating all carbs is torture on me and I just can't do it. I thought maybe if I stopped eating breads, cookies, cakes, etc, that I would lose weight because those are my temptations. Well, I'm very disappointed to report that I've actually gained 3 pounds on this diet. SIGH. I know what the problem is, though. I have been preparing most meals at home, all low carb, but of course that means more meat than I would normally eat and add in the fact that I was allowing myself to eat all carbs besides wheat….yeah. We have been eating out a lot less, eating many more veggies, and when we do go out, we eat healthier options, BUT I need to tone it down on the meat (even though it's mostly lean) and other carbs. ha! So, it's time to reassess and focus on eating healthy, not just eliminating one certain thing. So I'm going to try to fill my plate with half veggies, and just watch my meat and carb portions, all while increasing exercise. Sigh, sigh, sigh.
Which brings me to something that it's taken me a long time to learn….diet does not mean "healthy" in most situations. Diets are a good way to jump start weight loss, but they're oftentimes not healthy. Hubby is trying to lose weight for a few months by low carb dieting. He's not going to do this forever, but if he can lose weight and then switch to eating healthy habits, it will be easier to keep off the weight.
Diets are great for those who are overweight and it is affecting their health. If they can shed some pounds by dieting and gain confidence to keep losing and striving for a healthier lifestyle, I think that's great. But, if you examine any of the prepackaged diet foods, you'll find that they are loaded with preservatives and sodium, and oftentimes sugar, and rarely taste that good. I won't name any names here, but you're likely familiar with the big brands that produce food intended for you to lose weight. I've been a member of such a program…for a month…and I lost 7 lbs. They promised that I wouldn't be hungry and I would enjoy the food. Well….I was hungry most days and I had to force myself to eat a lot of the foods they sent to me. BUT, it did make me lose weight, which was the ultimate goal…it just wasn't a very healthy way of doing so.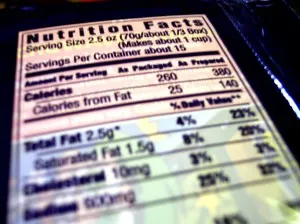 These diet foods also contain hydrogenated oils, caramel color, corn syrup solids, phosphates, synthetic nutrients, additives, artificial sweeteners, and many other things you'd probably be shocked that were in "diet" food.
So what's the solution? Eat real food. Lisa Leake of 100 Days of Real Food has many tips to make it easy on you. Of course, you can eat real food and still be eating way too much real food, but I think that once you start eating more real, fresh fruits and vegetables, homemade breads, meats and real seasonings as opposed to mysterious sauces and packets of weird stuff, the weight will come off and you'll be healthier.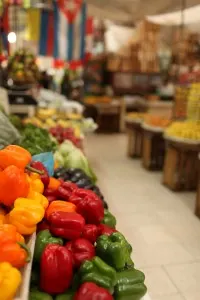 Our family is working on getting there, it's a hard process, but it is a little change that we can make. And if you think that life is much too busy to make this change, check out Lisa's simple, delicious recipes and meal plans!
Have you started eating healthier this year? Have you tried diet foods? I'd love to hear your opinion!