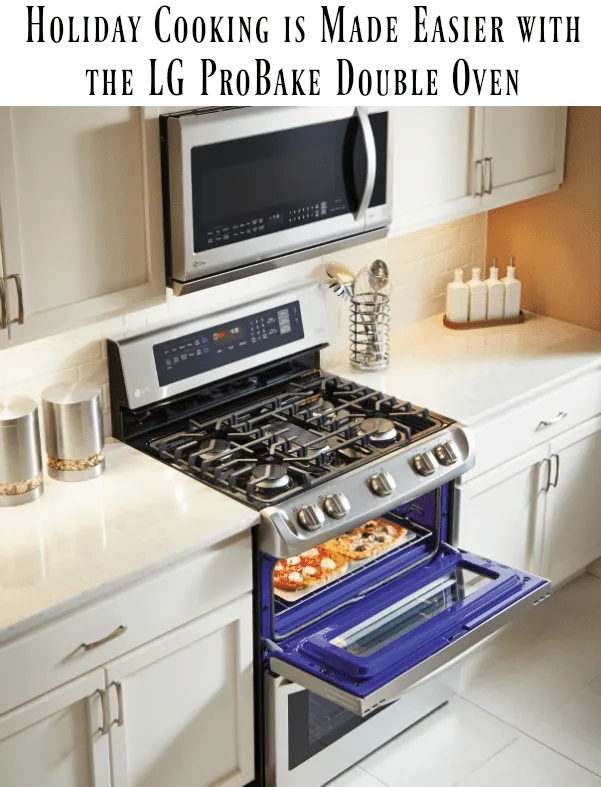 The reviewer has been compensated in the form of a Best Buy gift card.
If you are planning to cook during the holidays, you are likely needed to cook two things at once, probably on different temperatures. I remember being so hungry for Thanksgiving dinner and smelling the dressing cooking, but then we cannot eat until the rolls are cooked and that takes another 10-15 minutes AFTER the oven adjusts to the new temperature. Sure, it's only a few minutes, but it seems like a lifetime when you are hungry for a delicious Thanksgiving meal! Now, you can cook two things at once, (like my pink thumbprint cookie recipe at the bottom of this post!)
The LG ProBake Double Oven is appealing for that reason alone, but we all need one throughout the year, too. The ProBake Convection™ ensures that everything on every rack is baked to perfection, every single time. LG moved the heating element from the bottom of the oven to the back wall for optimal heat distribution. Browning is consistent on the top and bottom. That means every cookie is baked to perfection!
Pink Thumbprint Cookies
So now that you will have extra room and an opportunity to cook two different things at once, I'll share with you one of my favorite childhood cookie recipes….Pink Thumbprint Cookies. We used to just call them "pink cookies," but man are they delicious!