Surprising Secrets For Parenting High-Energy Kids Who Do Not Sleep was brought to you by AstaReal. This post is not intended to serve as medical advice. All opinions are my own experiences.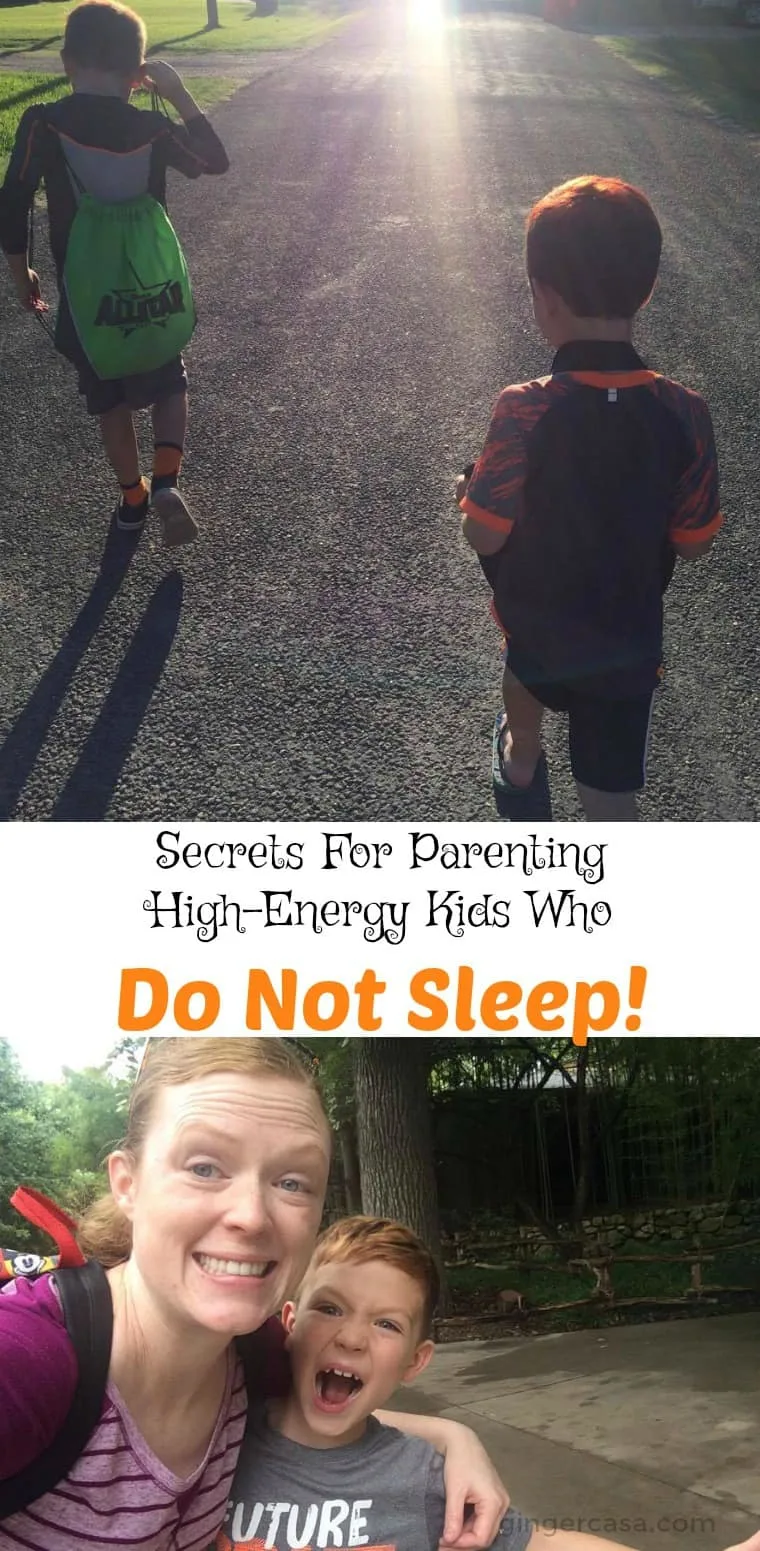 I think everyone can agree that parenting is tough. And I also think everyone can agree that parenting is made exponentially harder when your kids simply do. not. sleep. Looking back over the past 9 years, it is now clear to us that our oldest son simply does not need as much sleep as his peers and never has. We would force the nap so many times, because we felt that would be the key to getting him to sleep through the night consistently. Truth is, he still does not sleep through the night, but at 8 years-old, he has been well trained to not come into our room unless it is an emergency, he had a bad dream and he cannot go back to sleep, or he is sick. He is just one of those kids who do not sleep much!
It wasn't until he was 4.5 and we moved his little brother into his room that he could stay in his room all night. Bless his little heart…he tried, but he just didn't feel secure in his room unless he knew someone was with him. And we never co-slept with him, so that just tells you that we didn't get a good night's rest until he was 4.5, and at that point, I was pregnant with his littlest brother, who is also a kid who doesn't sleep. Somehow, we were blessed with a little reprieve in between the two. The brown-haired brother is a good, deep sleeper, but also, he is the crankiest when he doesn't get his sleep. What can I say, he is the one who is most like his mommy and daddy in that respect. We love our sleep.
What should I do with my kids who do not sleep??
So how do we deal with high-energy boys who hate to sleep? Coffee? Yes and no. I have never been able to give up my morning cup of coffee, but I have also found a few other things to help support our active lifestyle as parents to three little active boys.
1. Insist on quiet time and bedtime….for you AND the kids.
Being a work-at-home mom, I cannot function without a quiet time. In fact, when I can, I like to sneak a 20 minute nap to keep me going. However, our three year old recently stopped having a regular nap and so this midday siesta is next to impossible most days. When all three of the boys are home, it just cannot happen. I do, however, insist that the boys have a quiet time. They might be reading or watching a movie, but I make them understand that they must let their bodies rest, so they can heal and reenergize.
Likewise, no one likes bedtime, but of course we all need sleep. The older two have a set bedtime on school nights, and only an hour or so later on non school nights. Routine is important and they always fall asleep fairly easily. Bedtime is important because they wake up the same time every morning, regardless of what time they fall asleep. Crazy how that works!
2. Eat well.
It is true that people who are sleep deprived tend to eat more. I think we are trying to gain energy by consuming more calories, or possibly, we just are trying to keep ourselves awake. If we plan and focus on what we are putting into our bodies, we will have a better foundation for staying healthy and recovering when we are injured or sick.
3. Drink water.
I love my morning cup of coffee, but then I switch to water. I just don't think our bodies were made to run on sugary or fake sugar drinks all day long. Not getting enough water can make us feel drained and exhausted, so making sure we are drinking enough essentially is the first step to gaining more energy.
4. Get some time by yourself to recharge.
I know, from personal experience, that this is tough. People wait in line to baby-sit your baby, but once the kids get older and grow in number, people are not so ready to offer their baby-sitting services. ha! Sometimes Daddy can watch the boys while I go to Target. Sometimes the grandparents can baby-sit while we both go out, but either way, make sure that you make time for you. Recharge. Go out without kids. It is an easy way to reenergize!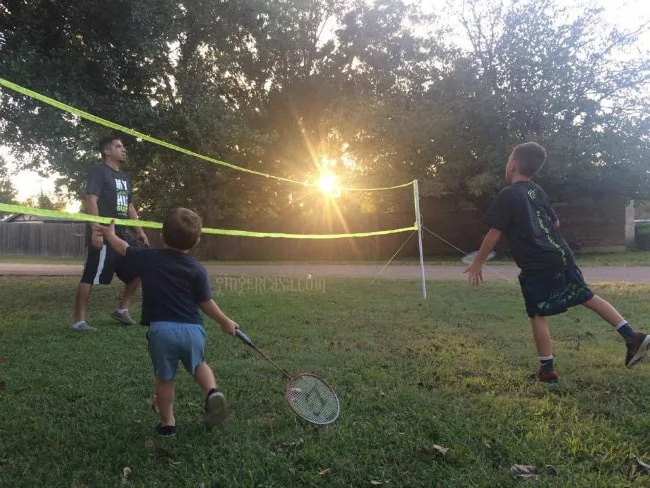 5. Get up and get moving with your kids.
As I said, my boys are ALWAYS on the go. Our oldest plays every single sport possible and always wants the latest sports equipment or gadget. Soccer, baseball, badminton, bowling, flag football, running, swimming, basketball, bicycling, tennis, riding his scooter or ripstik…anything and everything where you get outside and/or get your body moving is his idea of fun. The other two boys sometimes follow right along, and Daddy and I try to, for sure, but it is hard to keep up with an athletic 8 year old! This is the way he has fun, and this is the way we bond with him. My favorite thing do with him is bike because my legs are longer and my bike is bigger, so it is easier for me to do it than him, and thus, we are on the same level. HA! I cannot wait until the other two can ride a bike without training wheels so we can all ride together for longer distances.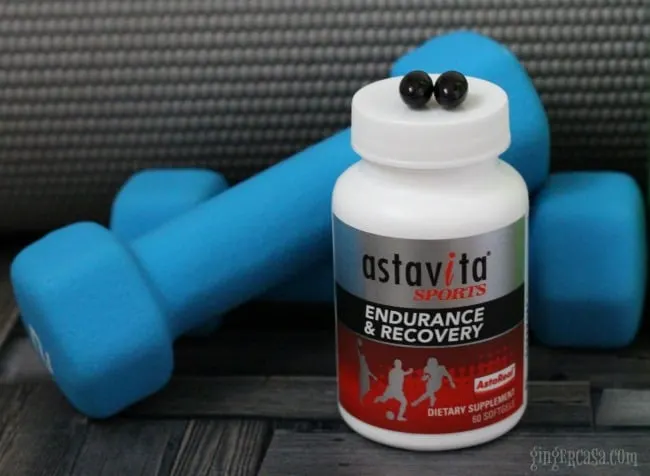 6. Try Astaxanthin to support a healthy lifestyle.
Before Ben and I went to Shiftcon this past year, I had never heard of Astaxanthin or the AstaReal company. The AstaReal booth was the second that we visited in the Shiftcon Expo, and I was most impressed by what they had to say. They talked about the benefits of taking astaxanthin and I wanted to immediately try to see if it would help with some of the things that I was currently battling. There is SO much about this that I would like to share with you. It's all so very fascinating!
So, what is Astaxanthin?
Have you ever wondered why salmon are so awesome for you to eat? Or how they have the energy to make their long trek and how they are that beautiful shade of pink? The answer: astaxanthin. While the AstaReal site can tell you much more about how astaxanthin is formed, the simple version is that it is a part of microalgae that the salmon are eating. So instead of eating 2 3.5 oz fillets of sockeye salmon a day, you can reap the benefits of astaxanthin with one AstaReal gelcap, which is an eco-friendly, made in the USA, GMO Project verified company, for the record.
What are the benefits of Astaxanthin?
boosts muscle endurance and recovery

lowers lactic acid and fatigue

reduces muscle damage and inflammation

improves blood flow and the quality of red blood cells

enhances fat metabolism

improves eye fatigue, eye irritation & blurred vision linked to computer and digital device use

improves capillary blood flow

reduces inflammation of the ciliary muscle (that may occur with excessive computer and digital device use)

revitalizes photoaged skin by quenching oxidative stress in all skin layers

reduces the size of wrinkles and improves skin microtexture

improves elasticity in the skin by strengthening the collagen layer

faster immune response

strengthens and balances the immune system

enhances antibody production

protects immune cells against oxidative stress

supports gastric health
How Has Astaxanthin Helped Me Parent The Kids Who Do Not Sleep?
I am NOT an avid runner or an exercise health nut. I aspire to be one, but I am just not at this point in my life. I can attest to the fact that taking Astaxanthin has helped me not suffer extended muscle soreness from working out. The day after working out, I will feel sore, which is always a good thing, but the after effects from a workout are more quickly dissapated while taking AstaReal. Results will vary, of course, but these are the main things I have noticed while taking Astaxanthin:
reduced length of muscle soreness after working out

greater ability to beat the "midday fatigue" (remember…I was once an avid napper and now I cannot depend on my little one to nap consistently!)

improvement of eczema – I have very dry skin and every winter, without fail, my dry hands are cracked and painful. The last few years, my thumbs have cracked to the point of bleeding but while my hands are still dry, I am thrilled to report that they are not cracked and definitely are not bleeding this winter!!!
There are other small things that have improved since I began taking Astaxanthin about a month and a half ago. I upped the daily dose from one pill to two and have seen even more improvements. It is not like a quick miracle pill where you see results in a day, but for me, it has helped with these and so many other areas that I struggle with. I am a firm believer in taking astaxanthin to supplement my healthy lifestyle so I can cope with the fact that my kids do not sleep much at all and are high-energy!
Astaxanthin is cultivated, grown, and harvested by AstaReal in Moses Lake, Washington. It comes in a different formulations. The Sports formula also contains zinc, which can be overwhelmed during exercise or excessive UV exposure.