Do I like scary movies that make me jump? Oh no. Never have and never will. What's the point, really? I may be a huge stick in the mud, but I just feel like I could be watching stuff with a purpose, or doing something with my family instead of a scary movie eating up 2 hours of my life that I'll never get back! I've only seen a handful of scary movies in my life and I have such a vivid imagination and a photographic memory, that those images are forever burned in my mind!
So yeah, no to the scary, sometimes silly, sometimes demented movies! Not for me!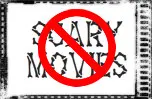 What about you? Do you like scary movies?