We had the wonderful opportunity to review a Sleep Number® m7 bed, the new memory foam bed from Sleep Number! We love our sleep around here, so we jumped for joy for this review!
First, we went to the Sleep Number store to find out how the Sleep Number technology works. My hubby and I both got to find our sleep number from a trained professional, Tony. He was so nice and helpful and told us all we needed to know about the bed we would be getting. First, we laid down on the Sleep Number and Tony filled both sides of the bed to 100. Then he told us to tell him to stop when we felt comfortable and that the bed wasn't pushing against us. It was pretty cool to see the pressure points on the screen: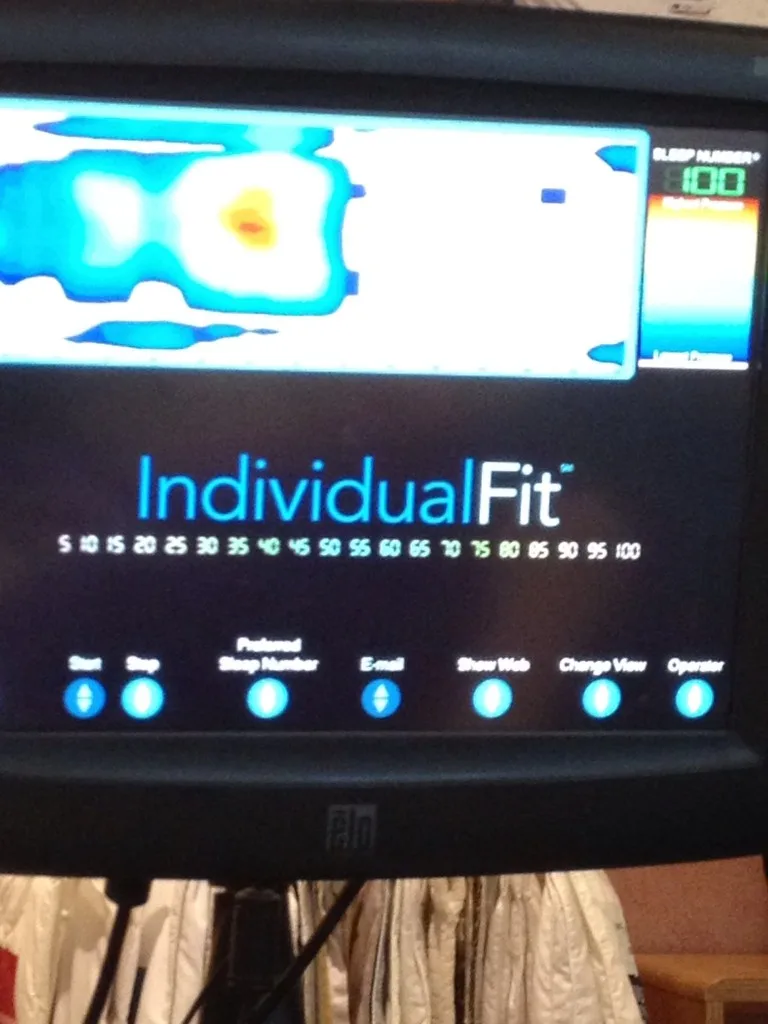 Tony spent a lot of time with us. (He even got the boys a ballon to play with and helped make sure Baby D didn't run out of the store! haha!) He told us about his experiences with Sleep Number and I could tell he loved what he did and believes in the Sleep Number bed!
After our Individual Fit was over, we discovered that we were both a 30, as that was the most comfy number to sleep on. It is all based on weight and pressure though, so a 30 to me is not the same as a 30 for my husband! His side is too squishy for me and mine is too firm for him!
We checked out the new bed that we would be receiving, the Sleep Number m7: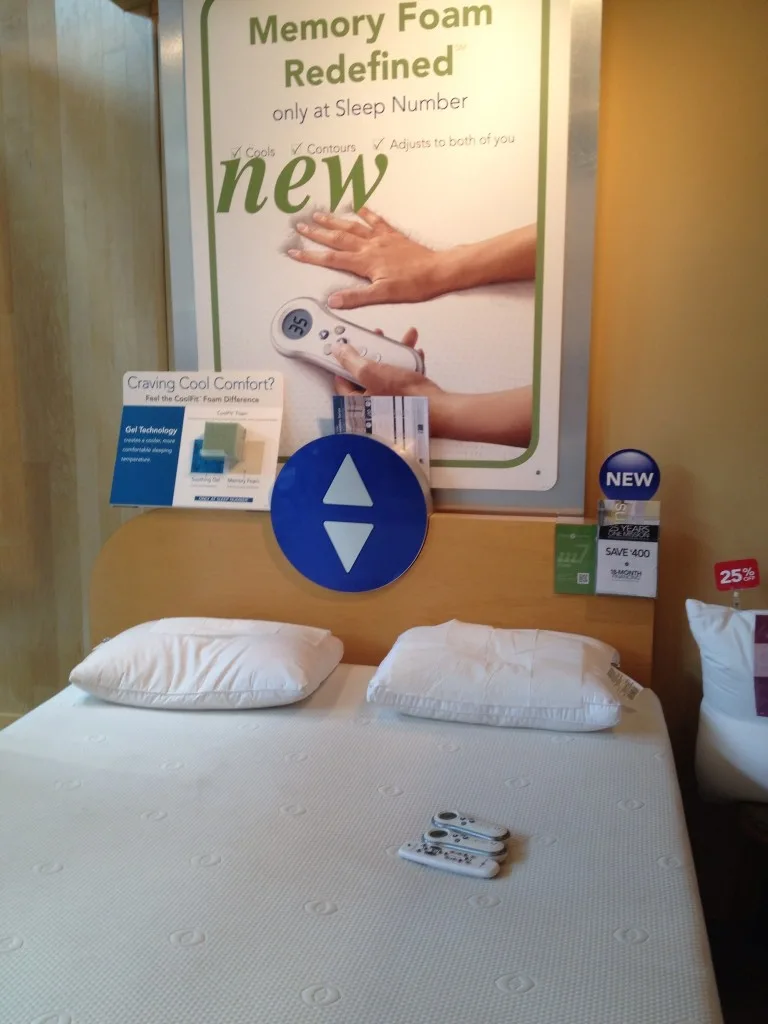 Sleep Number also makes bed linens and pillows, along with special add-ons for each bed so you can maximize your sleeping experience!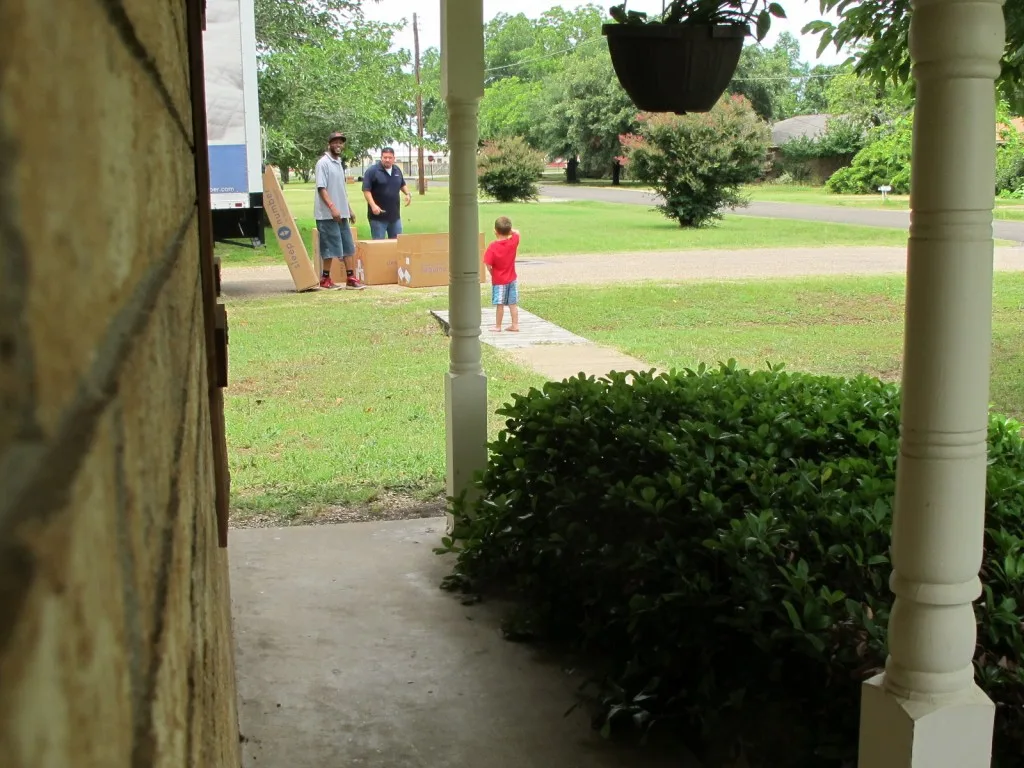 A few weeks later, the Sleep Number truck arrived at our house (we knew they were coming) and it took about 20 minutes for the Sleep Number guys to set it up for us! They were super helpful and told us a few things we didn't know…like that they recommend giving it 14 days because sometimes it takes that long for people to get their perfect "fit" or sleep number. He said that he himself hated his Sleep Number bed for a few nights and now he hates NOT sleeping on it. He also recommended not changing the number too drastically, only go up or down 5 at a time.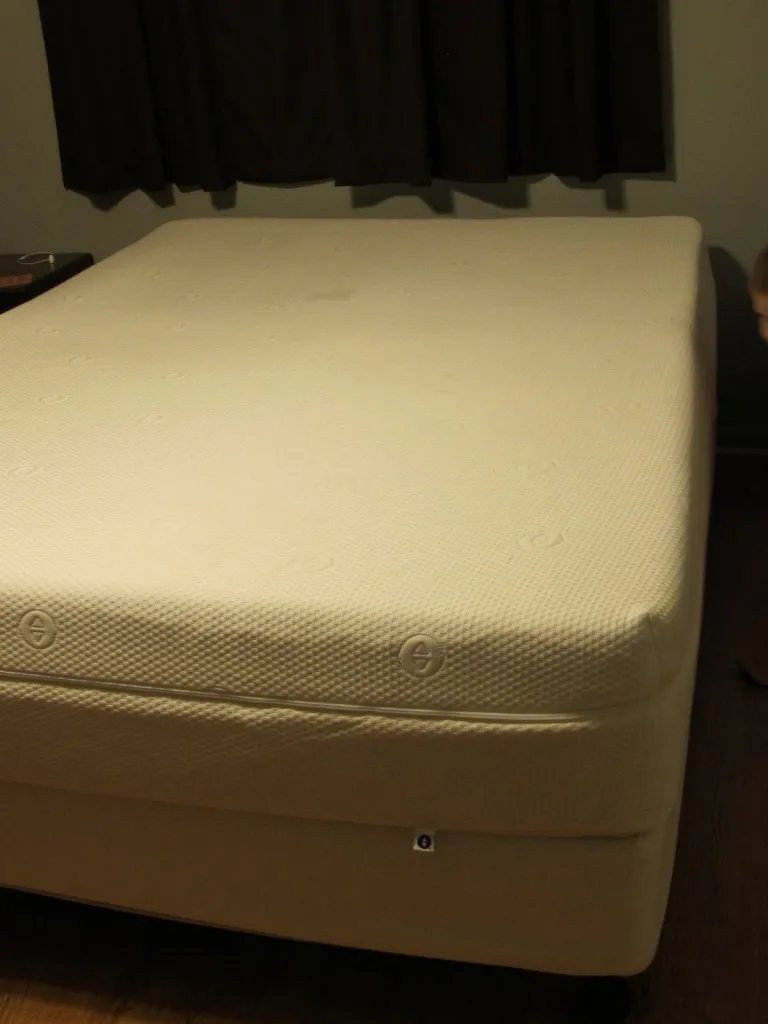 The first night on the Sleep Number went like this: Baby D was teething or sick or something, so he was up and down all night. That really set the mood for a dreadful night, and when I woke up the next morning, I was mad at the Sleep Number! I didn't sleep well and I was certain I wouldn't ever like the bed. But, I remembered what one of the delivery men said, and gave it another shot that night. I asked my hubby what he thought of the bed and he was seriously in love. It didn't take him any time to love the Sleep Number!
The next night was a little better. I slept more soundly and played around with my sleep number and pillows a bit. We've had the bed almost two weeks now and I can honestly say that I really enjoy our Sleep Number bed! It is so awesome to be able to set our side of the bed just how we like it. And if the Captain takes a nap on it, we can easily change it to how he likes it. We LOVE this bed!!
Now, some facts about the new m7 Memory Foam Sleep Number bed. This bed actually cools instead of heats you up, like memory foam is known to do. This is definitely helpful to ensure a restful night's sleep! The traditional Sleep Number technology contours and adjust to each individual person. It's a fascinating, delightfully cozy use of the best technology available!
Find more information about this and other Sleep Number beds on the website. Be sure to follow Sleep Number on Twitter and Facebook to get the latest information!