I was SO excited to get to review the Soda Stream Fountain Jet! We love soda, but I actually gave up Dr. Pepper and Mr. Pibb for Lent. I had my reservations about the Soda Stream, because I don't want us to get addicted to something that's equally not good for us, but I began reading the nutrition information. Soda Stream Cola has 34 calories per serving, compared to Pepsi & Coca-Cola's 100 calories per serving. Sugar is only 9 g carbs, compared to 27 grams of the other two. And sodium….who even thinks about sodium being so high in soft drinks? Well, Coca Cola has 35 mg of sodium in each serving. SodaStream Cola has only 2 mg. TWO! That is fantastic news!
And the SodaStream has tons of options, too. Regular flavors such as Cola and Dr. Pete (compared to Dr. Pepper and Mr. Pibb), diet flavors, energy drinks, Sparkling Naturals, Sparkling Water, Sparkling Teas, and My Water. Whatever your favorite may be, SodaStream probably has it!
SodaStream drink mixes are made with different sweeteners, including pure cane sugar in the Sparkling Naturals, but never do the drink mixes contain high fructose corn syrup.
If you're wondering how difficult it is to make soda at your home using the SodaStream….honestly, it's so easy, a kid could do it! This is what you do: (I chose ginger ale to begin with.)
1. Fill the included, reusable bottle with fresh, cold water: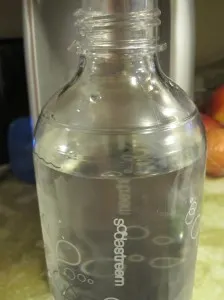 2. Screw the bottle on to the SodaStream: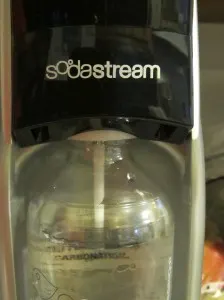 3. Press the carbonating button on top until it buzzes three times: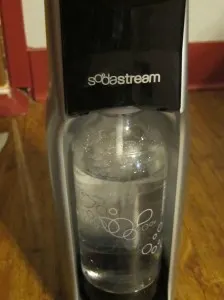 4. Unscrew the bottle and pour the drink mix into the carbonated water: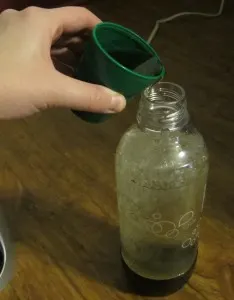 5. Replace lid and gently mix the water and drink mix: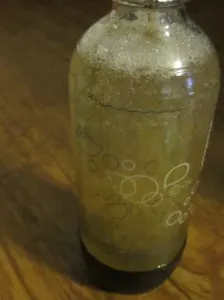 6. Pour and enjoy!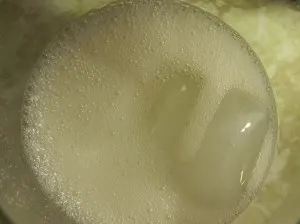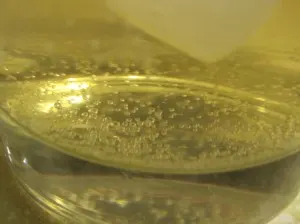 It is SO easy and in all honesty, the ginger ale tasted fresh, crisp, and delicious…more delicious than the store bought kind. I also feel better about us drinking SodaStream drinks because it is a lot better for us. Of course, we still need to enjoy drinks like this in moderation, because they DO contain sugar or sucralose, but it's much better for us than the store bought varieties!