This is a super simple recipe that I made that we call "Spicy Casserole." It's not overwhelmingly spicy, but you can adjust the spiciness to fit your family's taste.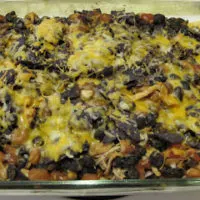 Spicy Casserole
Spicy casserole is an easy weeknight dish that's easy to throw together and very satisfying.
Ingredients
3 cups black beans, (or 2 cans)
3 cups pinto beans, (or 2 cans)
1 1/2 cups corn, (1 can)
1 can diced tomatoes and green chilies
8 oz tomato sauce
1/2 onion, diced
1 garlic clove, diced
2-3 chicken breasts, diced and cooked OR 1 lb hamburger meat, cooked
tortilla chips, crushed
shredded cheddar cheese
cayenne pepper, to taste, optional
Instructions
Cook meat, garlic, and onion in a pan until fully cooked.
Add black beans, pinto beans, corn, and diced tomatoes and green chilies and warm over medium heat.
Add tomato sauce and cook for a couple more minutes.
Spray 8×10 inch glass baking dish with spray oil.
Crush tortilla chips or break tortillas and make a fine layer on the bottom of dish.
Add half of your meat mixture on top of the chips or tortillas.
Repeat step 5 and 6. Top with cheese, if desired.
Bake at 350 degrees for 20 minutes, until bubbly.
Serve with chips, rice, salsa, guacamole, sour cream, or anything else you might want!
(I used blue corn/flaxseed chips on top for an extra crunch!)