We love our house, but with any place of residence, there are areas that we would like to change. We are so lucky to have lots of windows in our home, but there are a few areas that light just won't reach. We decided to attempt two easy DIY home lighting makeovers with the help of GE Reveal light bulbs to add some lighting in a couple of areas that needed it most. As part of my partnership with GE, I received coupons for my GE light bulbs. All opinions posted about my GE Lighting experience are my very own.
The hubby and I took advantage of a date night with dinner out at the Olive Garden, then we headed to Walmart to check out the GE Reveal light bulb selection. GE Reveal bulbs provide clear, beautiful light that bring out colors and patterns that go unnoticed under regular incandescent lights. Walmart had a great selection, from energy saving bulbs to globe bulbs to tiny bulbs and everything in between.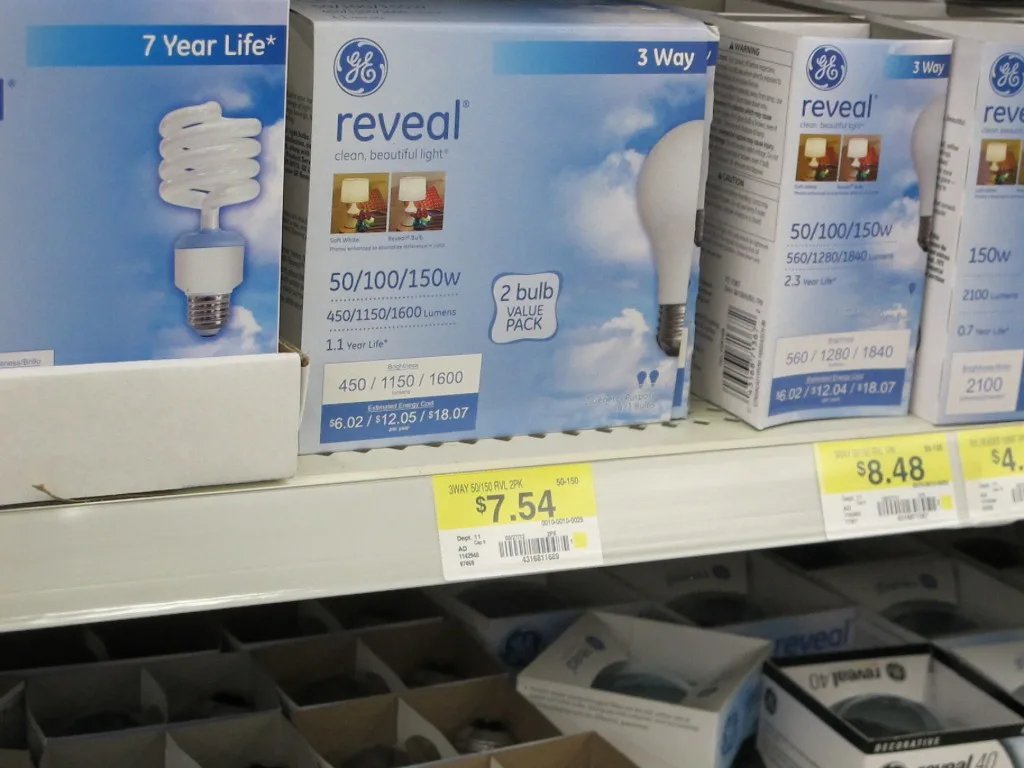 The hubby has wanted to install some lighting in our pantry for a long time, because it's dark and no one can ever find anything. He spotted these under the cabinet lights and knew they would be just what we needed for a DIY lighting project without the need for an electrician. The best part was that we found a GE Reveal bulb to fit!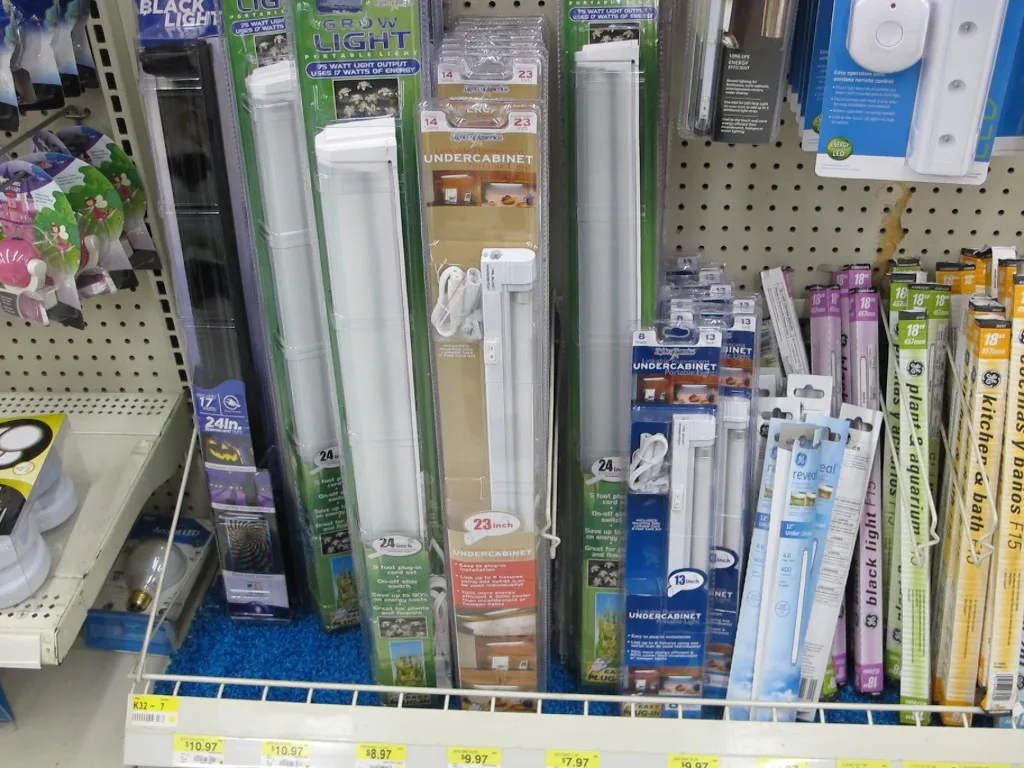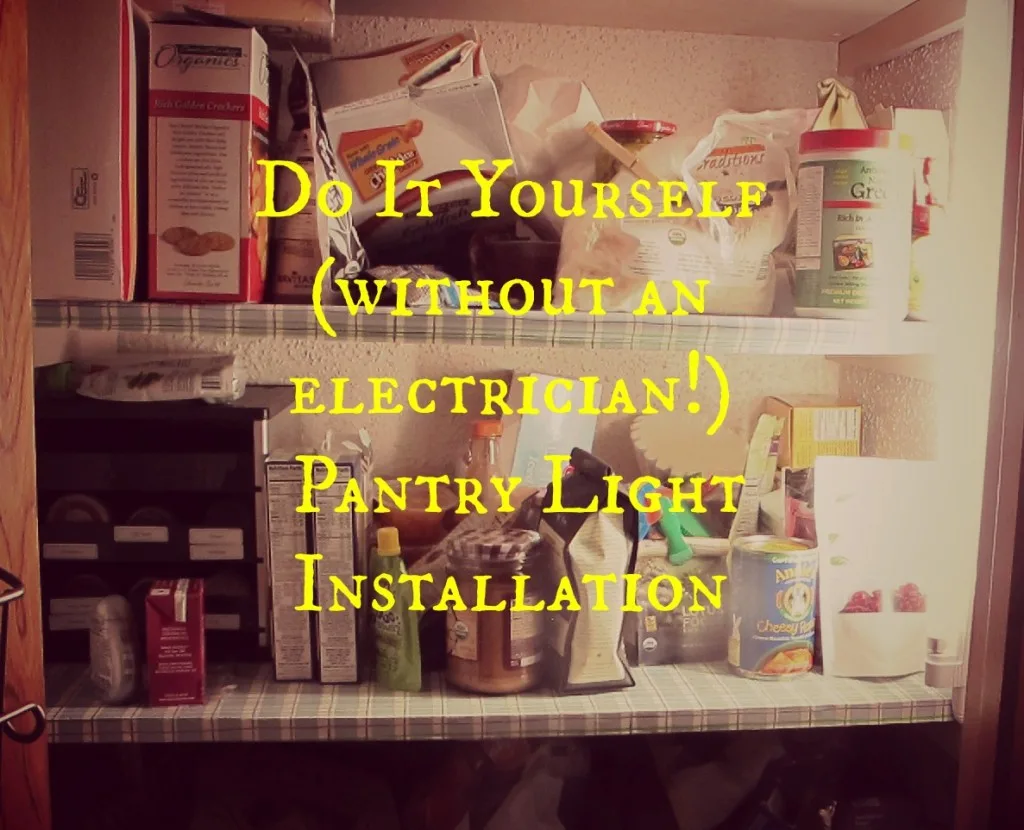 Our pantry is very sad. I seem to organize it all the time (though clearly not at the time of these pictures..ha!) because we just can't ever FIND anything. It's so dark, there's no light that even gets to the pantry, really. I'm lucky that we have a great pantry that holds all of our stuff, but I would really like to SEE what's in there. So, the hubby went to work when we got home and installed the under the cabinet light with and on/off switch on the right side of the pantry. He used his drill and made an small inconspicuous hole in the back of the pantry and under the cabinet. Then he plugged it in the closest outlet with an outlet adapter so it can stay plugged in at all times.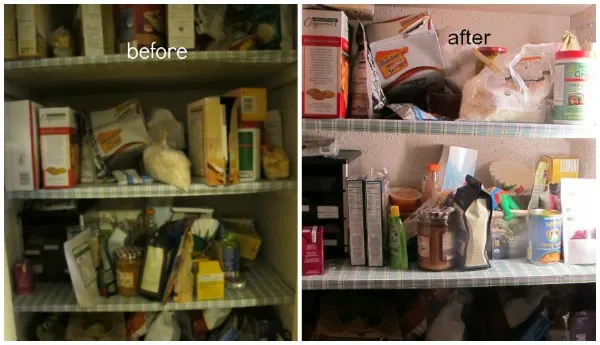 The pantry makeover has been amazing for all of us. The boys can even get on their chair and turn it on and find what they want. Yay!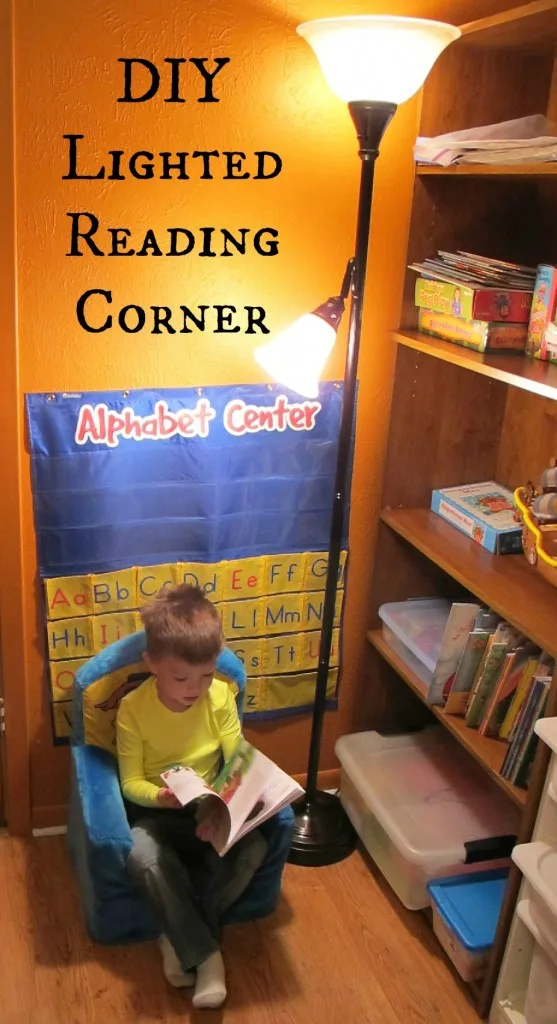 From there, we went on to the playroom. I love our playroom and love that we have the extra space for the boys to play in and store all of their stuff. My choice of orange paint, however, doesn't provide the best lighting for reading and playing. I wanted to provide a quiet little space for Captain Fussybuckets to be able to retreat to and look at books, but the only space we had near the bookshelves was behind the door and not very well lit: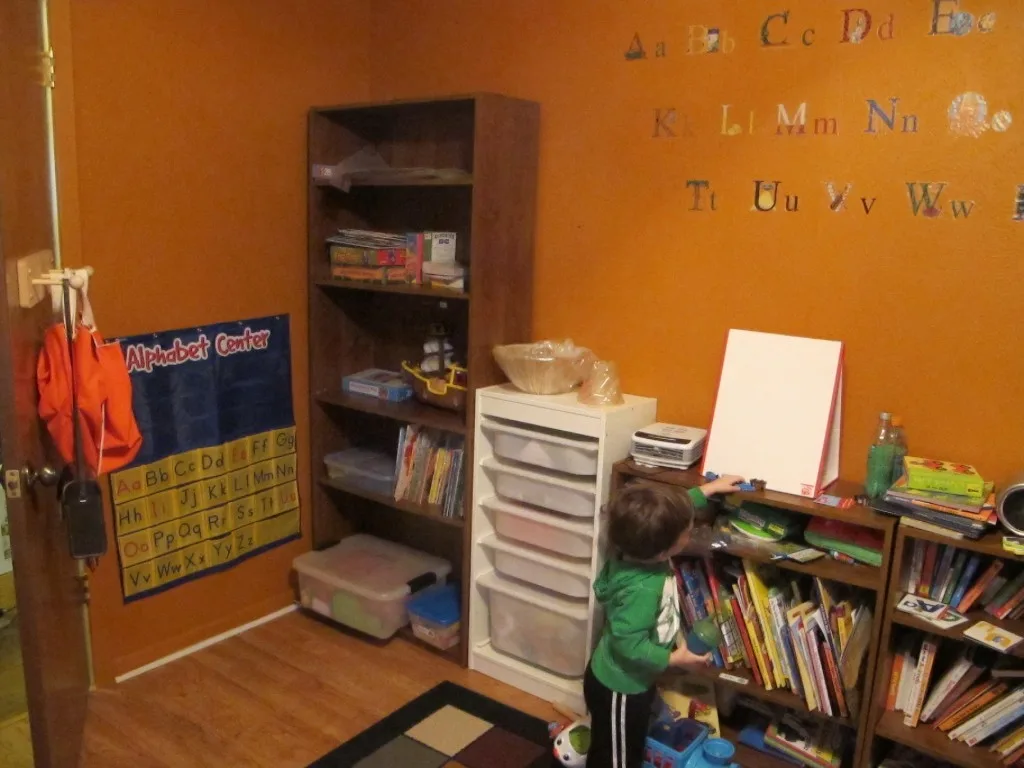 The Hubby and the Captain installed a great floor lamp with a side task light that the Captain can turn on. We installed GE Reveal light bulbs in the lamp and boys just love it. It is also very pretty and if it was even possible, it makes the space more elegant!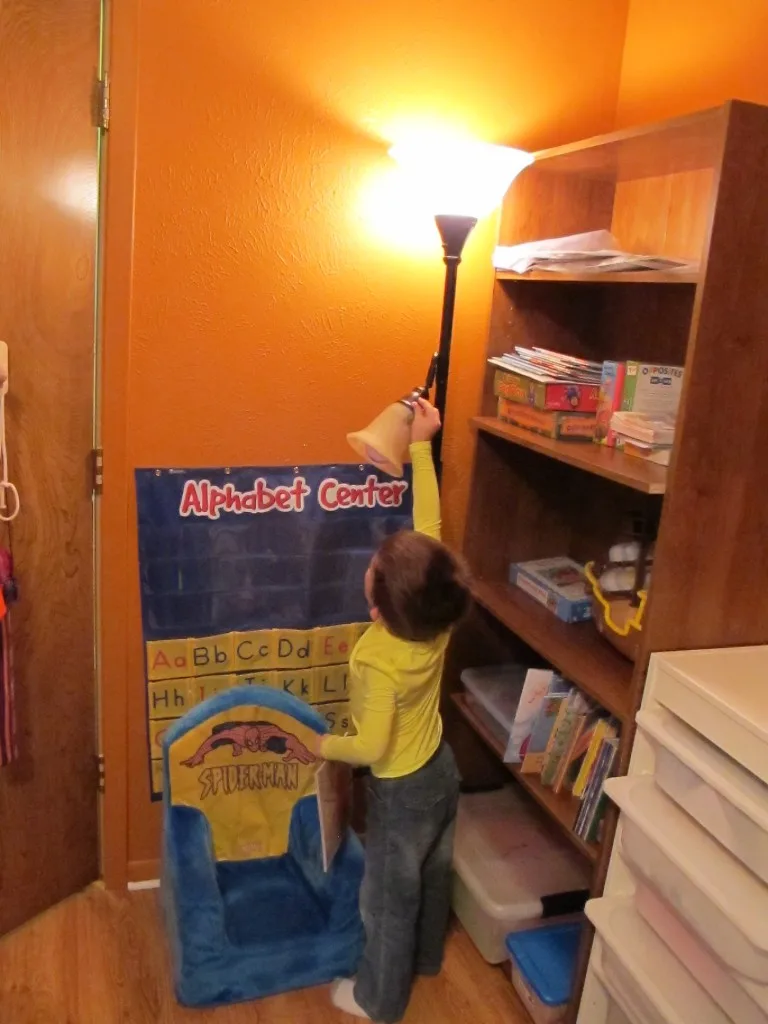 We moved the Captain's comfy chair in and of course, Baby D brought a chair for him, too: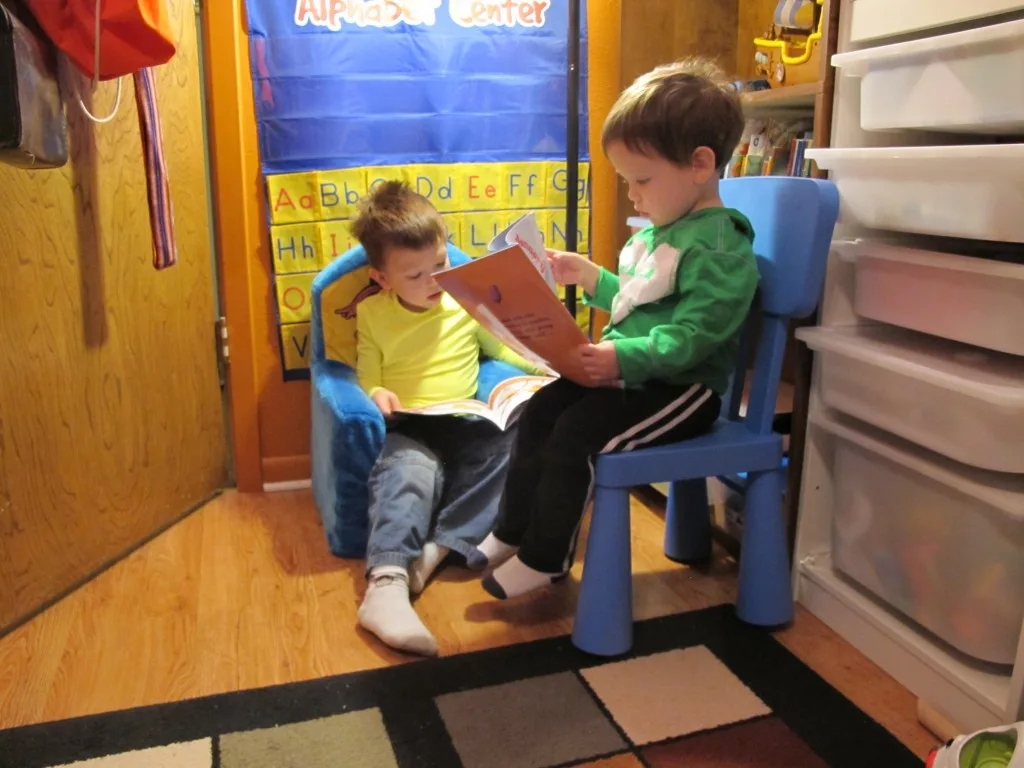 Whatever works to get the boys reading all of their books is good with me!
Do you have an area of your home that needs a lighting home makeover? Do you need some lighting in your pantry? Is a lighted reading corner doable in your home? I'd love to hear your thoughts and ideas!