We did our second round of Whole30 earlier this year and it was a success for me. I love how delicious fruits taste when I am completely off of sugar! This is a recipe that came from that experience, and also visit Texas de Brazil restaurant with my husband. So….they serve grilled pineapple, but it does have sugar on top. This air fryer pineapple recipe has no added sugar and is so so delicious! I also made a coconut whipped cream as a topping and you can choose to add a sweetener or not, but either way, it's delicious and a great piña colada flavored dessert!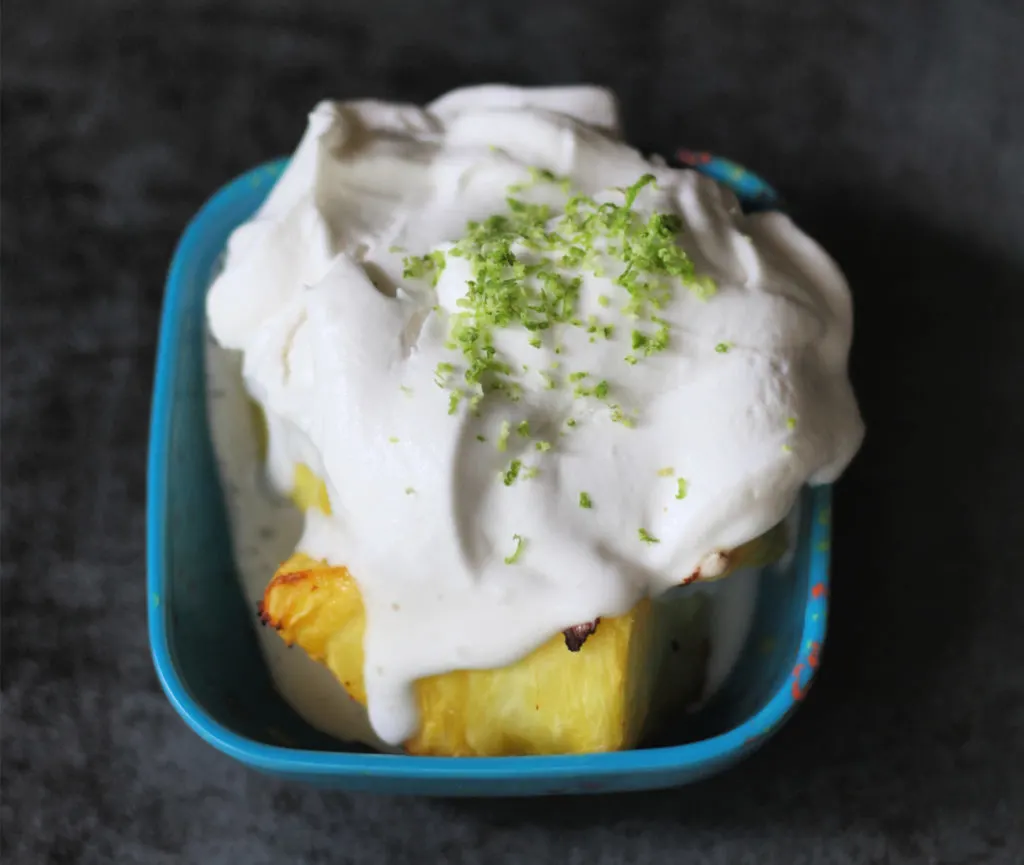 Thank goodness for fresh pineapple! I eat air fryer pineapple almost daily. I find that if I eat regular pineapple every day, my tongue starts to hurt. But when you cook the pineapple, it takes out the acidity and the flavor is more subtle and dessert like.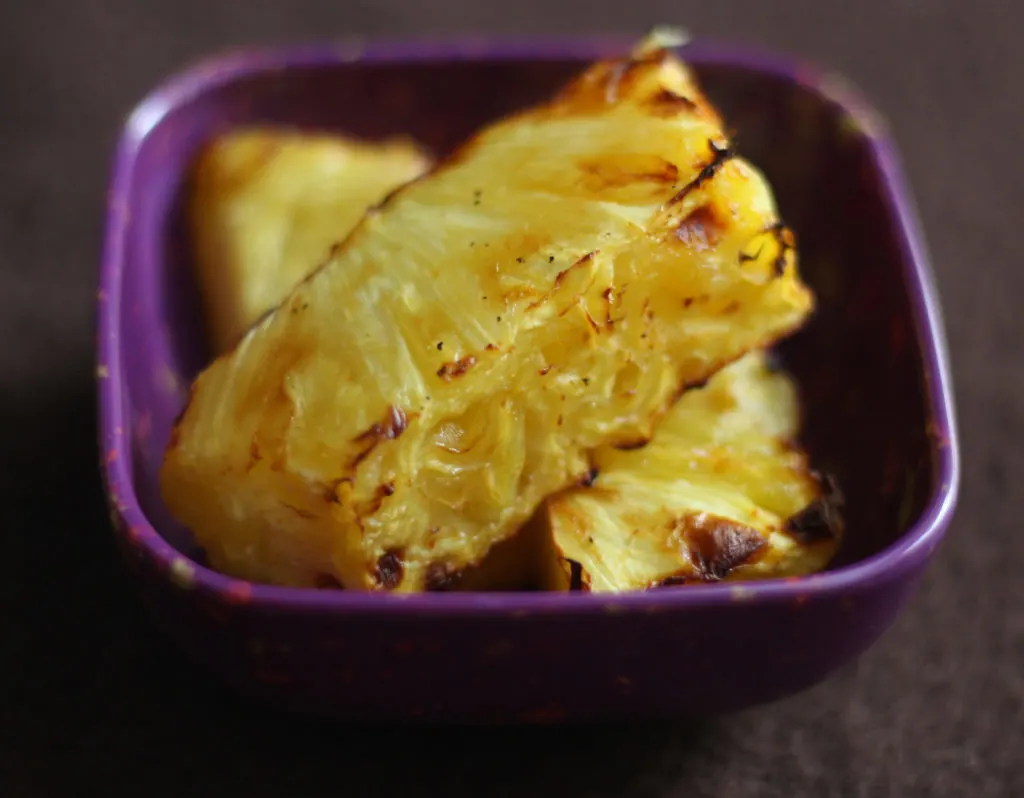 I have cooked pineapple on the grill, and you can do that if you would like, but there really is nothing easier than air fryer pineapple!
How do you cook pineapple in the air fryer?
It couldn't be more easy to air fry pineapple! I like to use fresh, but canned or jarred pineapple would work, too. Sometimes there are added sugars, so just check the label if you are watching your sugar intake.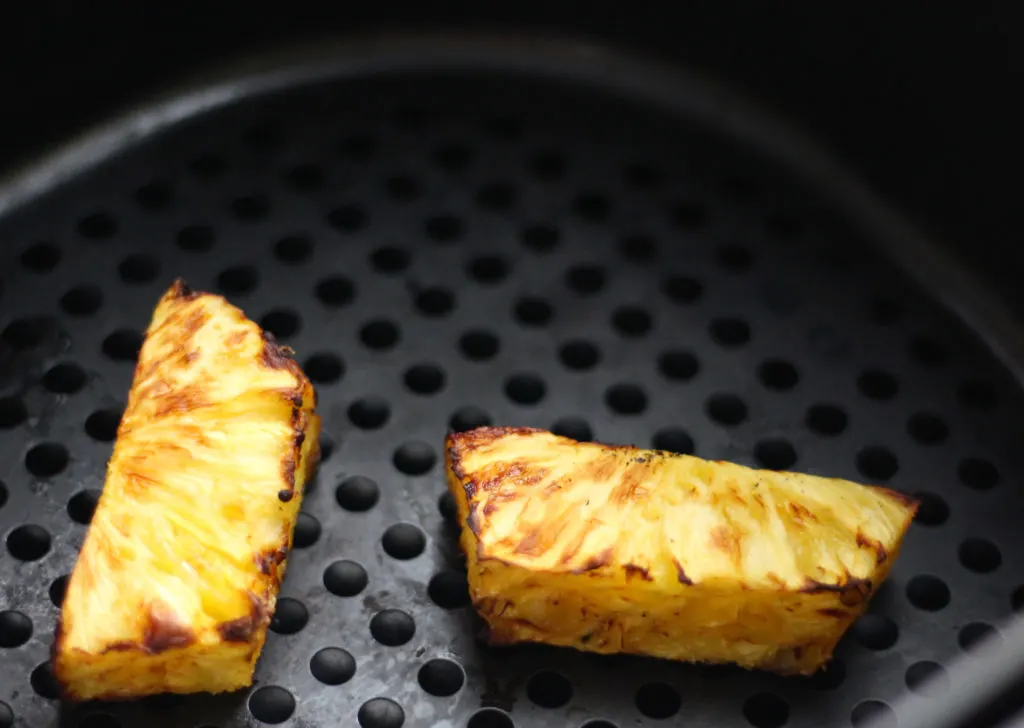 I cut a whole pineapple when it is turning from green to yellowish. You can slice it, cube it, spear it, however you like, just know you may need to adjust your cooking time depending on how thick your slices are.
When it's all sliced up, I throw a few pieces into the air fryer. I then cook at 400° for about 7 minutes. Then, I will check on it and see if it is browned at the edges the way that I like. If it isn't, I cook another 1-2 minutes. It is SO good and a great sweet treat! Pineapple also aids in digestion, so it makes THE perfect after dinner dessert! Cooking pineapple in the air fryer will be your new go to! The kids love it, too!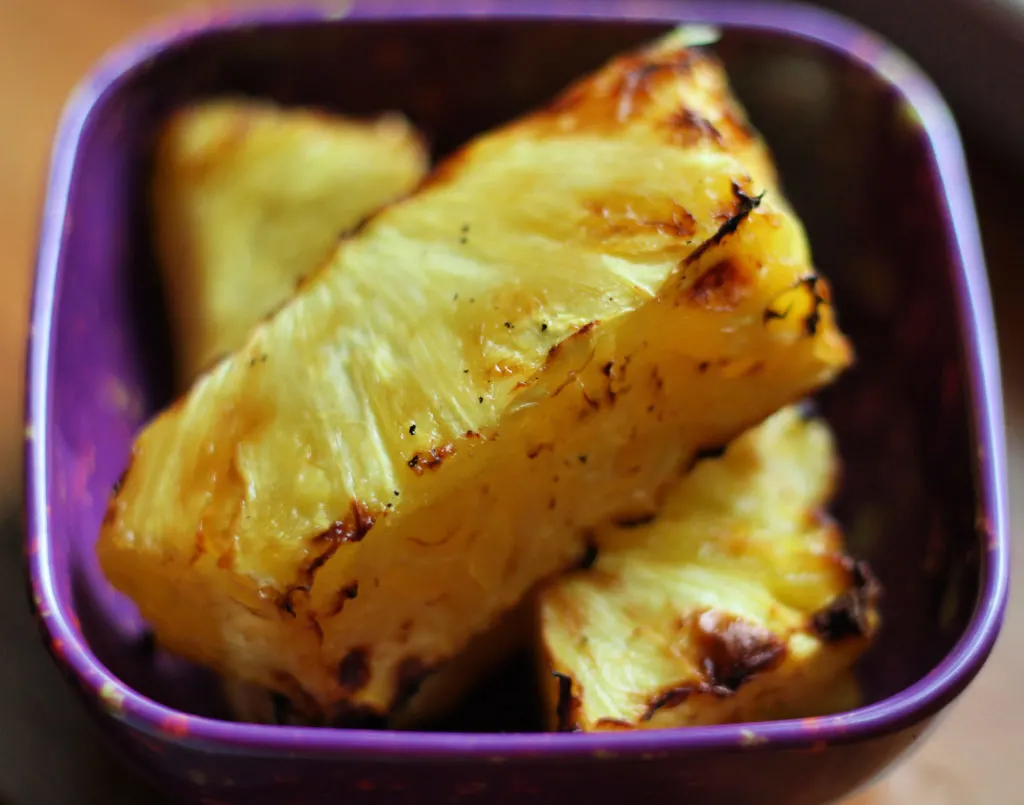 If you're feeling fancy or maybe craving the piña colada flavor, try making this super ridiculously easy coconut whipped cream to put on top, too! Garnish with some lime zest and it is an impressive, yet super easy dessert!