This burlap flag craft has been brought to you by Burlap Fabric. All opinions are mine.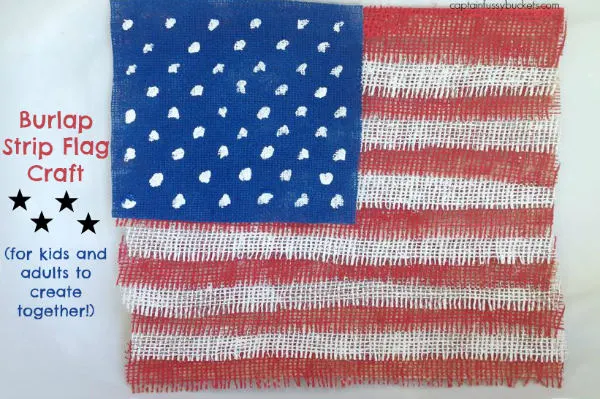 The boys and I really making crafts together, especially during the summer. We love flags, but realize the complexity once we're already covered in paint, figuring out how to equally space all 50 stars. It is what it is, and this craft was super fun for all of us to make. As I've said before, crafts for kids do NOT have to be perfect at all. I like to just sit back and let the boys do what they want to do, and then we can work together on the more difficult parts. That's what we did with this American Flag craft.
Materials:
1" inch roll of burlap ribbon

scissors

red, white, and blue craft paint

small foam paint roller

small angled paintbrush

ruler

hot glue gun
Instructions:
Cut 13 strips of 1" burlap, 15" long

Lay out 7 of the burlap strips on newspaper or mat.

Use small foam roller to paint 7 strips red. (This was fun for the boys!)

Wash out the foam roller and then paint the 6 strips white.

Let strips dry and wash out foam roller again.

Cut square of regular burlap, 7" x 7".

Use foam roller and blue paint to cover the burlap square.

Let blue square dry.

When blue square is dry, use angled paintbrush to paint white stars (or circles, lines, blobs, etc) on the blue square.

Next, create a frame with the sticky craft sticks. It should be in the shape of a flag (of course,) and tall enough for the strips to line up. This size depends on what kind of look you are going for. We chose the layered look.

Parents, use the hot glue gun to carefully glue each strip, layered on top of each other – remember, red goes on top!

Next, glue the blue square with white "stars" on top in the top left corner.

Let dry and add a small piece of burlap to hang your work of art!
This craft was a bit difficult for my 6 year-old to complete on his own, but he and I, along with my 4 year-old, worked together over a couple of days and made a flag they were proud of. We had a great time and got to learn more about the flag, too! You really can't be educational crafts and remember, they do not have to be perfect!
Happy Fourth of July, everyone!