This post was written by me on behalf of iT'Z. All opinions are mine. We received a free family fun pack in exchange for this post.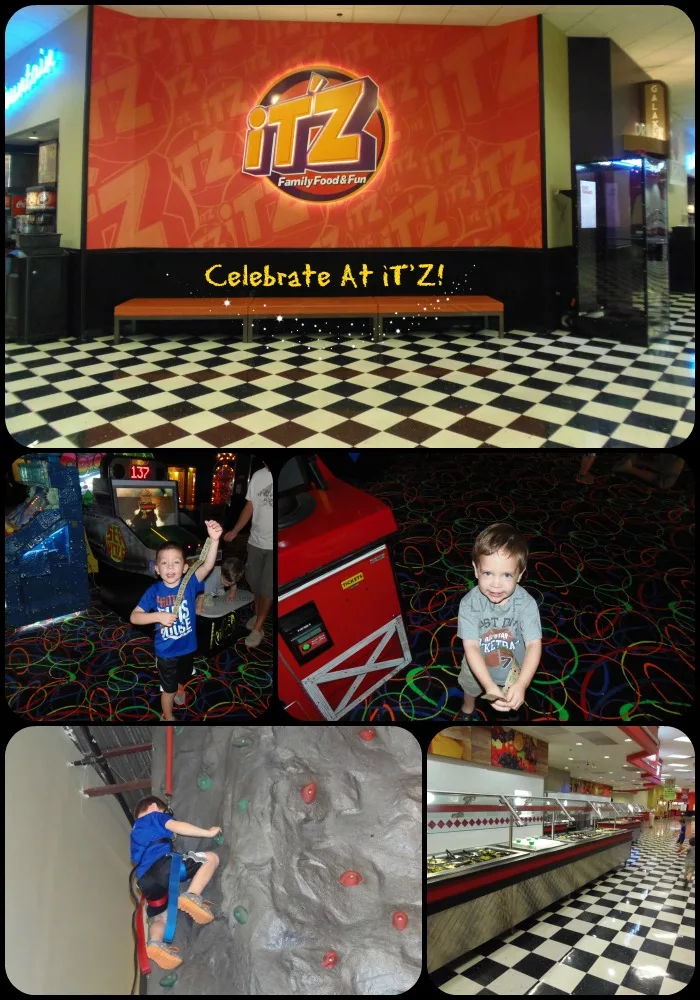 A few weeks ago, we moved the boys in the same room together, to prepare for the new baby coming soon. It was an adjustment, but now they are doing great. We needed a little reward for the boys for staying in their room, going to sleep (relatively) on time, and not waking each other up. What a better way to celebrate than at iT'Z Family Food & Fun!? What is iT'Z? Well….I, personally, describe it as a cleaner, better version of the *other pizza & arcade place….but really, it's so much more. iT'Z has everything you need for family fun from toddlers all the way to grandparents.
iT'Z has bowling, mini bowing, bumper cars, air hockey, rock climbing, lots of fun arcade games, PLUS all you can eat pizza, salad bar, drinks, desserts, along with hot dogs, baked potatoes, pasta, and much more! There really is something for everyone.
This was our second time at iT'Z and the Captain had one thing in mind: the rock climbing wall. Last time we were here, he only made it up half way because he was scared, but this time, he enlisted Daddy to climb alongside of him and they both made it to the top. The rock climbing wall has three levels of difficulty to make it more climb-able for different ages.
D's favorite activity at iT'Z was actually the machine that "eats" your tickets to convert them to points you load on your iT'Z card and spend at the prize shop. And of course….getting awesome prizes afterwards!
Our mission is to create a fun experience for families. We do this by combining affordable family dining with quality entertainment. Unlimited buffet? Check. The latest and greatest games? Without a doubt. Guaranteed good times? Absolutely. iT'Z all here! Kids Eat Free at iT'Z every Thursday!

iT'Z the place to PARTY! iT'Z the place for FOOD! iT'Z the place for FUN!
My Readers can enjoy an exclusive FALL FUN Offer at iT'Z through 9/22 – CLICK HERE for the discount code for:
Unlimited Buffet of Pizzas, Pastas, Salads, Baked Potatoes, Soups, and Desserts

Unlimited Coca Cola Fountain Drinks

All Day Unlimited Video Games (excludes redemption ticket, coin action and prize games)
iT'Z is a great place to celebrate any event. They have a couple of rooms dedicated for parties, in fact. Or you can go just to spend a fun afternoon with the family. Their games range from things D could do to games that were challenging for Daddy. So, plan a day of fun at iT'Z and don't forget that kids eat FREE on Thursdays!