Fall is my absolute favorite season and time of the year. I love it when the first cool breeze blows in, the leaves start falling, and PUMPKINS are everywhere! While you can get pumpkin year round, Fall inspires me to eat pumpkin in every way possible! I've gathered some pumpkin recipes from some great bloggers and wanted to share them with you…just in time for FALL…the most wonderful time of the year! My favorite local grocery store carries organic pumpkin, but if yours doesn't, check out Amazon or Tropical Traditions and stock up!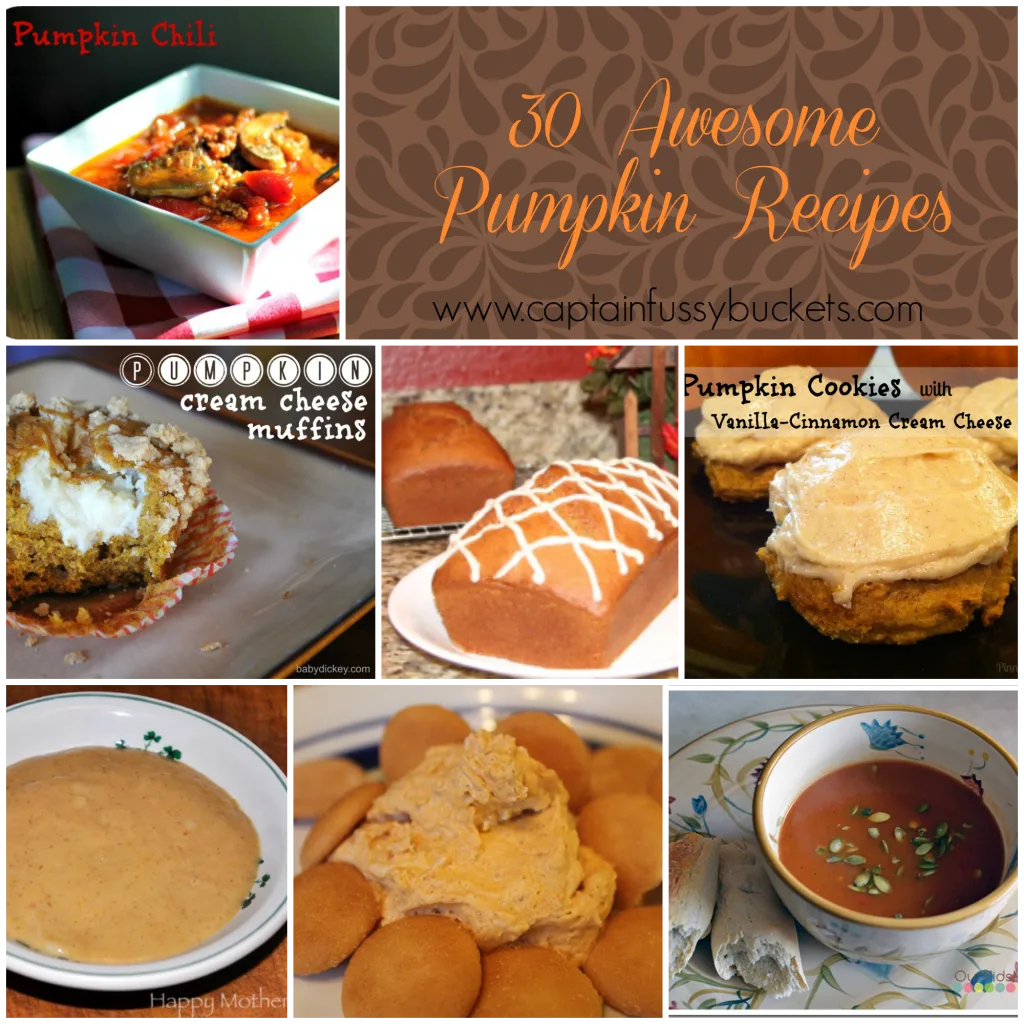 Pumpkin Chili – Simply Stacie
Dinner in a Pumpkin – This Mama Loves…
Pumpkin Cornbread – Confessions of an Overworked Mom
Pumpkin Soup – Our Kids Mom
Pumpkin Spice Pretzels with Apple Butter – Mama Goes Bam
Smooth & Creamy Pumpkin Tapioca Pudding – Happy Mothering
Pumpkin Fluff Dip – Tales From The Nursery
Spiced Pumpkin Bread – Grandma Juice
Pumpkin Cheesecake – The Home And Garden Cafe
Pumpkin Pie Blondies – The Home And Garden Cafe
Pumpkin Bars – Simmworks Family Blog
Pumpkin Cupcakes with Maple Cream Cheese Frosting – Simmworks Family Blog
Super Easy Pumpkin Muffins – Thrify Jinxy
Chocolate Pumpkin Cookies – This Mama Loves…
Pumpkin Squares – Sweep Tight
Pumpkin Chocolate Chip Muffins with Marshmallows – Really, Are You Serious?
Pumpkin Bread Pudding with Homemade Caramel Sauce – How Was Your Day?
Pumpkin Cream Cheese Muffins – Baby Dickey
No Bake Pumpkin Cheesecake Chocolate Bars – Homemaking Hacks
Chocolate Covered Cake Pop Doughnuts – This Flourishing Life
Caramel Pumpkin Mini "Pies" – Homemaking Hacks
Pumpkin Pie – Happy Mothering
Pumpkin Cashew Cream Frosting – This Flourishing Life
Old Fashioned Pumpkin Cookies – Farmer's Wife Rambles
Pumpkin Butterscotch Muffins – Saving You Dinero
Pumpkin Cookies with Vanilla-Cinnamon Cream Cheese Frosting – Pinning Everyday
Vegan Apple Carrot Pumpkin Bread – Happy Mothering
and for your special pup…
Homemade Pumpkin Peanut Butter Dog Treats – Pet Coupon Savings
And now….check out my adorable pumpkin babies…
**Contains affiliate links. Photos used with permission and may not be republished without consent of individual blog owner.**